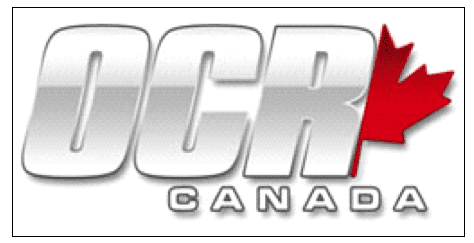 The Canadian Racers have begun organizing themselves as the sport of OCR continues to grow globally. With Australia and parts of Europe organizing themselves into national level entities Canada joins the group and moving OCR more and more towards a unified sport. Below are the details about the new OCR Canada.
Toronto, ON- February 19, 2015 
OCR Canada  announced the launch of it's website.  OCR Canada is a not-for-profit organization that will create an informative community and provide support to obstacle course racers through the development of advance opportunities for Canadian athletes. This site will serve as a community hub for all things obstacle course race related in Canada. It will bring together obstacle course racers of all levels from British Columbia to Newfoundland; as well as race directors and fans.
"OCR Canada is going to provide a community for all OCR lovers across Canada to interact with each other. OCR is a great sport that everyone can be a part of no matter their fitness level. OCR Canada will provide a stable platform allowing this emerging sport to continue to grow. Providing an informative hub for new comers as well as providing vital support to elite Canadian athletes allowing them to compete with and against the best athletes in the world." said Jesse Bruce, Director of OCR Canada 
"OCR is the best sport in the world that has a the unique ability to change people's lives. Through OCR Canada, we will help increase participation in this sport, while supporting our Canadian athletes."
Obstacle course racing has been growing by about 20 percent per year in the United States. OCR Canada believes that the numbers are even higher in Canada, and that the sport has been experiencing a hockey stick rate of growth.
"Despite being among the best in the world, Canadian OCR racers have not yet enjoyed the fruits of their success;" said Linda Aylesworth, OCR Canada Executive Director. "OCR Canada will help them to obtain the recognition and support they need to elevate their careers, and nurture those up-and-coming racers that are on their way up." 
OCR Canada believes there are hundreds of aspiring Canadian athletes that will welcome our unique community. Racers of all levels will be able to learn from the very best in the sport, gain an understanding of this burgeoning sport, generate support, awareness and marketing opportunities. Already supported by some of Canada's elite OCR athletes, OCR Canada is poised to create strategic partnerships and raise the profile of these amazing athletes.
"The positive impact of Obstacle Course Racing on communities has been truly astounding, the ability to push personal limits, with teammates, friends, and make new friends leads to feelings of great accomplishment" said Robert Ortali, OCR Canada Director.
Several well known names in the Canadian OCR Community are showing their support for OCR Canada:
Ryan Atkins: "I'm super stoked to be a part of OCR Canada, and I think the exposure that it will bring to our sport and our country will do great things for us all."
Helene Dumais: "As much OCR is a young sport, it is growing at an extremely fast pace and Canadian athletes are already making their mark and succeeding worldwide like Claude Godbout, Ryan Atkins and Helene Dumais, to name just a few. Canada may look like it has low population density for its vast territory, but the OCR community in there is very big, including racers and numerous races in summer season. Spartan Race East Canada recorded one of the highest number of participants in Eastern North America in 2014. And we just started to explore the possibilities our unique winter season can bring to the booming world of OCR."
Claude Godbout: "So excited to see that Canada is giving some love back to their OCR athletes. That will give us the opportunity to play with the big guns at the same level. I'm really eager to see what Canada can do in this sport with more visibility and money. We already are super strong but this will definitely bring us to another level."
Richard Lee Yuen: "OCR has made great strides in the last few years as being one of the fastest growing sports in the world.  That's just it – the world.  With OCRs popping up worldwide, there needs to be a support system to foster this continued growth into the ultimate sport.  OCR Canada will bring together athletes of all levels from beginner to professional to create a solid backbone in the sport of OCR in Canada.  People new to the sport will be able to jump right in and know that there are many others nervous and anxious just like them.  They will be able to lean on one of the most supportive communities that I have known.  Pro athletes such as Ryan Atkins and many others have blazed a trail for Canada, and establishing a platform that can represent Canadian athletes on the world scale is truly a huge step towards putting us on the map."
Jen Milligan: "I can't wait to see what 2015 has in store for us!! OCR in Canada is just getting better and better every year and the competition is getting fierce."
About OCR-Canada
OCR Canada is a not-for-profit organization dedicated to nurturing and supporting the sport of obstacle racing and it's athletes in Canada. It's mandate is to increase the visibility of the sport in this country, raise the profile of Canadian obstacle course racers and supporting the Canadian OCR community. Through effective initiatives, OCR Canada will work to advance opportunities for Canadian athletes and the sport overall. Not limited to elite racers, fans and enthusiasts of all levels are encouraged to participate. OCR Canada plans to organize training workshops for both rookies and more advanced racers, mentoring and facilitating skill growth.