In the past few days rumors have made their way across the OCR World regarding the future of the BattleFrog Race Series. These rumors came just days after the filming of the ESPN college special. The special is due to air later this spring. This afternoon we at Mud Run Guide received an email with updates from BattleFrog HQ regarding the races for the rest of the season as well as some format changes. Some of the changes include, Saturday only heats, a new 8K course format, and changes to the elite competition. From BattleFrog: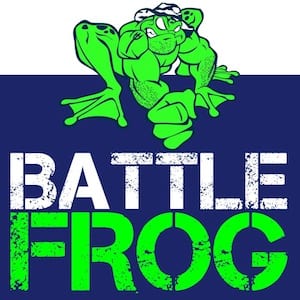 Saturday‐Only Heats
We work closely with local communities, permitting authorities, logistics resources and our team of SEALs, veterans and volunteers to deliver a world‐class experience through the entire schedule of activities in each location. While it is our goal to offer two days of heats, that is not always possible. We had originally planned two days, but we have chosen to consolidate the schedule into one day in order to give our audience the best experience possible. If the audience cannot change dates, we will gladly accommodate their request and process a refund.
Brand New 8K Course
We have inaugurated a number of innovations and today announce an evolution to make the course easier to navigate and to provide more obstacles with less running. BattleFrog will provide an obstacle‐rich 8K course with 22 or more obstacles for all runners. Those racers who have signed up for the 5K course will get three extra kilometers to enjoy while those signed up for the 15K course will receive the following three options:
1. Keep their registration as it is and run the 8K course twice, starting with the same heat time already assigned. 
2. Run the 8K once and get 30% off merchandise on-site.
3. Run the 8K once and get a 30% discount refund.
Elite Competition
BattleFrog Elite Competition will now feature 2 laps of our new, approximately 8K, 22+ obstacle course. Elite Males and Masters Males will hit the course at 7:30am, followed by the Elite Females and Masters Females at 7:35am. Each course will have a re‐entry point for the second lap where elite racers will be required to cross the re‐entry timing mat. With over 1 Million dollars in cash, prizes and awards up for grabs, the comprehensive BattleFrog Series Cup, and the diligent enforcement of logical rules, BattleFrog is continuing to be a trend setter in the OCR industry. This is an innovative new format that BattleFrog is excited to introduce to our elite runners.
Addition:
Open heats will begin 1 hour after the elite heats start. The kids race and BattleFrog XTreme races will remain the same.
BFX Rules:
In order to earn the BFX medal and your first two gold stars, racers will need to complete three laps of the BattleFrog 8K course. After the third lap, racers will earn stars in the traditional order.
So just to recap:
Lap 1,2,3: BFX Medal and two gold stars
Lap 4: Gold star
Lap 5: Gold star
Lap 6: Silver Star
Lap 7: Gold star
Lap 8: Gold Star
Lap 9: Gold Star
Lap 10: Gold Star
Lap 11: Silver Star