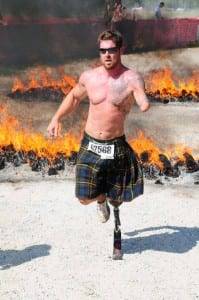 Dancing with the Stars on ABC is one of the most popular shows on Primetime television. Recently, Noah Galloway made his debut on the show and received a standing ovation from the crowd and rave reviews from the judges. It seems there is nothing this double amputee and father of three cannot do.
Galloway was a Sergeant assigned to the 1st of the 502nd Infantry of the 101st Airborne Division out of Fort Campbell, Kentucky during Operation Iraqi Freedom. He was three months into his second tour of duty when he lost is left arm and left leg to an IED or Improvised Explosive Device attack. He was transported to Germany and later to Walter Reed Army Medical Center in Washington, DC. After the accident, Galloway found himself unmotivated and out of shape. One night he decided he needed a change and set a goal to get fit and inspire others.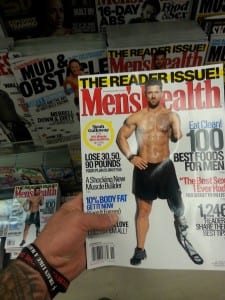 Today, Galloway is known throughout the obstacle racing world for his racing and work with Operation Enduring Warrior. His accolades speak for themselves as he has been featured on The Today Show, Ellen, MTV True Life – I'm a Mudder, and other numerous national media outlets and publications. Most recently known, before Dancing with the Stars, for his cover in Men's Health and title of 2014 Ultimate Guy. Galloway has competed in numerous Tough Mudders, Spartan Races, and other obstacle races throughout the country. He also tackled the Team Death Race in 2013 in which participants had to complete the Killington, Vermont Beast in the middle of the Death Race.
For Noah, no challenge is too great and the judges of Dancing with the Stars acknowledged this fact on Monday during the show praising him for leading his partner with ease and grace despite not having a left arm to lead with. As he finished his dance with partner, Sharna Burgess, were welcomed with a standing ovation in the ballroom. Judge Carrie Ann Inaba, "It was profound, and you're broadening my scope of what dance looks like" In case you missed it:

Now it's time for the OCR Community to rally behind Noah and his partner. Each Monday they dance on air and voting opens after the show. Help support a member of our OCR Community as they dance each week.