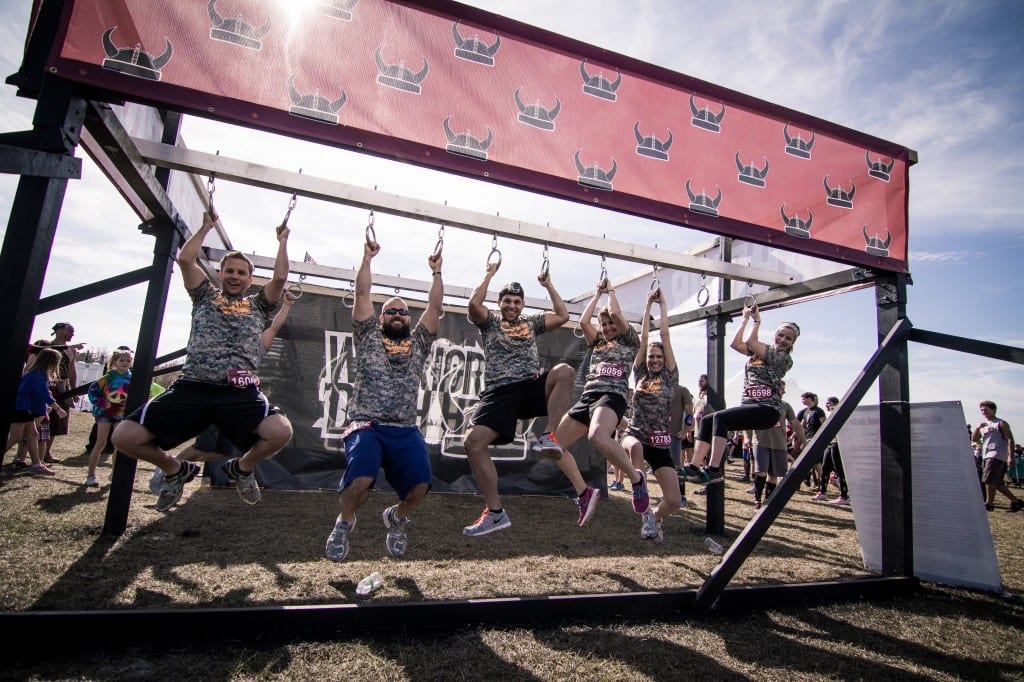 Warrior Dash is geared up to begin it's 7th season of obstacle racing! One of the original obstacle race series in North America is returning for another year this weekend in both Texas and Southern California. As with many of the race series, Warrior Dash, has upped their game yet again for another year of excellent events for athletes and participants of all levels.
FOR IMMEDIATE RELEASE
CHICAGO, IL (March 16) – Warrior Dash, the world's largest obstacle race series, released updates for its seventh season this week. Since 2009, Warrior Dash has challenged over two million athletes. As a gateway to fitness, Warrior Dash welcomes runners of all abilities to partake in this season's over 50 international events, including 30 locations across the United States and Canada.
"The 2015 Warrior Dash season will be one of the strongest in the series' history, marked by an expected record-breaking number of registrations, new course innovations and a revamped festival experience that makes the post-race event as exciting as the Dash itself,"
said Tad Jenkins, VP of Marketing  "Participants will face 12 obstacles across more than three miles of terrain, dispersed with new challenges they've not seen before in this type of race. We've taken it to a new level this year."
Course and Festival Overhaul
Prepare for the Battleground with obstacles placed within the festival at the "Warrior Hangout," which debuted at the season's first location in Florida on January 31. Improved post-race showers and gender-specific changing tents are standard at each location this year. Free post-race photos will continue to be available, provided via GameFace Media.
On the course, participant-favorite obstacles will return with updates including:
·       Goliath: Summit the largest obstacle, then race across a one-story balance beam before making a splash at the bottom of a 20-foot high slide.
·       Mud Mounds: Grab a buddy for this one. You'll climb over a colossal mud mound before sliding down into a muddy pit…over and over again.
·       Pipeline: Talk about a total body workout: Weave your way up, over, and through a tube of kinked cargo nets 12 feet in the air.
Plenty of additional new challenges will also be on the Battleground:
·       Plunge: Crawl up a cargo net and scale back down 16-feet to the ground. Think you can handle that? We also added cold running water, as you splash into a shallow pit.
·       Chaotic Cargo: Climb across cargo nets ten feet above the ground before reaching a second climb and tackling netting over an A-frame 20-feet in the air. Don't look down!
·       High Tension: Ignite your core: Cross a 20-foot slackline and be careful of the alligator in the water beneath you. (Just kidding, there's no alligator…but how do you know for sure?)
·       Under the Wire: Don't think you'll finish this race without some mud in new places. Grind your face to the mud for 100 feet under real barbed wire.
"We collected and paid close attention to our loyal participants' feedback…The result will be a challenge for elite athletes, beginners and everyone in between."
said Terry McMahon, Obstacle and Course Director for Warrior Dash.  Participants and spectators at each location have free access to the Warrior Dash post-race festival. The festival will continue to feature live music and a craft beer selection from Shock Top, in addition to a new layout, new sponsorship activations, and interactive activities for athletes and their friends and families.
Warrior Dash World Championship Returns in 2015
After a successful inaugural event in October 2014, the Warrior Dash World Championship returns October 10, 2015 at Milky Way Farm in Pulaski, TN. Athletes can qualify in the competitive waves available at each location, where the top 25 male and female finishers are invited to compete in the World Championship. In 2014, Warrior Dash gave away $100,000 in prize money in 2014 to some of the top athletes worldwide, including male winner, Max King and female winner, Kimber Mattox.
"The level of competition was out of this world," said King. "But, the thing about obstacle racing that is so awesome is that you have all these different dynamics of people.  You have everybody from the elite-side, to the people who are going out and walking the whole course. It's kind of like your gateway into more improved fitness."
Get Involved with St. Jude
Warrior Dash continues its partnership this year with St. Jude Children's Research Hospital. The St. Jude Warriors VIP program encourages Warriors to fundraise for St. Jude. Warriors that fundraise over $300 gain exclusive access to a VIP area at the event, complete with private showers, catering and a private lounge. Warriors who fundraise over $500 Dash for free.
Additionally, Warrior Dash is introducing '10 at 10' St. Jude waves this season.  To run in a 10am wave (including 10am, 10:15am, 10:30am and 10:45am at all events), Warriors are required to make a minimum of a $10 donation to St. Jude. More than $10.8 million has been fundraised for St. Jude Children's Research Hospital through these programs since 2012.
New Sponsorship Activations
In 2015, Warrior Dash will continue its partnership in 2015 with USAgain for post-race shoe recycling, in addition to a variety of national and local sponsors, including:
·       Anytime Fitness
·       Cabela's
·       Courtyard Marriott
·       Gold Bond
·       High Sierra
·       PEAR Sports
·       Rockin' Refuel
·       Shock Top
·       Vibram FiveFingers
"These key partnerships continue to help Warrior Dash thrive as a leader in the OCR industry," said Ryan Mortimer, Sponsorship Director at Warrior Dash production company, Red Frog Events. "Sponsors' support and presence on-site at our events will continue to elevate the Warrior Dash experience this year in big ways."
Group and Corporate Packaging
Warrior Dash is also debuting Group Packages this year; packages are available to groups of 15 or more Warriors, including group-discounts and company outings. Based on group size, each tier offers a variety of added bonuses such as discounted registration, free parking, meal packages or exclusive tent-access in the festival area. For additional information on group packaging, see WarriorDash.com/group-packages/.
Additional Promotions
Throughout 2015, Warriors can buy five registrations to receive one registration free with the promo code "WarriorCrew" at checkout. Alternatively, Season Passes are available for $125 (plus processing), which includes access to unlimited 2015 Warrior Dash locations. Dash twice and the pass already pays for itself.
---