The obstacle racing season continued to pick up the pace over the weekend with races in the Atlantic and Pacific Oceans and everywhere in between. Spartan Race Hawaii kicked off their season with a stadium race, the first Bermuda Triple Challenge took place, as well as Atlas Race and BattleFrog in Texas and Florida. In addition, the ESPN Collegiate Special with BattleFrog was filmed this past weekend in Florida. Below are the scores and highlights from the weekend.
Atlas Race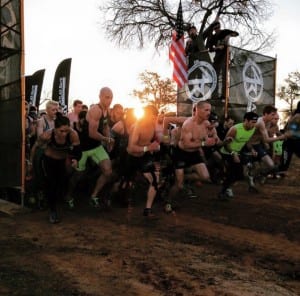 Atlas Race continued to build on the successes of the recent Temecula Race with more obstacles and challenges for competitors in San Antonio, Texas. Familiar faces topped the podium with Hobie Call and K.K. Stewart-Paul taking home top honors in the elite race. OCR Warrior filmed it's second location in San Antonio, with Bret Stewart commenting that momentum has continued to build for the show and people were lined up waiting to take on the challenge. Weekly episodes can be found on our site as well as on Facebook. This is what winner Hobie Call had to say about the event, "It was a fun event. It was nice to see people from BattleFrog, Spartan, OCRWC, etc., all working together to help lift up the industry as a whole."
Race Results:
Elite Men
Elite Women
Name
Team
 Time
 
Name
Team
 Time
Hobie Call
Atlas Race
 0:26:24
K.K. Stewart-Paul
Spartan Race
 0:31:36
Brakken Kraker
Apex Training
 0:27:04
Lauren Ho
Atlas Race
 0:34:06
Justin Stewart
 0:27:46
Lynnea Kettler
 0:40:14
BattleFrog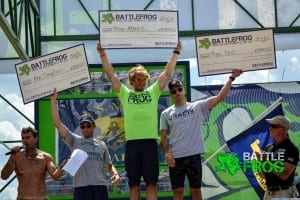 BattleFrog also had their second race of the season in Central Florida. The men's and women's field was deep with top racers. The obstacle racing power couple of Ryan Atkins and his fiancée Lindsay Webster topped the podium for the elite race. The race was not the only highlight of the weekend for BattleFrog. ESPN was on hand to film the first ever BattleFrog Series College Championships, which will air later this spring. The special features 16 college teams going up head-to-head on a short course. American Ninja Warrior and host of Ninja Quickie Evan Dollard shared hosting duties with Emily Reppert from Fox Sports. Matt B. Davis was part of the production as well.
This is what Atkins had to say about the race, "Despite Florida being quite flat, BattleFrog managed to put together another challenging course, with two "spur of the moment" obstacles that no one had ever seen. The men's race saw myself and Ryan Kent running together from mile 1 to nearly mile 8, and "Air Force Ken" was battling for third against Isaiah Vidal. In the end it was Atkins, Kent, Ken! It was tons of fun, and a very tough hour of racing for myself. My fiancée, Lindsay Webster was able to show that Miami's race was no fluke, and managed another victory, over the ever awesome Corinna Coffin."
Race Results:
Elite Men
Elite Women
Name
Team
 
Name
Team
Ryan Atkins
BattleFrog
Lindsay Webster
Independant
Ryan Kent
Spartan Race/Oral I.V.
Corinna Coffin
BattleFrog
Ken Corigliano
Jeanette Gardner
Elite Masters Men
Elite Masters Women
Name
Team
 
Name
Team
Steve Capitano
Maria Tormudd
OCR Unleashed
Wilman Santa Cruz
Gina Disanto
Glenn Nakamura
Stephanie Lowery
Spartan Race Hawaii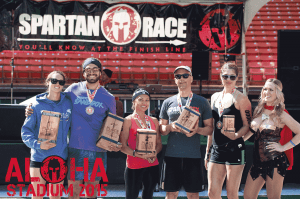 Spartan Race Hawaii kicked off there season with a stadium race.  Athletes flew in from all over the country to the warm tropical weather to take on this race at the Aloha Stadium in Honolulu, Hawaii.  Miguel Medina took home top honors for men and local Brittani Lum took home the top honor for women. Medina said about the event,
"It was the perfect race to paint the picture of what makes stadium races so fun and exciting. You can never quite catch you stadium tried because of the constant fluctuations in elevation, direction and obstacles. JJ and the SR Hawaii crew manage to put together an event that feels like an international sports event with a interesting take on obstacles from a Z-wall with. 1×2 strip of wood to, memorization tests and working your way through the labwrynth thay makes stadiums part skill, part strength and some luck if you're not careful. Plus you can't beat the location".
Race Results:
Elite Men
Elite Women
Name
Team
 Time
 
Name
Team
 Time
Miguel Medina
Spartan Race
 0:30:01
Brittani Lum
 0:35:35
Christopher Rutz
Tough Training/Spartan Race
 0:30:04
Ashley Mier
 0:43:21
Jeremy Schmalfeldt
 0:35:52
Jaime Hipsher
 0:46:25
Bermuda Triple Challenge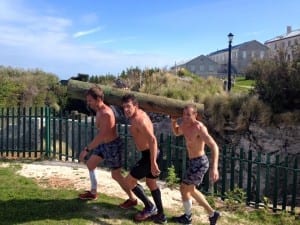 From the Pacific to the Atlantic, Bermuda Triple Challenge took place over the weekend with three days of competition for the obstacle racer. Spartan couple Matt and Tiffanie Novakovich were among the competitors to take on this three day event featuring over 95 obstacles.  The event gave participants a chance to see Bermuda in a completely new way. Matt commented online about the event,
"Bermuda Triple Challenge was a very rugged obstacle race with a tropical vacation – like flair. The people are extremely friendly and inviting and the course was pretty epic as they held it in three separate island locations. For instance day one was an urban on road race through the old city with a stadium event feel.
Day 2 was very similiar to a tough outdoor OCR race with beach, sand, climbing and heavy obstacles which finished going through the old military base and using their assault course.
Day 3 went through an abandoned prison that included a huge plunge off the docks into the ocean. Very fun and well organized."
With Bermuda a quick flight from the east coast it looked like the OCR world has another event to put on their calendar for next year.