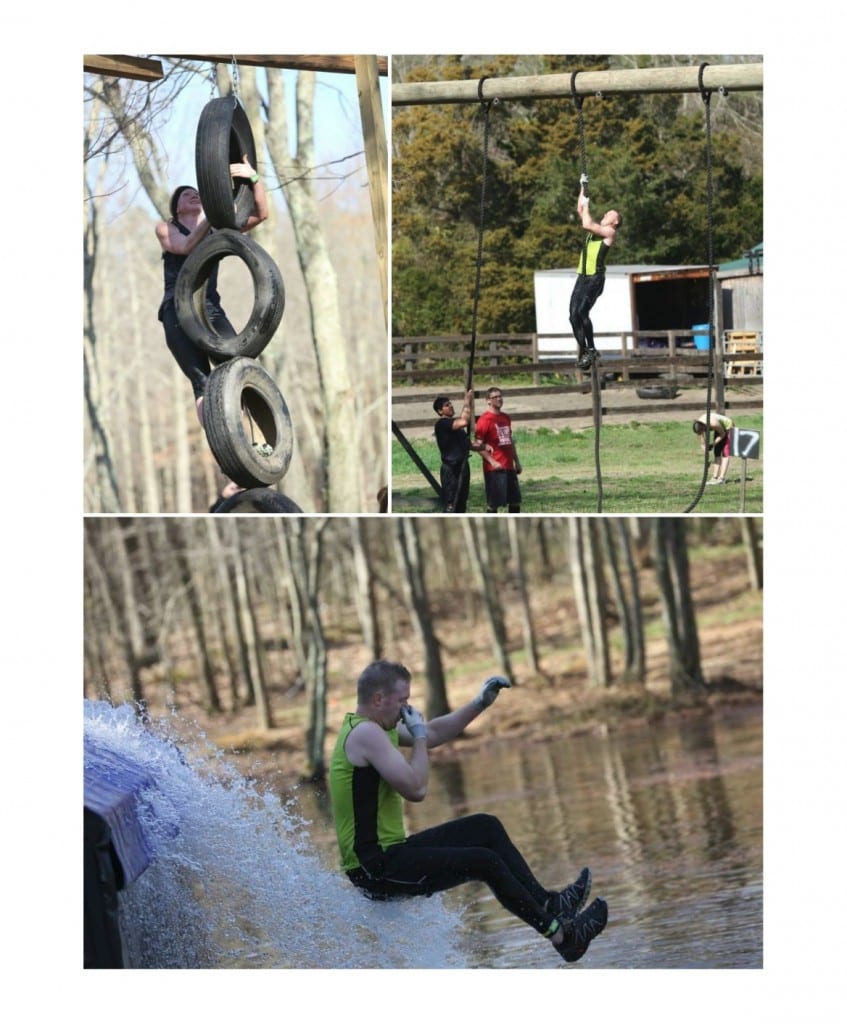 ABF was my first race of the weekend. ABF's owner Chad Mason knew I was also racing the NJ Beast on the same day and that I had a three plus hour drive ahead of me, so he allowed me to start the course about ten minutes before the elite heat. Even though it was around 8:20 am it was already an amazing morning with the sun out and temperatures almost perfect for an OCR race.
The Course:
Coachpain Dewayne, the pre-race/wave motivator, did an amazing job both motivating and encouraging racers!
ABF obstacle course has two to three versions of almost all their obstacles, ranging from extremely hard, to medium, to an easier version. I am a firm believer this is the direction all of the OCR companies/races should take to be able to have a course that any level of OCR racer can enjoy and be challenged.
The course was just over four miles long and had a total of over fifty obstacles. It started out with a nice trail run in the woods on a very flat surface that is well groomed and very safe, the most dangerous obstruction racers have to avoid most of the trail running portions of the course was horse manure. After about a half mile of trail running, racers came to a  fairly long sandbag carry, completely out of the cover of the trees, the sun was already starting to play a factor.
Not long after the sand bag carry came the "Black Ops" section of the course which started out with an obstacle that really challenges all racers upper body.  This section of the course also included water crossings and a water/mud crawl. The "Black Ops" area then had at least one ladder type wall obstacle and then the elite racers came to a tire carry down one side of the train tracks and then back up the other side of the tracks (trains do not operate on the track on weekends). The non-elite heats had to work as a team at this obstacle and team carry a large log.
After the "Black Ops" section came a brief trail run and then racers came the section of the course that ABF has set up to be ideal for spectators to really get to enjoy an amazing view of family and friends completing some really awesome and challenging obstacles. First up were two water crossings, and then came a double rope traverse. A very short distance later was a tunnel crawl right into the water, after crossing the water came an obstacle of tires linked together that you had to climb up and then squeeze a bicycle horn.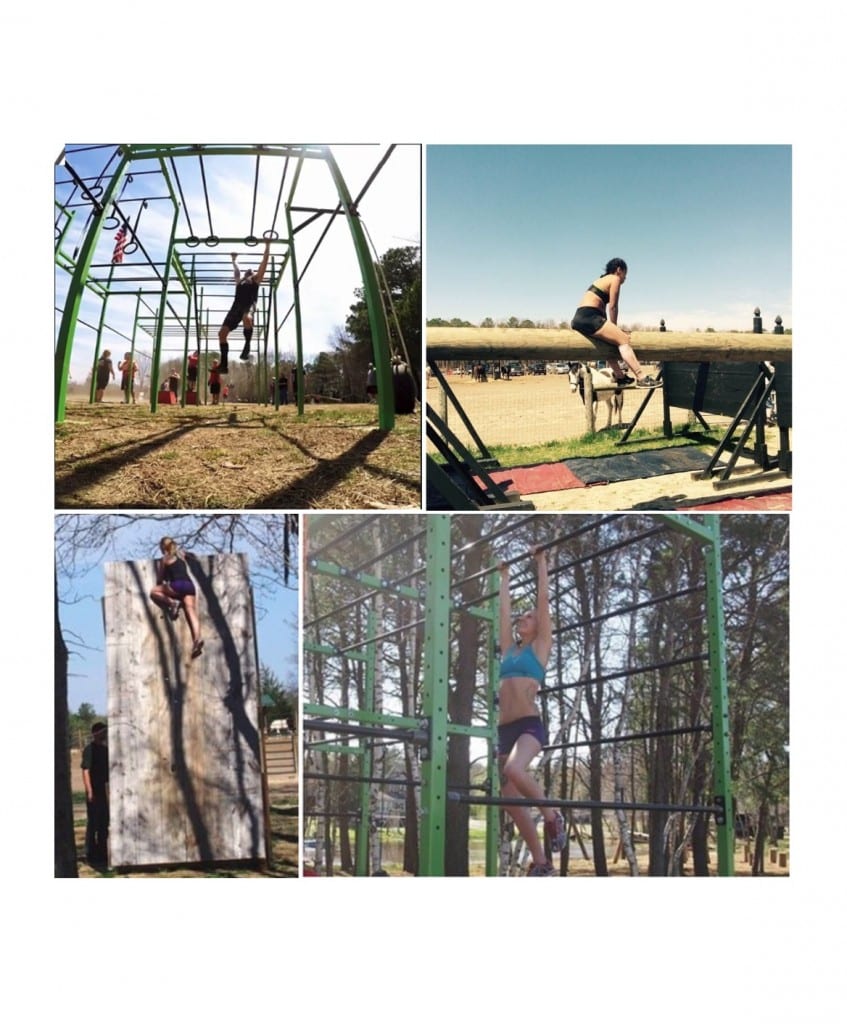 Up next was a wall climb that had three versions and the course then snaked around and back to the water. At this point came a platform/ramp jump into the water, I had seen this obstacle the day before and inquired about how deep the water was.  On the other side of the swim was a rope wall climb, which I somehow managed to get my fingers stuck in the rope at the top of the obstacle and crush my fingers with my entire body weight (fun times). Almost immediately up next was a choice of either a very challenging and tough 125 foot Tyrolean Traverse or (for non-elites) a water crossing that had you go under some barrels and then over a floating obstacle log.
On the other side of this water crossing came a balance crossing obstacle of several logs sticking out of the ground. Once by this obstacle came an amazing rig type obstacle built by ABF (see photo) that taxed just about everyone's upper body and cardio elite or non-elite. Only a few meters later, came a rope ladder traverse and then the Ninja Warrior wall obstacle. The elites had to try and make it up this massive wall without the assistance of a rope while non-elites had a rope to assist them with climbing this very challenging wall. Once up the wall, racers were able to slide down the other side of the obstacle into the water that has been dredged to be just the right depths. The slide down had water running and this was more like a water park ride than an obstacle and was a fun slide and splash into the water!
At this point you crossed the water again and came to a very challenging rope climb once out of the water. Just after the rope climb came a log hurdle and then a wall climb. Racers then made their way around the water and came to a wall traverse and then crawled up an inclined tube/tunnel and then out the other side and back down. At this point came amazing ABF rig # 2 and then you made it over to an obstacle that provider three versions with the one referred to as Destroyer being the most advanced version, this obstacle is an insane challenge and I am not sure if a single elite was able to complete this obstacle, I know I wasn't able to and had to be pick for option/version # 2.
After the intense section, the course just kept snaking around, had racers in and out of the water, and included a boatload of amazing obstacles, it now came time for a very short sprint, followed up by if I recall a log traverse obstacle and log hurdle obstacle. After these you came to the home stretch and could see the finish! But damn ABF saves one of the hardest physical challenges for last, racers had to crawl under a very long and snaking under structure of bleachers, which taxed both cardio and our tired bodies, once through this crawl we came to another wall climb and then right back to a second and just as tough bleachers crawl. After the final tough crawl, came the finish line!
Overall Feelings:
The course is amazing, I can't imagine anyone that reads this article will not come away feeling how intense the section with multiple water crossings and amazing obstacles was for racers. ABF's volunteers were all helpful and friendly and really work hard to help put on an amazing event. I cannot stress how well and high quality all of the ABF obstacles are built. ABF has not cut any corners and in fact, has over built many of them to be sure they are safe and will stay safe.
It can say without a question of doubt, the reason the ABF volunteers and staff do such a great job and stay happy and motivated the entire time is because Chad, his wife Jessica Mason, and ABF Construction Manager, Larry Cooper all are amazingly fun, happy, and motivated people and this is in infectious to the whole ABF team.
The Schwag:
I don't mean to brag, but I think I have the best collection of medals in the entire OCR world over the last 10 months and consider myself to be a "bling" expert and all I can say about the ABF finisher medal is it amazing and sexy and one of the best in my always growing collection. The shirt is really nice as well. You can thank Chad's wife Jessica for these as she was a PITA to Chad and made sure they stepped the schwag game up this year in a very big way.
Overall event rating:
Great course, great obstacles, great staff, amazing weather, one of the best finisher medals on the OCR planet, Coachpain Dewayne, and most of all money was raised to help families battling cancer! I am giving the event/race 5 out of 5 stars.
Rating: 5/5
Final Thoughts:
It saddens me that Spartan Race had it's Beast on the same day as this event and so many local racers were not able to race at ABF. I really hope everyone that reads this article will make it a priority to participate in ABF's next OCR event on October 3rd of this year. This is a course, event, and experience you do not want to miss!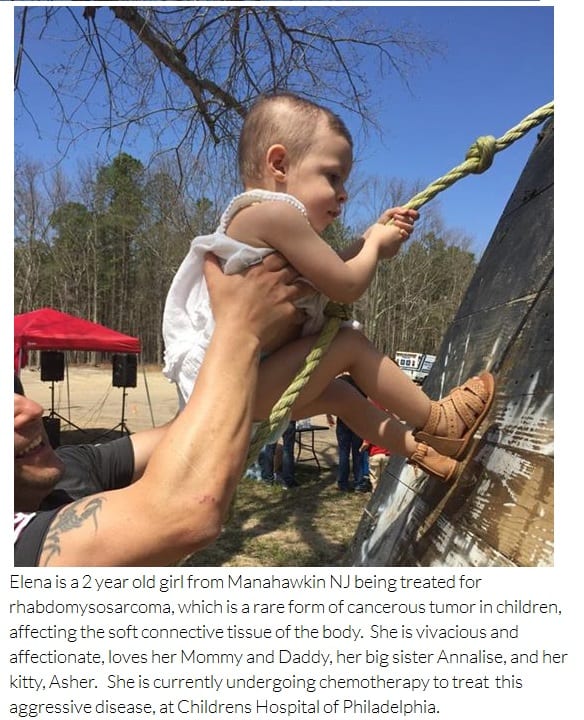 ---
Have you done ABF Mud Run? Share and Rate Your Experience…