By Chris Cow
Spartan Race is all about ripping people out of their comfort zones, testing their boundaries, and focusing a spotlight on any holes in an athlete's training. Nowhere is this more obvious that in their 12h hurricane heat.
Spartan Race started their hurricane heat tradition in August of 2011, during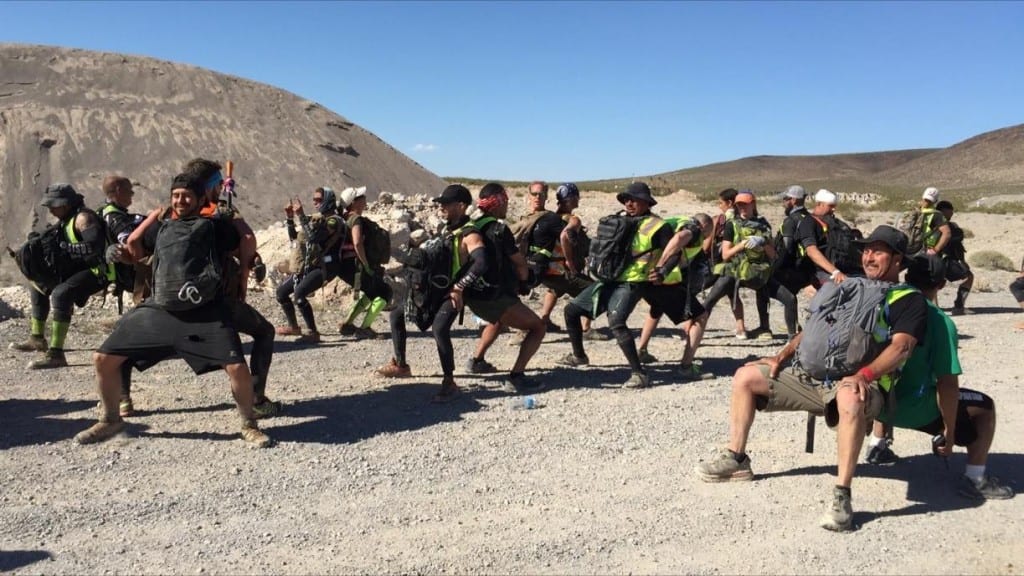 Hurricane Irene, which shut down the race in Amesbury, MA. Spartan founder Joe De Sena led a bunch of athletes and staffers to play on the course for several hours. Since then, the hurricane heat has been a staple of most races, and has morphed into a team building event where teams work together to accomplish some set goals which vary greatly from one event to the next. The 12h hurricane heat was the brainchild of Tony Matesi and had its debut at the Las Vegas Spartan Super in 2014. Unlike the regular 3-4h hurricane heat, which boasts a success rate very close to 100%, the 12h combines team building exercises with direct, individual competition, and historically has a finisher rate around 40%. This event was the 9th in the series, and took place at the anniversary race of the first class.
While close to 10,000 athletes tackled the Spartan Super in Las Vegas this weekend, another select group stepped up to the challenge offered by the HH12hr. Seventy three people signed up for this event, but only 56 brave men and women showed up at 8 am on Apr. 18th to get started, bringing along such enigmatic items as 5' of ½" chain, a padlock with key, 30 lbs in your pack (20 for women), a multitool, bandana, and a raw egg. Quickly, the group was ordered to the familiar task of stacking firewood for the fire jump near the finish line, with a minor twist of having to incorporate a throne into the design. Once this was completed, we moved over near the Tarzan Swing to do 300 synchronized burpees. Our next task was to divide up into teams and search the course for a tire that Tony had found when scouting the area. This was not your normal tire, but a massive 1000+ lb tractor tire which was partially filled with dirt and had a few nails sticking out of it. The group had to hoist this monster into the air and carry it about 2 miles back into the festival area. Once that task was complete, things really got started.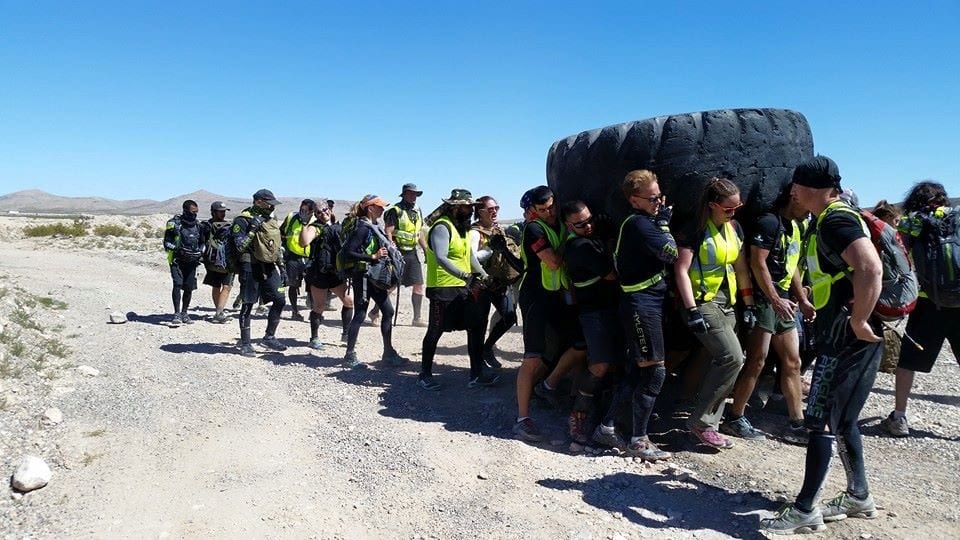 The first elimination challenge of the 12h event was next; at 11:45 AM the hurricane heaters were to run the entire Spartan Super course with a strict 3h time hack. We were responsible for all obstacles and burpee penalties for missed obstacles, but were encouraged to ask politely to skip the line at obstacles with a backup. Those who missed the time hack were done for the day. Immediately after the 3h was up, the second elimination challenge "Survival of the Fittest" took place, and runners had to head back onto the course, up the first big hill to mile 1.5, where we were instructed to make a right turn up a steep mountain path to locate a pail at the top and return with one of the tennis balls contained therein. There were only 30 tennis balls in the bucket. Anyone without a ball could no longer be an official finisher; though in typical Spartan fashion, those who had been eliminated at this stage could opt to do a 1000 burpee buy-in (within the 3.5-4h remaining) to be an unofficial finisher.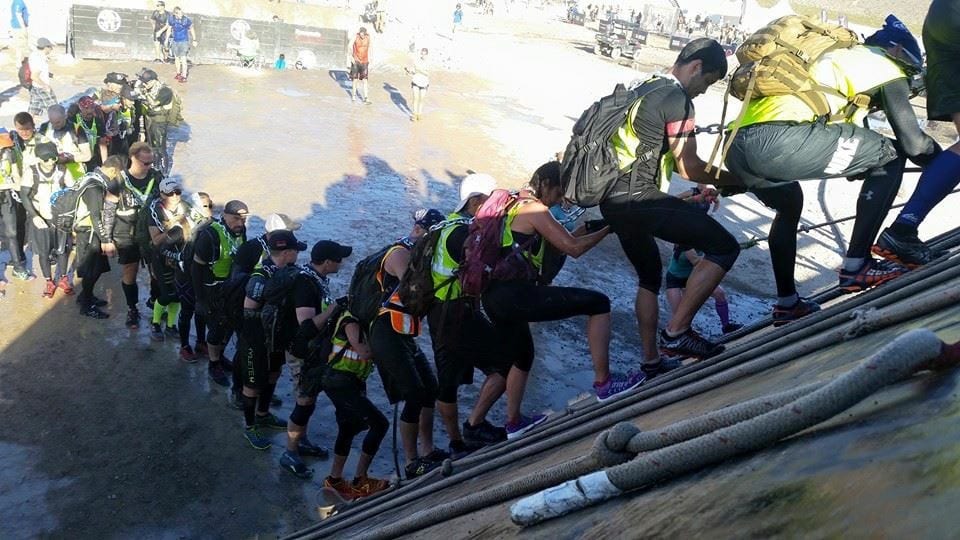 At this point, the remaining athletes were turned over to the not-so-tender ministrations of Kyoul Cha, who ran us through a number of exercises from his Ronin System training program that included Iron Chair, rope tension drills, and one-armed bear crawls, stressing already strained muscles.
After the PT and a quick gear check to confirm that we'd brought everything and that our egg was still intact, we discovered what the chain and padlock were for, as each member locked their chain over their right shoulder and under their left arm. The remaining length of chain was then zip-tied to the chain of the person in front of them. Once the chain gang had formed, we had to go through the nearby mud pit, under the dunk wall, and over the slippery wall (quite a challenge!), all without breaking any more of the zip ties. Once over the wall, we went back under the dunk wall and through the mud pit, then had to maneuver our way through the very long barbed wire crawl, still tied together. When everyone had finally made it under the barbed wire, we continued for ~1/2 mile trek through the desert back to the finisher area, where we were finally allowed to break the zip ties. Many thought we were done at this point, but they were mistaken, as we met back at the slippery wall, where we were treated to 30 more hydro burpees in the large puddle that had formed, then made sugar cookies by rolling around in the sand/dust.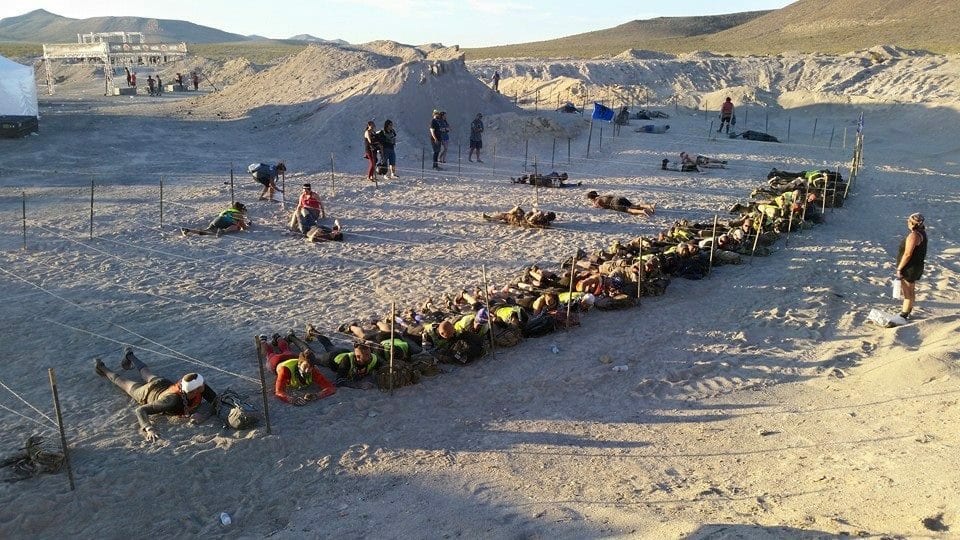 At our final task of jumping the fire, we were joined by a few of the previously eliminated competitors who had completed their 1000 burpee buy-in, took the obligatory group photo, and were finally finished; sore, cold, filthy, and very proud of ourselves and each other.
The Spartan HH12hr is not for the faint of heart. It will test you and break you down physically and mentally, and in doing so, will make you stronger. Fifty-six started, 30 earned their official finisher patch, and 4 others paid the penalty to be counted as unofficial finishers. Those who were unsuccessful this time have vowed to be back to take on the madness again. The simple patch that's awarded for finishing this event is never given away, but instead is earned with sweat, and blood. Tears are optional.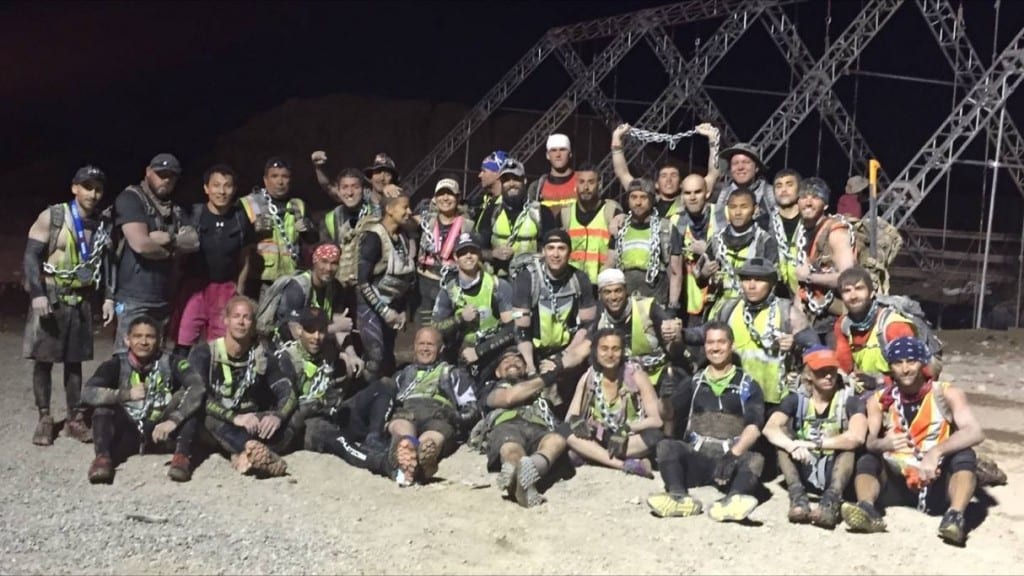 Fun and Difficulty Factor: 5/5
---
Have you done a Hurricane Heat? Share and Rate Your Experience…