Atlas Race Kansas
Atlas Race headed to Kansas this past weekend just outside of Kansas City in Lawrence. The location is home to Ironman & off-road races and Atlas Race was able to take advantage of their trail system in designing the course. Mother Nature decided to add a few extra obstacles before the start of the race in the form of high winds and torrential rain one minute then hot an sunny weather the next. The changing weather conditions created a challenging race for both the staff and participants. Hobie Call battled through the elements to take the win by a large margain for the men. NOTE: He immediately ran from the finish line of the Atlas Race course to the start line of OCR Warrior and took on the qualifying course "while he was warm" and had the second-fastest time of the day – only bested by Americn Ninja Warrior alum Evan Dollard, who was guest hosting the show this week. (Find out how they both did soon on mudrunguide.com/ocr-warrior soon!)
For the women, K.K. Stewart-Paul had a command performance, and took the win for women.
Female winner Stewart-Paul had this to say about the race, "Atlas Race was an exciting, fast and wet race through out the course."
Race Results:
Elite Men
Elite Women
Name
Team
 Time
 
Name
Team
 Time
Hobie Call
Atlas Race
23:19
K.K. Stewart-Paul
 Spartan Race
26:34
Alstin Benton
24:41
Jennette Gardener
 Team Luu
28:13
Ricki Hacker
24:50
Margaret Chamas
28:17
---
BattleFrog Carolinas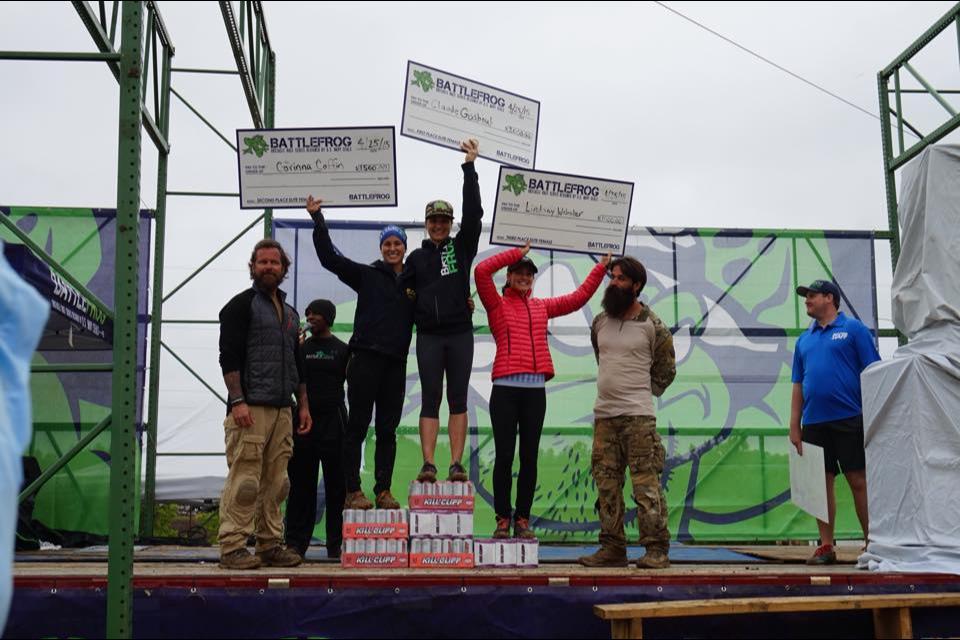 BattleFrog Carolinas also weathered the wrath of Mother Nature over the weekend torrential rains made the challenging BattleFrog course designed by Christopher Accord even more challenging forcing many top racers to hand over their wristbands early in the race and had many struggling to keep warm in the 50-degree rainy weather. Race Manager Amie Booth said this of the weather,
"The weather made an already challenging course more difficult, as rain and excess mud make for very slick conditions, especially on ropes and monkey bars. Our elites did struggle with these, and we were able to provide fresh ropes during the race for Tsunami, and allow the female elites to utilize their feet on the monkey bars.
As a race, we are proud of the challenge we set forth, but we are also understanding that some conditions make it necessary to adapt. For many of the elite runners, the conditions themselves – temperature, lack of sun, and a lot of rain seemed to be the biggest obstacle to take them out of the race, rather than the obstacles themselves. When you have athletes with that little amount of body fat, the shivering they encounter to stay warm makes muscle control all the more difficult. They were all amazing and fought hard to complete the course. Whether successful or not , I have an incredible amount of respect for all the athletes that competed this weekend!"
Despite the added challenge Ryan Atkins continued his winning streak and remains undefeated at a BattleFrog event this year. Claude Godbout topped the podium for women over the weekend as she battled it out with teammate Corinna Coffin for much of the race.
Race Results:
Elite Men
Elite Women
Name
Team
 Time
 
Name
Team
 Time
Ryan Atkins
BattleFrog
1:50:56
Claude Godbout
 BattleFrog
2:31:17
Josh Zwonitzer
Atlas Race
1:55:33
Corinna Coffin
 BattleFrog
2:37:36
Brian Gowiski
 Team TNT
2:01:06
Lindsay Webster
4:43:56
---