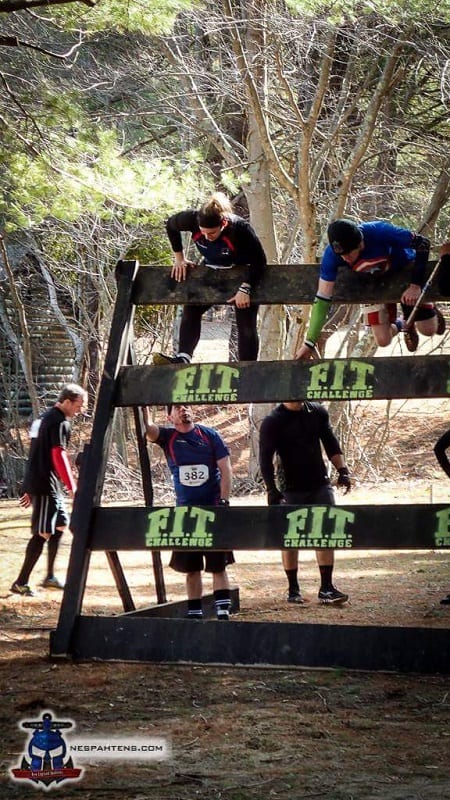 I have been excited about this race/event for several reasons, first: I have only heard great things about Robb McCoy's previous OCR F.I.T. races, second: Robb made it clear this was going to be his best OCR course yet, and third: even though this would be my sixth OCR race of 2015. I always enjoy traveling to the New England area and seeing friends and making new friends.
The Course:
The course started out with a trail run across the side of a mountain. After about a quarter of a mile run, the course turned and headed up the mountain. For the next quarter of a mile, the course was all up hill until eventually the course turned back down; the decent was more difficult than the climb, as the course is on some loose stone and loose dirt.
After descending down the mountain, the first obstacle, an eight foot wall climb. Almost immediately after the wall came another wall that had you climb through the lower/middle section of it, and then right after that came an over, then under wall crawl. At this point you could see and immediately had us start going up the mountain again. The incline was decent, but the hardest part of this part of this course was hidden in the tree line and snuck up on racers like a bad a cold. This part of the course was steep and challenged most racers cardio. After a long trail up the mountain and then a trail that snaked around the top of the mountain we went down the mountain again. Near the bottom of this mountain descent was a six foot wall climb and then a under wall climb.
At the bottom of the mountain came another high wall climb that had a rope to aid the racers with getting over the wall. Immediately after this obstacle came a tube crawl and a see-saw obstacle which always causes me stress. After the see-saw obstacle, the trail again had us climb up the mountain, which began with a yellow rope crawl and then attack a pretty steep mountain ascent, followed by a challenging mountain decent.
Once down the mountain, we came to a peg board climb obstacle, immediately after was a rope climb that was pretty high up and was harder coming just after the peg board climb. We then went right to a Wreck bag carry which had you carry the bag up a mountain and also climb over about a four-foot wall. The Wreck bag trail for the Elite wave was much longer and harder than it was for the later waves and this was a good challenge on almost everyone's cardio.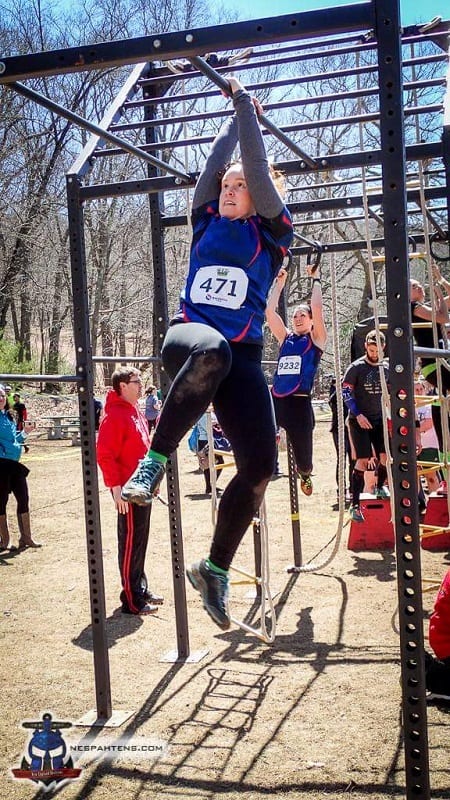 After going up the mountain and down the mountain with the Wreck bag we put the Wreck bags back and then almost immediately came to another four-foot wall climb and right after that came an inverted wall climb. After these two obstacles came another wonderful mountain ascent and this part of the trail paid a cruel trick as racers got to what we thought was the top of the trail climb and started back down the mountain only to take a sharp turn and go right back up! After some more going up the mountain we came down and then had a very short run on flatter trails.
Next came a section of the course that was supervised by Chad Mason and his ABF Mud run team, the first obstacle was a series of three park tables and benches that racers had to crawl through the benches/tables and then right after that was a very cool monkey bars obstacle that segwayed right to a rope wall climb. Next was a very challenging 2-foot wall that we had to jump/step over. We then crawled under a big ABF Mud run truck and came to a very cool "rig type" obstacle brought by ABF which started with a rope climb/swing and then you went right in to a set of monkey bars followed by a set of rings and had you work your way across two bars while holding the rings, up next was rope ladder that you climbed up, followed by another set of monkey bars and last but not least came a bar you had to traverse across with your hands. After this tough and challenging obstacle we made our way over to a box jump crawl and then came an Atlas ball carry, followed up by an overhead heavy bar shoulder press (Elites did fifty and non-Elites did thirty). Just after this was a very small tube crawl and the last obstacle of the course, an inverted ladder wall climb followed immediately by the finish line!
Overall Feelings:
This was a great course and great event. The music was great and the overall vibe of the event was just a good time all day.
The Schwag:
We received a nice shirt and a very cool finisher medal that is designed as a Wreck bag with the F.I.T. logo on it.
Overall event rating:
Based on the course, the obstacles, the fact I didn't see a single delay at any obstacle almost all day, and a very nice and unique finisher medal I am going to rate this event 5 out of 5 stars!
Final Thoughts:
I had a great time and was very impressed to see most of the OCR owners/race directors part of the OCRUnited Series at this race helping McCoy and cannot go without giving a shout out to each of them: Rob Butler (Shale Hill), James Moher (Grit `N Wit), and already mentioned above, Chad Mason (ABF Mud Run) all showed up to either show support or lend a hand to help put on an amazing race/event. I very much look forward to the next F.I.T. event/race.
---
Have you done a F.I.T. EPIC OCR Challenge? Share and rate your own experience…