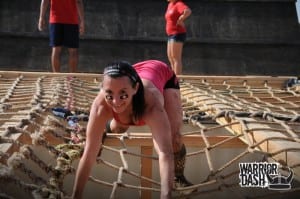 It has been a few years since my last Warrior Dash  in Florence, AZ, which seemed to be a dusty place in the middle of nowhere. I remember the 2-day event with its swinging tires and rusty cars. At the time they had timing chips and really cool live filming of the finishers and updated top finishers. It was a different race with a different vibe. Now it has transformed into a classier course with a less competitive yet more fun vibe.
Venue and Course: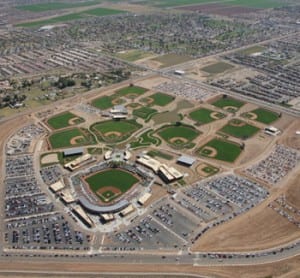 Camelback Ranch: the spring training home of the Los Angeles Dodgers and the Chicago White Sox. Awesome. Unique. This site has multiple training fields, landscaped grounds and ample parking. Signs along the main road identified the venue and parking guides directed us to a paved lot, which seems rare these days. As far as the course goes, the race organizers took advantage of the grounds. The first leg of the race incorporated the stadium warming track and bleachers into the course which was very enjoyable and not something you can do everyday.
As we made our way around the 3.2 miles course, we went from clay to bleachers to grass to rocks. The change in terrain and scenery was nice. I also enjoyed the humorous signs posted throughout the course advertising their use of "gluten free" mud and other fun statements. I was told by some 2014 runners that a lot of the obstacles were bunched together which caused a backup. That was not the case this year. The course consisted of several legs that included a reasonable running portion followed by a group of obstacles. I thought this was nice because it allowed the runners to spread out and therefore avoiding obstacles delays. There were event photographers capturing photos all around the course, which were available for free download. 
Festival: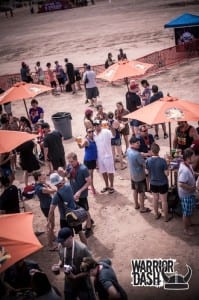 When I think of Warrior Dash festivals, the first things that come to mind are beer and turkey legs, red viking hats and music.  WD does a good job with their festival area by including all the necessities and more. Besides the normal amenities like changing tents, showers, and restrooms, they have things like a fun "hang out" obstacle for everyone to try or a few props set up for photo opportunities. I really love the giant WD sign and helmet that is available for photos. The vendors had some fun giveaways and there was a merchandise tent to purchase even more swag.
Prices:
Decent, part of proceeds go to St. Judes Foundation to help fight pediatric cancer. If one race isn't enough, you can purchase a season pass for $125. With your regular race entry you get a race bib, t-shirt, fuzzy viking hat, medal, beer, free photos and a fun time. Sounds worth it to me.  🙂 I also have to compliment the photographers on taking some great photos.
Obstacles:
The obstacles were a good time. Of course not all WD's are exactly alike, but a lot of the signature obstacles remain the same.  I have to point out that there was GRASS for our low crawl (maybe something taken for granted in other states). My favorite obstacles were the Pipeline, High Tension and Goliath. I like how the Goliath and final mud pit were set up for spectators to see. The added cheering at the finish made crossing the line even more exciting. 
-Goliath – Climb up 2 stories high and cross a cargo net with a fun slide finish.
-Deadman's Drop – Little twist on a regular wall climb. With a 20 ft ladder-ish climb up one side followed by a flat, slide-like back side.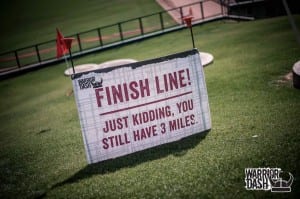 – Diesel Dome – an oversized dome-shaped structure with good views from the top.
-Giant Cliffhanger- Use a rope to get over a 30 ft pyramid wall.
-High Tension – Walk across two balance beams with the help of an overhead cargo net. Try not to slip from the rush of water that sprays down from above. 
-Pipeline – one that stood out the most because i haven't seen this at any other races. Runners climb up to these tiny "net tunnels" and must make their way through. These tunnels look deceiving because even the smaller runners struggled getting through them. 
Overall:
This was a fun race. It is ideal for beginners with its 5k distance and only 12 obstacles. It also appeals to the more competitive runner with a chance to qualify for the Warrior Dash World Championship (Oct 10). For those that may be intimidated by obstacle races, there is no need to fear because the obstacles in are designed for all fitness levels and many do not require upper body strength. I give WD a 4 out of 5.
Rating: 4/5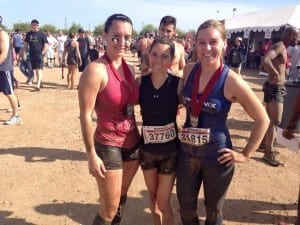 ---
Editor's Note:
See highlights and more from Warrior Dash Arizona on the next episode of Obstacle and Adventure Weekly airing Monday.
Catch a sneak peak at the next episode of Obstacle and Adventure Weekly from Warrior Dash Arizona. Be sure to check out the entire episode on Monday.

Posted by Obstacle and Adventure Weekly on Thursday, April 16, 2015
---
Have you done a Warrior Dash? Share and Rate Your Experience…