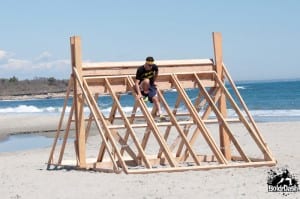 BoldrDash kicks off their season with their Beach race in Narragansett, Rhode Island on May 2nd.  Many write about those OCR events considered "the best kept secret". BoldrDash is the event/race that takes this title in both May and October events. It should be must do races for anyone in New England and the Tri-State area. BoldrDash's President Lynn Hall spilled the beans on the upcoming event.
What is the actual distance of the course?
Hall: The beach Course is a 5k with over one mile in the beach in the sand.
How many obstacles will the course have?
Hall: BoldrDash prides itself in switching it up at every event. As usual we will have a minimum of 27 obstacles, some that our runners have seen before, some they haven't and some that have a new twist just to keep everyone guessing!
Will the obstacles have three versions of each obstacle (beginner, intermediate, and more advanced)?
Hall: When we design our obstacles we keep in mind that inclusion is a very important of what BoldrDash is all about. We build our obstacles with levels of scalability whenever possible allowing individuals new to OCR to run alongside elite athletes on the same course, and the same obstacle at the same time. We are all in this together. Working as a team to conquer any of the obstacles out on the course is always highly encouraged.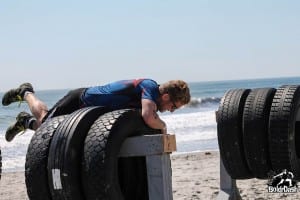 How many obstacles will be placed in the ocean?
Hall: Because of the ocean tide and undertow that Scarborough State beach is famous for we do not place obstacles in the ocean. However you will go into the water (more than once) for at least one obstacle. (It is the participant's choice how deep they wish to go – waist high is encouraged. There will be no swimming on this course.
Tell me about the course layout and anything else you think readers want/need to know.
Hall: The tide lines at Scarborough are quite high, at times leaving only a few feet of sand between the high tide mark and the pavilion. Depending on tides will mark out a course that will include trail running, open fields, rocky terrain and the beautiful sandy shore. There is a great mix of obstacles and running in each BoldrDash event.
For those traveling and wanting to make it an adventurous family weekend, are there other things in the area to do?
Hall: We encourage all our athletes to hang out with us for the day. Human Fuseball, Human Checkers, face painting for adults and kids, Corn Hole, Photo ops, vendors, food, as well as other games and activities for kids and adults alike will keep you busy for hours. Afterwards you can head down the BonVue restaurant (approx. one mile from the beach, for a free beer (for runners over 21) and some great local fare. Many of our runners love camping at the local state campground Fisherman's Memorial as well. Rhode Island's shore line is incredibly picturesque. You're at the beach – enjoy it!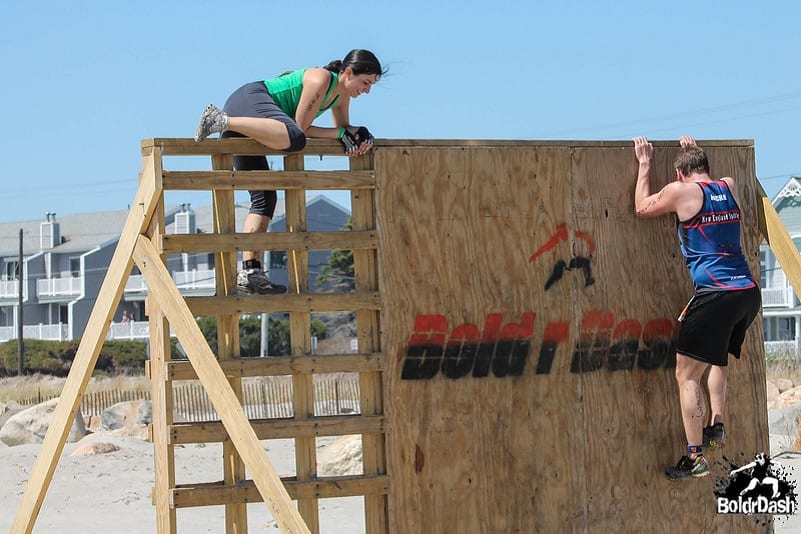 How much money do you expect to donate to charity and which charities?
Hall: We have already raised over $2,000 for the local charities involved with this event. Meeting Street, where children of all ages and abilities receive individualized attention from highly trained, dedicated educators, therapists and staff, and University of RI College club sports.
Are there any last statement/words you would like to say to our readers?
Hall: BoldrDash also has a great kid and family course. Kids 4-7 run with along with parent/guardian for safety on approximately a 1/2 mile course with 5-8 age-appropriate obstacles along the way. Older children, 9-12, run along the same course then continue for approximately another 1/2 mile with an additional 5-8 obstacles. Our Family Waves are filling up this year. We have had to open more family waves twice already! The family wave is where everyone gets to participate. The entire clan takes part in the full mile kid's course and all members participate in the obstacles along the way.
Final Thoughts:
The obstacle course BoldrDash had at last year's fall race/event was one of the best 5K courses I have run to date. The three versions (beginner, intermediate, and more advanced) of most obstacles allows for every level of OCR athlete to run the same course and have an amazing and challenging race.
Use discount code MRG5 for $5 off your Bold r Dash registration