Now you're a 2-4 weeks out. Time to do a full gear and nutrition check. You want to have everything purchased weeks before the race. You don't want to be in a situation where you are missing race fuel because UPS got a flat tire. Everyone is going to tell you what works for them, what's better and not… I'm not here for that. You know your body. You know what works best for you. This is a basic packing list.
Drop Bin
This is my bin! There are many like it, but this one is mine!
Remember what I literally just typed above about having things purchased weeks in advance? You won't be able to here. The specific size requirements are not released until about a week before the race. For the case of 2014, It wasn't released until Wednesday… The race was on the following Sunday. The reason for this is they have to account for the number of participants in the Ultra Beast and the amount of physical space they have available. Once they have that, they will tell you what size your bin can be.
I recommend getting one with a lid. Your bin might be in a tent or exposed; it might rain. That happened to me in 2013. I had no clue what I was doing, so I used one of those super durable shopping bags as a drop bin. My nice dry shoes and socks were not nice and dry by the time I got to them.
Drop Bin Items
This is my go to pack list for every endurance race:
Dry shoes and socks
Prefilled/pre mixed extra hydration bladder (for a quick switch)
Energy Gels and Energy Chews
Campbell's instant microwave chicken noodle soup
Honey Teddy Grams
Beet Elite
Extra steel pill holder filled with salt tablets
Trash bag to put my wet stuff in – back in the bin
Dry compression shirt
Why this mix? The dry stuff is only going to get wet again. However, that dry 2 miles is glorious. It's an amazing morale booster. Honey Teddy grams? Yes. It helps bring your glucose levels up pretty quickly to restore cognitive function. Chicken Soup? YES! It's 1500mg of sodium. In a race where a huge part of it is staving off cramps, this is key. Plus, it tastes good and is really easy to eat/digest. Remember, your GI system all but shuts down in race situations so it doesn't waste energy there, when you need it to your muscles. Having things that are easy to digest are absolutely key. Do your best to not bring anything complex to digest. It can sap your energy instead of helping you during the race.
When you get to your drop bin, you should be able to switch your hydration bladder, socks, shoes, and shirt, and then eat everything you need in no more than five minutes. Think of it like any car race. Their pit stops last seconds. Yours should look just like that. You are getting new tires and fuel. Then get back out on the course.
Race Day
It's here. For the course, you're going to want at least enough food to last you eating every 35-45 minutes on the course until you are able to get to your drop bin to resupply. Remember, this race, your pace is going to be much slower than any other you have completed before. If you did a 15 mile Beast before in three hours, add another three hours to it. Take that much food, and maybe a little more. Energy chews and gels are very small and lightweight. They will not weight you down unless you go overboard. Plus, as mentioned above, they don't take much for your body to digest. This way you will have a better efficiency for your on-the-run (literally) refueling.
For 2104, I set an interval timer on my watch to beep at me every 40 minutes. Every time I heard it go off, I ate and washed it down with some of my water-mix from my hydration pack. At times I was in the middle of an obstacle. I ate right afterward. During the double sandbag carry, I took a moment to eat in between the intervals, and I then still ate when it did go off again. I highly recommend a good durable watch with a timer on it for your nutrition cycle. You don't need to go overboard and get the biggest and baddest out there. Just get something dependable.
On the watch note, if you do get a good GPS watch, do not get caught up looking at the time and your distance traveled or your elevation and such. Leave that for the next day. Just turn it on, start your activity, and eat when it tells you to.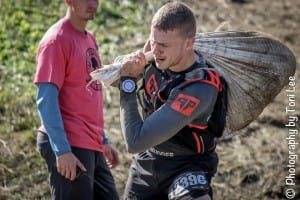 When the race starts, it's going to very quickly go uphill. It always does. It's a great way to create pace groups. You're going to need to make sure you don't hit this first large climb with too much zeal. Hold back that adrenaline. Be deliberate; don't waste energy taking fancy routes. Just go up. Don't go slow; just get a good steady climbing pace that you can keep without stopping the entire way up. Remember those hundreds of floors on the treadmill? That's what you worked for!
Pace is a killer in this race. By pace, I mean "pacing yourself to save energy". If you are not climbing a steep grade, you need to be running. Crest that hill and run. See those rolling trails and run. Notice the hard steep decline, run safely down. You need to run every chance you get. If you're running downhill, dig those heels and your shoes lugs in to that ground, carry your momentum down and be safe. All other times, you need to really be pushing your pace the entire race.
Completing the obstacles is key to you finishing. If you need thirty seconds to gather yourself and prepare for an obstacle, do it! Thirty seconds finding the right traverse wall or visualizing your path through the rig is much shorter and less energy intensive than 30 burpees. Don't rush through obstacles, but don't be timid. Be methodical. Tackle each obstacle with a plan. You'd be amazed how difficult the simple obstacles can become at mile 20 and beyond. Look at your target, visualize your approach and conquer!
The Ultra Beast is as much about camaraderie as it is a test of strength and will. You are going to be with other Ultra Beasters. Do not get caught up in conversation with any racer if they are going slower than your pace. This may sound mean, but you need to run your race. Yes, it's great to talk because 12+ hours running a course is hell on the mind. It breaks things up and brings your focus off of any soreness or discomfort you may be feeling. This is great for a minute or two; but, don't get complacent. You finishing depends on your ability to know when you can say hi and meet new battle buddies and understanding the time and place to cordially end the conversation and head on with your race.
Final Thoughts
I hope any of the advice I have given here will help anyone even improve just a little bit and complete their Ultra Beast. Just your attempting, whether you finish or not, makes you a part of our rather small circle of athletes with questionable sanity. I'll see you on the mountain.
---
Did you miss Part 1? Check out Part 1 of this series here.
---