Snowbird Resort to Host DirtyBird Mud Run
Event Boasts the World's Longest and Highest Slip-and-Slide at 11,000 Feet
LOUISVILLE, Colo., April. 10, 2015 – Human Movement Management (HMM) and Utah's Snowbird Ski & Summer Resort announced today they will play host to the inaugural DirtyBird Mud Run on July 11, 2015. The DirtyBird Mud Run is an outrageous obstacle race featuring the "World's Longest and Highest Slip-and-Slide" at 11,000 feet above sea level, over 15 obstacles through a fun and challenging downhill 5.5 mile mud run. Pre-registration for the DirtyBird Mud Run opens on April 10, 2015 to Snowbird passholders and public registration opens at 9:00 am MST on April 13, 2015. Registration is only available online here.
Snowbird's rugged terrain sets the stage for the most exciting mud run for novice to competitve runners in the heart of the Wasatch Mountain Range. Participants will begin their race once the Snowbird Aerial Tram doors open at the top, where competitors will start with the World's Longest slip-and-slide into Mineral Basin, landing in a giant mud pit. From there, participants will challenge themselves with never before seen obstacles towards the base of the mountain for a world-class finish festival.
The DirtyBird Mud Run will be the World's Highest Obstacle Mud Run and is limited to the first 3,000 competitors who will get to experience the Dirty Bird Mud Run theme "It's all downhill from here." Following the mud run be sure not to miss the free Snowbird Cool Air Concert featuring the "Young Dubliners," starting at 6:00 p.m. Jam out under the stars with this free concert located on the Snowbird Plaza Deck. Expanded parking lot shuttles will run on July 11th from the starting line at the Snowbird Deck Plaza to the finish line at Creekside.
Friends, family and spectators are invited to join all participating runners for this day and evening event. Lodging and spa deals can be found here.
Mud Run Guide has secured an exclusive $10 OFF discount code, use "MRG10" at registration.
For registration and more information visit www.thedirtybirdmudrun.com.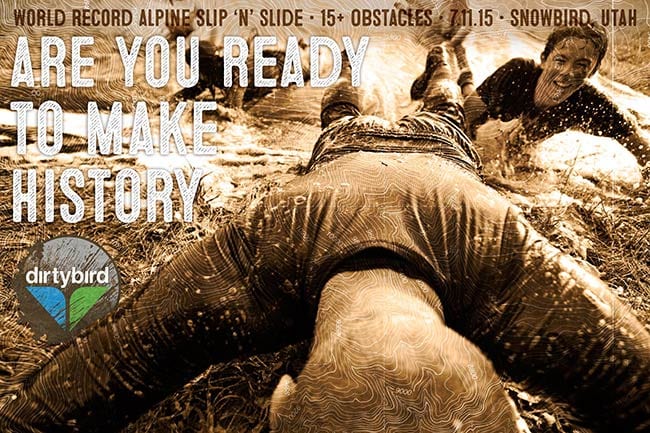 About Human Movement
Human Movement Management (HMM) is a leading active entertainment and event production company that produces world-class mass participatory running races, festivals, triathlons, obstacle races, and outdoor events. Headquartered in Louisville, Colorado HMM has been named on Inc. Magazine's 500 fastest growing companies and Outside Magazine's "Best Places to Work." HMM is the latest addition to Powdr's unique portfolio of businesses that include mountain resorts, action sports camps, content production and media. For more information, please visit www.humanmovement.me or email info@humanmovement.me.
About Snowbird Ski and Summer Resort
Located just six miles up Little Cottonwood Canyon, Snowbird Ski and Summer Resort is the most accessible mountain resort from Salt Lake City. Turn your DirtyBird Mud run into a fun weekend getaway at Snowbird. Take advantage of great summer lodging rates and get an early jump for race day by staying overnight with friends and family on Friday July 10th. Make a weekend out of it and relax at Snowbird after the race while enjoying great dining, summer activities and scenic tram rides. No matter where you stay at Snowbird you are just walking distance from summer attractions. For more event information, or to explore lodging options, please visit www.snowbird.com