THE BATTLEGROUNDS at Cedar Lake in St. Louis, is the Midwest's only permanent mud run obstacle course, and obstacle course with its very own vineyard! It offers a 5k and 5 mile running option along with 30+ military themed obstacles. It is truly where "Life is better Battled".
This race has been getting a lot of publicity behind the scenes with OCR Warrior and the city's very own KSDK News Channel 5. I had to come check this out for myself.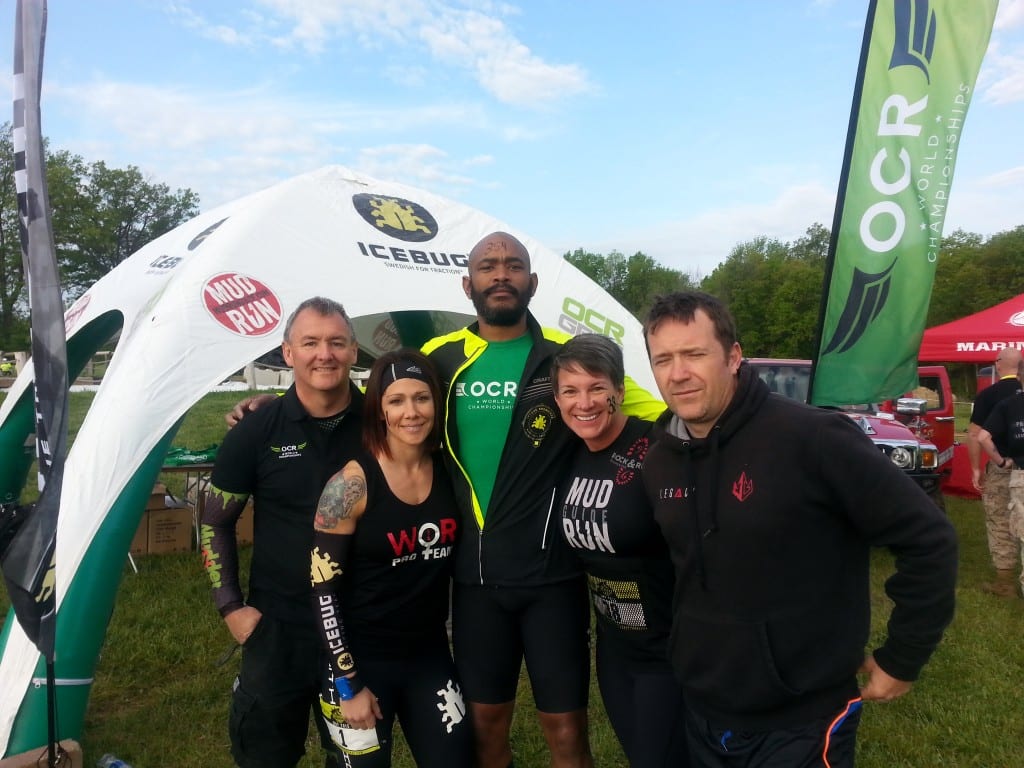 When I arrived at The Battlegrounds, there was Free parking, great music, and the venue was swarming with excitement. Terrain Magazine, Shock Top, Supplement Superstores, and of course OCRWC (Brad Kloha) with ICEBUG USA (Jason and Heather Moss), CRAZY MUDDER MUCKERS (Kevin Jones and Michael Audus), MUD RUN GUIDE (Lucy White), and TEAM ELIAS (Charla Wewers) were all there to sponsor, promote, and check out this event!! And…I can't leave this out…they even had HOT showers and individual changing rooms for the competitors after the race! HOT SHOWERS!
It was a great day for the first time mud runner to a seasoned OCR racer. The course was laid out extremely well and one of the best "marked" courses so far I've seen this season. The variation of the obstacles was fantastic and if you don't like water, this race isn't for you because there was lots of it!! Right of the starting line we were hit with fire hoses of water before we got to our first obstacle Hamburger Hill. All through the course we were jumping over waist high logs, 5 to 12 foot walls, cargo climbing, army crawling under barbwire and through trenches. The Perilous Pontoon Bridge was a favorite. It was like running over lily pads on a lake, by the time you high kneed it across them, your legs were jell-o on the other side.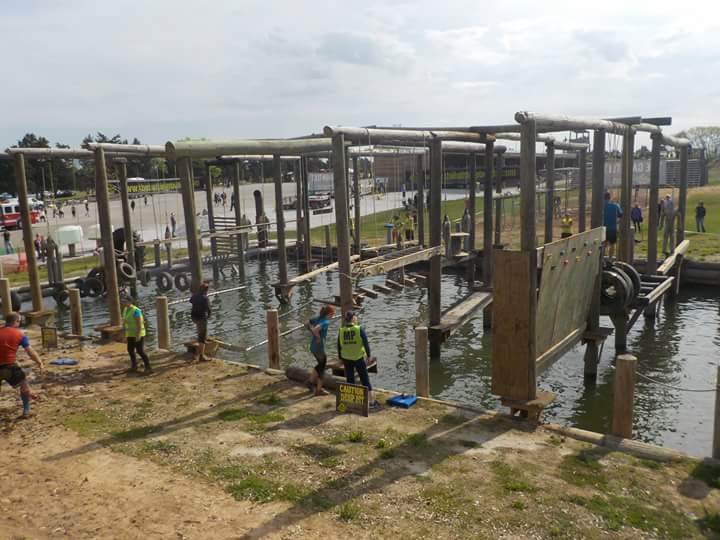 The course not only had man-made obstacles but the natural obstacles of rocky creek crossings and running was a great change up in the course. We battled at Knotty Root Hill, made it through Survivor Swim and Jungle Climb, which these names speak for themselves!! Then….Welcome to the Drop Zone, where racers were jumping off into deep water and swimming, swimming, swimming to shore. It was Knee High Hell after that and you can't leave out The Weavers!!
But by far the most favorite obstacle was The Battlegrounds Gauntlet. It was 7 lanes, with all different obstacles on each one. I got to it and was like….Where do I go? Which one do I do? It was AWSOMENESS…so since I was writing this race review for MRG, I did them all while I was there!! If they wanted to intensify their race or make it more of a challenge for the Elites, they could have you run through all 7 lanes as one obstacle and if you fell off, you start over or take a penalty. This race has so much potential for great upcoming events!! Robert Holm, the race director of The Battlegrounds at Cedar Lake has an awesome venue and an awesome future in OCR!! IT'S A MUST DO!!
A Big Shout Out to Our Top Finishers….
The Elite men's race was a tight one between David Baker's 37:38 First Place Finish and Justin Stewart's 37:59 Second Place finish with less than 30 seconds apart from each other. On the women's side Heather Moss came out on top with a First Place Finish of 58:15 with a nice Second Place going to Pam Hart at 1:04:10.
---
Have you raced at The Battlegrounds? Share and Rate Your Experience…