Located at Reveille Peak Ranch in Burnet, TX, this 1,300 acre property boasted lots trails, ponds/lakes and green scenery. This was a perfect canvass for the Spartan masterminds to plan a course. The site offered lots of space and a large covered pavilion overlooking a private lake. At first, it almost seemed that Spartan was not going to open the gates due to the wind, rain and lightning. There was a slight delay of entry, which caused the waves to become backed up. I was mentally preparing myself for a miserable day of wet spectating, but the rain eventually stopped and the clouds gave way to the sun later in the day.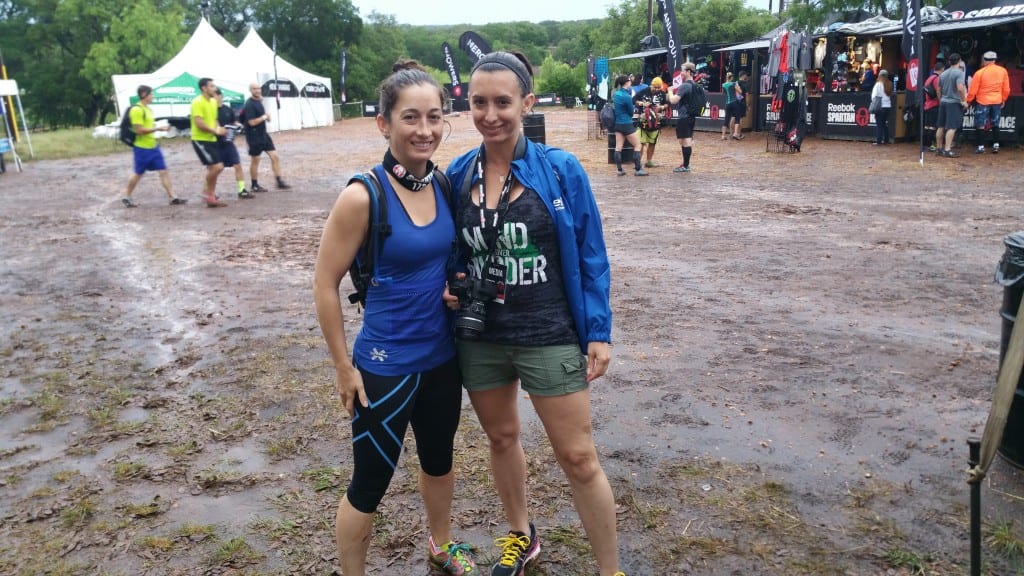 Festival Area:
The festival area had a simple layout, but was not very easy to get through with all of the mud. There were approximately 6 nearby obstacles for spectators to watch to include the Hercules Hoist and the rope climb. Spartan also held its usual festival challenges with a chance to win a free race entry. A unique feature of this festival was the large covered pavilion where people could purchase BBQ and other food items. There was a small pool-like area that the young spectators managed to occupy by the end of the day. While eating, you could enjoy the view of the private lake and see an occasional runner on the other side. The conveniences of showers, changing tents and bag checks were all located nearby. I do wish there were more vendors giving out free samples and products.
Course:
8 plus clearly miles with over 24 obstacles. This course had muddy trails, rocks, boulders, lakes and streams. A large majority of the course was single trail, but with opportunity to pass. Runners went through several streams over slippery rocks. A lot of the signature Spartan obstacles were found at this race, but what stood out most to Elite runner, Nicole Solana, were the large boulders and terrain she encountered on the course. She said this was one of the most enjoyable races she has experienced so far.
Obstacles:
Rope Swing– This is one of my favorite obstacles to watch because it doesn't have a high passing rate. Many runners jump up to the rope and slide straight down into the water. The ones lucky enough to keep their knees high gracefully made it to the other side.
Man in the yellow overalls and rain boots – This guy wasn't marked on the course map, but he certainly could have been considered a mental obstacle. With a mega-phone in hand, this man gave runners some drill-sergeant-style motivation.
Floating Bridge – Across the lake from the spectator area was the floating bridge, which tested runners balance as they ran across the unstable, floating blocks.
10 ft. wall – One of my vertically challenged sources expressed her dislike for the 10 ft. vertical wall. Although there are two steps to assist, it is difficult for someone of shorter stature to reach the top of wall without using the sides.
Overall:
From a spectator standpoint, I wish I could have walked to more parts of the course. The venue was a beautiful backdrop for a race and other than the weather, it was a perfect day. From a runners standpoint, the course offered a variety of terrain which made it that much more unique and enjoyable. Army pilot Preston Carrington said that he discovered how much he enjoys trail running after running his first Spartan race. Thanks to his positive experience, he plans to register for a Sprint in the near future. Based on runner input and a spectator point of view, this race/venue gets 4 out of 5 stars.