This past weekend saw races all over the country and world with races like Fugitive Run Obstacle Course in Missouri, Wipeout Run in California, and Tough Mudder in Ohio. However, this past weekend all eyes were on Spartan Race with five different races in three locations over the weekend it was the weekend of Spartan.
---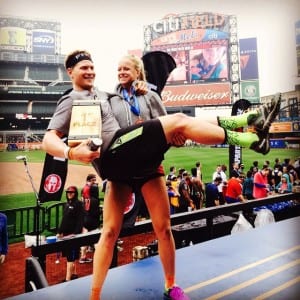 Spartan Race Stadium Race – Citi Field
Spartan Race returned to Citi Field home of the New York Mets baseball team. This races stadium sprint was a lightning fast race through the grounds. Spartan Race teammates Hunter McIntyre and Nicholas Alexander battled it out for the top spot. On the women's side it was a tight race between Cassidy Watton and Jackie Landmark with less than 10 seconds separating first and second place. We asked McIntyre about the event,
"It's great to be home with people I love at a race I love. Stadiums continue to be the most fun and dynamic kind of obstacle racing out there, I can't wait for the next one!"
Race Results:
Elite Men
Elite Women
Name
Team
 Time
 
Name
Team
 Time
Hunter McIntyre
 Spartan Race
29:24
Cassidy Watton
 Atlas Race
35:36
Nicholas Alexander
 Spartan Race/Epic Training
31:59
Jackie Landmark
 fitmommyof5.com
35:43
Nikolay Kopach
32:07
Karlee Whipple
 Epic Training Center
54:48
---
Spartan Race Beast & Sprint -Montana
In Montana, NBC Sports was on hand to cover the first of it's series of races leading up to the championship in Tahoe. Saturday featured the Beast course designed by none other than Norm Koch. On Sunday the filming was underway capturing the drama of the Sprint.
Beast Race Results:
Elite Men
Elite Women
Name
Team
 Time
 
Name
Team
 Time
Ryan Kent
 Spartan Race
2:34:26
Faye Stenning
3:14:22
Chad Trammell
 Spartan Race
2:37:02
Allison Tai
 OCR Canada
3:19:47
Jimmy Sliwa
2:37:15
Debbie Koch
 Team Synergy
3:29:19
Sprint Race Results:
Elite Men
Elite Women
Name
Team
 Time
 
Name
Team
 Time
John Yatsko
 Spartan Race
58:26
Rose Wetzel
 Spartan Race
1:09:05
Chad Trammell
 Spartan Race
59:52
Amelia Boone
 Spartan Race
1:12:05
Glenn Racz
 Spartan Race
1:00:00
Orla Walsh
 Spartan Race
1:18:19
---
Spartan Race Super & Sprint – Texas
Texas also saw two Spartan Races this weekend with a Super on Saturday and Sprint on Sunday. Spartan Pro Team member Jackie Rust took home the podium both days for the women and she said this about the weekend. "A win is always exciting, but nothing can compare to back to back wins with my family cheering me on for Mother's Day!" A perfect way to round out a weekend of racing and Mother's Day.
Super Race Results:
Elite Men
Elite Women
Name
Team
 Time
 
Name
Team
 Time
Joey Patrolia
 Oral I.V.
1:30:03
Jackie Rust
 Spartan Race
1:49:05
Yancy Culp
Beet Elite
1:32:37
Stephanie Clements
1:56:49
Nathan Palmer
1:35:09
Sonia Eudy
2:02:24
Sprint Race Results:
Elite Men
Elite Women
Name
Team
 Time
 
Name
Team
 Time
Nathan Palmer
47:51
Jackie Rust
 Spartan Race
1:49:05
Joey Patrolia
 Oral I.V.
50:10
Sue Luck
 Body Hacker
1:03:27
Kevin Donoghue
 Spartan Race
51:18
Raegan Chambers
1:06:53
---