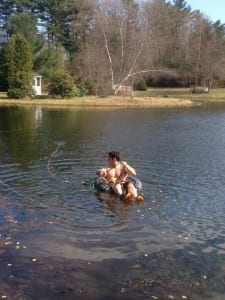 Bridging Abilities Obstacle Challenge is being put on to raise money for a great charity and all proceeds from the event will directly support the children with disabilities who take part in The Bridge Center's year-round recreational programs.  I am a huge fans of events put on to help charities, so I reached out to Bridging Abilities Obstacle Challenge Race Director Amy Reichenbach for an interview.
Please explain why this event is special.
Reichenbach: The Bridging Abilities Obstacle Challenge is a unique fundraising event. We have three races in one day: a kids' course, an all-abilities fun run for individuals with disabilities and their families, and also a 5K obstacle race that will have racers jumping, climbing, and crawling around our property! Runners and walkers of all ages and abilities are welcome and encouraged to take part in this fun family day! Part of what makes this event special is the excitement of two worlds colliding on race day! We have loyal Bridge Center supporters, including camp counselors from many years back, program participants, kiddos and teams of families – who have never done obstacle races before in their lives. We also have race enthusiasts crazy about climbing walls, running trails, and getting muddy – who had never heard of The Bridge Center before, and will now be able to help us reach more families and spread all ability pride!
I am thrilled to welcome Geoff Krill to The Bridge Center as an inspirational speaker, adaptive athlete, and President of Eastern Adaptive Sports. I am offering free childcare on our universal (wheelchair friendly) playground for parents who would like to race while their kids enjoy supervised, fenced-in fun!
There will also be vendor booths (spots still available), raffles, face painting, Big Daddy's Food Truck, and more!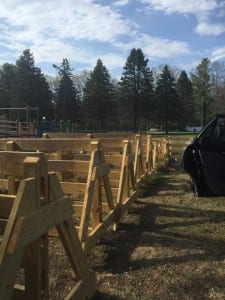 Please tell us about the Bridge Center.
Reichenbach: Founded in 1963, The Bridge Center specializes in affordable, year-round recreation and equine-assisted therapy programs for individuals with disabilities. All programs are designed to meet the social, emotional, and physical goals of participants, regardless of the nature and severity of their disabilities. Through innovative programming, The Bridge Center encourages independence and seeks to improve participants' quality of life. All proceeds from this event will directly support the participants who take part in Bridge Center programming every month of the year. More information on our website: http://thebridgectr.org/
What is the actual distance of the course?
Reichenbach: We are doing our best to squeeze every inch out of the town land we have permission to use, which requires us to create miles of our own trails from dense woods…a challenging and slow process for just a handful of staff and volunteers. I know how important it is to many racers that an event advertised as a 5K is at least 3.1 miles, so whether or not we end up hitting 3.1 on the nose, I am offering unlimited multiple laps completely free of charge!
How many obstacles will the course have?
Reichenbach: The adult 5K course will have 25+ obstacles. The kids' and adaptive course will have 15+ obstacles.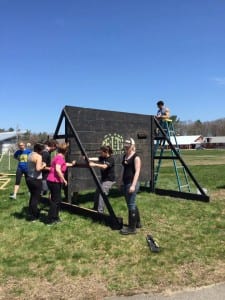 I am told other companies are bringing obstacles to this event, which ones?
Reichenbach: Robb McCoy of F.I.T. Challenge and Steve Opachinski of Gladiator Training Grounds have both been very generous with their obstacle loans, and I am immensely grateful. We are also creating own unique Bridge Center obstacles as well! Racers will be completing some of these obstacles in our massive indoor therapeutic horseback riding arena. My favorite obstacle will feature our beautiful pond, island, and …pool floats!
How much money do you hope raise to donate?
Reichenbach: This event truly is a fundraiser. Almost all registration fees are being poured directly into our programs, scholarships for participants, and all the costs associated with keeping us running year round. The community has been very generous with sponsorships, donations and volunteers, and we were able to eliminate many costs that non-charity races sink lots of money into. That's the great news – your registration fees really are helping Bridge Center kids!
Will there be a finisher medal for this race?
Reichenbach: Absolutely! Ashworth Awards donated a beautiful mud splatter medal designed by artist Lucynda Slattery!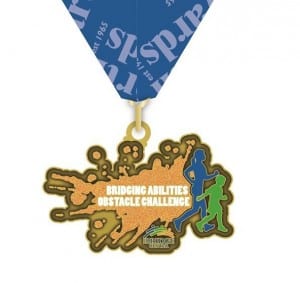 Are there any last statement/words you would like to say to our readers?
Reichenbach: I just really want to thank everyone – truly, from the bottom of my heart – for helping me turn my vision into reality! To be honest, I'm just the Volunteer Coordinator, but I started this project because it meant something big to me. This is my first event as a Race Director and I could not have done it without all the kindhearted and generous folks who jumped in to make this huge, crazy fundraiser adaptive obstacle race dream come to life! I especially want to thank Stephen Mello, who has done a fantastic job taking the lead on course design. I just can't wait for everyone to come out and enjoy this celebration of all abilities!
Final Thoughts:
The course is being designed by Amy, Stephen Mello (who is a well-known OCR racer in the New England area), and several others, so I expect it to be an awesome and challenging course. The event has also been designed to be for adults, kids, and those with special needs, so they are doing a great job of putting together an event that is for everyone and will be good times for a great cause. I suggest anyone that can make it to this race/event come and have a good time and help raise money for a local New England organization helping take care of their own.