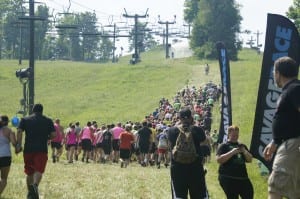 Mad River Mountain is probably one of the few locations in the country where you can run up ski slopes, through the woods, and on rolling hills in the middle of a cornfield all while running a route just over 10km. That alone was going to make the venue worth the cost of registration but the way Savage Race utilized the area made it an event to remember. If anyone was weary of the series' recent spotlight, being considered as a one of the up-and-coming contenders to the big three of Spartan Race, Warrior Dash, and Tough Mudder, all doubts should now be shattered.
As racers arrived they were greeted with one of the nicest festival areas in the industry with tables and chairs all around and lots of spectating opportunities. Registration ran smoothly and was very familiar to anyone who has been around obstacle course racing for a while, but for the SavagePRO heat participants we were also presented with a quality rubber wristband (we'll get back to that), and a special bib that distinguished us from the crowd. Naturally, the first thing you want to set your eyes on at a race is the start line and this was certainly an eye-opening one. Immediately out the gate you were to run straight up the steepest slope on site. The tone for the rest of the day was set the instant participants faced that wall of a hill.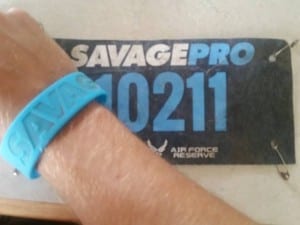 Savage has decided to go the route of mandatory obstacle completion for the competitive heat, meaning you either finish each obstacle successfully or you turn in your wristband and are ineligible for money and prizes. They are not the first to utilize this rule, both OCRWC and Battlefrog do this as well (all three series have or had Garfield Griffiths as Race Director) but Savage seems to be perfecting it. The thick rubber arm bands make for a great prize in of themselves for finishing with 100% completion but also go a long way in assuring that a racer does not accidentally lose a band on the obstacles. Unlike the paper bands in others series that can be torn up and lost, there was nothing short of grabbing, stretching, and pulling it that would take these bands off.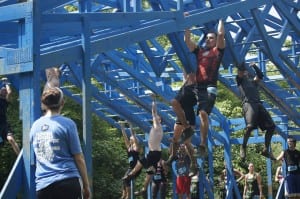 The course design seems to be finding an excellent middle-ground between physical and mental challenges, namely fear and apprehension, while leaving out the gimmicks of a series like Tough Mudder. All the signature obstacles for the series were there, their killer monkey bars named "Sawtooth", the warped wall/slide combination of "Colossus", the "Shriveled Richard" ice baths, and the leap of faith known as "Davey Jones' Locker", accompanied by a slew of other well put together challenges. New for this event was one of the most innovative obstacles I've ever encountered after 3 years in the sport; a sorta-ninja warrior-esque treat of octagonal spinning apparatuses to traverse like monkey bars, dubbed "Wheel World (AKA Spin City)." The moving pieces really added a whole new element to the challenge and I look forward to seeing this obstacle again as well as seeing what they come up with next. I had the pleasure of a one-on-one conversation with CEO and Cofounder, Sam Abbitt, after my run and on the topic of new obstacles he assured us there's plenty more under development.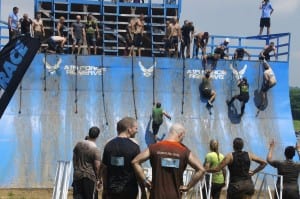 During our little interview I spoke with Abbitt about aspects on the business side of Savage as well. I questioned him how it felt to now be viewed serious competition to the "big three" in the industry and whether the comparison was drawing anymore pressure to expand. The inquiry was met with a confident, "I don't think too much of it, I think we've always been great." The plan has always been and will continue to be to expand when it makes sense to do so, the series started with just one event in FL (company HQ is Orlando) and has searched out new venues after the finances were there. "We will continue our growth the same way we have from the start and continue to look for new ways to entice racers in both the Pro and open heats." In an industry dominated by big announcements of venues across the nation and huge prizes/payouts it may not initially be exciting to hear a CEO talk about slow and methodical development, but let's remember the races that have collapsed in this industry boom by trying too much at once. It is exciting to know that this great series is in it for the long run and events like this Ohio spectacle will not just be another flash in the pan.
I give Savage Race a 4 star rating on this day, there isn't much negative to say. The finisher medals could be better, some of the signature obstacle were not in sight of the festival area which was odd considering how much was visible from that area, and registration only opened an hour before the first wave went off which made for a rushed morning if you were in the back of the line when the gates opened. All of these are minor grievances on an otherwise tremendous day that ranks up there as one of my favorite events over the last 3 years in the sport.
Rating: 4/5
---
Have you tried Savage Race? Share and Rate Your Experience…