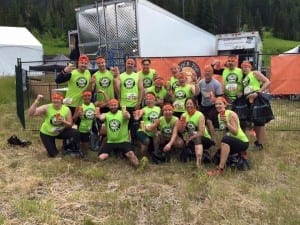 Going into Tough Mudder Whistler I was scared. This was the biggest event I was going to take on, and of course you always hear horror stories and those that freak out when you mention its name. I had only done a few smaller races (Spartan Sprint and the Dirty Dash), and I had no idea what to expect.
Obstacles:
The obstacles I found most challenging were the Warrior Carry, Birth Canal , Cry Baby and the Hold your wood (requires a large amount of upper body strength to complete). Obstacles were well spread about the course and just when you thought you were done with the hardest one another would challenge you both mentally and physically. Since the Tough Mudder experience is all about team work, our team helped each other get over the obstacles and for the most part stayed together as a team. No one got left behind. The course was clearly marked, and there were large signs at each obstacle letting you know where they were and a bit about how to complete them successfully.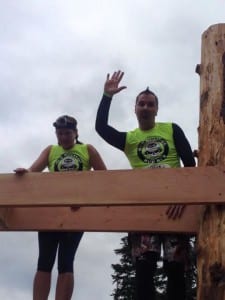 Electroshock therapy was intense. Every member on our team got zapped at least four times and my poor husband Ryan even got tangled within the wires. Not for the faint of heart but doable.
A very clearly marked spectator's map was provided for those friends that came to cheer you on. We had our friends Troy and Craig with us, and while we were on course they were able to take in the sighs of Whistler and move to various obstacles to see us complete them.
In terms of aid stations there were many along the course offering gels, energy chews, water and even nearer the end protein bars and bananas. As a first timer, myself and my husband brought Spibelts full of energy chews and gels and only really needed 1 or two of them as there were plenty of options provided on course.
Parts of the course where we went up the mountain were side by side by the paths the Mudders who had completed the course had to walk down and there were lots of high fives going on. Personally a few more cheer stations would have been nice, but that's what our team mates are for.
As for staff, they were awesome. One of our teammates lost her go pro camera coming out of the tubes in Shaw Shanked, and the staff member working there closed one of the tubes and allowed us to hop back into the water to find it (and yes it was found). At Walk the Plank I had to take a few deep breaths as I don't like heights and the staff on the obstacle were encouraging and weren't pushy which was nice. There was some confusion at Arctic Enema when I asked the staff working that obstacle how to do it and got two different answers, but overall the staff was great.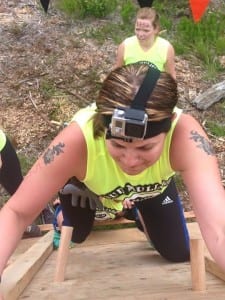 The post-race swag was decent: our orange head bands, our Tough Mudder tee shirts and a finishers towel. We also received some pre and post work out sample packs and a huge protein bar. The post-race beer was yummy large cans of Shock Top Beer.
Pros:
Having a great team to race with is key, you cannot do Tough Mudder alone. My husband and I were able to join the Canadian Mudd Queens and race with the Mud Mulisha racing team. I can't explain in words how truly genuine and fun our team was. We all supported and helped each other and meshed well. My advice off the bat for anyone running their first Tough Mudder is to find a great team to race with, it makes all of the difference. Ryan and I will be racing with the Mudd Queens and Mud Mulisha again for our second Tough Mudder race next year in June.
In terms of obstacles this course did not disappoint. Surprisingly, we had to hop over a fence to get to our starting corral the Cellucor staff member and the MC were amazing and got the crowd we were with fired up right off the bat our Mud Mulisha team got a shout out twice which helped to rev me up a bit to be honest.
Cons:
The area to get on the shuttle busses to get on course was not clearly marked. We had to ask and find our way down – suggesting signage next time. There was no information on signs about how often the busses ran and when the first / last bus went back to Whistler Village. You just had to know where to go and when to walk down to get a bus.
From the point the shuttle busses dropped us off, we had to walk approx. 3 km up to the race site and then 3km back down to the race site. It would be nicer in the future to be dropped off closer to the start line as this was a challenge getting back to the shuttles post-race, and for several spectators we saw onsite. The course was gorgeous but after doing 18km of racing fun I would have preferred not to have to hike back down or to make our spectators hike back down to get a bus.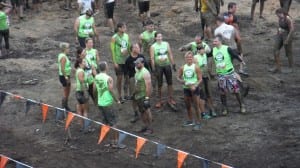 Merch tent: not a great selection. I had held off buying some items online before the race as it sounded like in years past there was more of a selection. There were a lot of shirts and other things but in terms of glass ware (shot glasses) not much was there. As well I was surprised not to see gel bracelets in the merch tent as I totally would have bought a bunch. Hopefully next year the selection is a bit better to say the least, but I guess I will have to wait and see.
My biggest onsite disappointment was there was no place onsite to register for next year's race. We had been told by several people that after you complete a Tough Mudder you can sign up onsite the same day to race next year at a huge discount – there were no areas to do so and when the staffs were asked, they had no idea. We did get a post-race survey with a slight discount, but not as much as in past years. My husband and I used the post-race discount to register for 2016, but it would have been awesome to have that option made available to us onsite.
Spectator's passes: these were sold under the premise that spectators got to participate in events this year. We didn't mind paying for our friends to come up to the course, but there was 0 spectator participation. Not one obstacle had a place where a spectator could assist / or complete at all.   A little disappointing to say the least, I understand insurance purposes maybe wouldn't have covered spectators joining in but the Tough Mudder Company needs to market their spectator passes more honestly next year.
Overall the course was gorgeous, we had a good team and the obstacles were challenging. Hopefully this event will evolve more next year. You have to dig deep it is a challenge but now I am hooked.
Overall Experience: Amazing, you need to dig deep.
---
Have you done Tough Mudder? Share and Rate Your Experience…