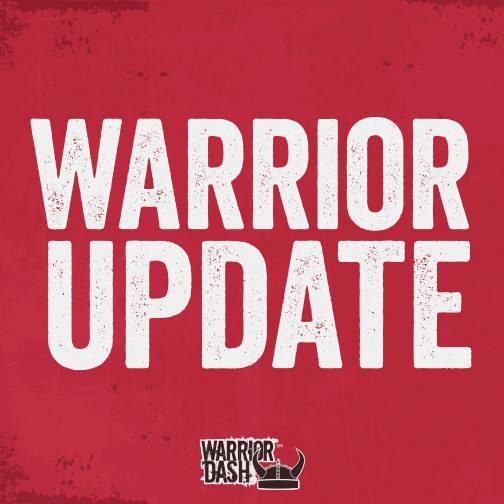 For much of the country it has been a wet spring, rain has plagued many races this year and made for extra muddy courses. Over the weekend Warrior Dash was at the mercy of mother nature and her force was strong. Combined with severe weather, flooding, and limited access to the course by the medical staff Warrior Dash was forced to make the tough decision to cancel their event yesterday.
Warrior Dash sent out a message to all participants over the weekend whose race on Sunday was effected by the weather. Warrior Dash sent out this message to participants…
From Warrior Dash
Attention Illinois Warriors!
Due to flooding, limited medical access on the course, and the current forecast from the National Weather Service, the Warrior Dash Illinois event on Sunday, June 14, 2015 has been canceled. The safety of our Warriors, spectators, and staff is a top priority and we appreciate your understanding.
Warriors affected by the cancellation will have the option of transferring to another Warrior Dash, free of charge. Please submit the desired location and available wave time in your request. Check available wave times for Indiana and Wisconsin before submission. Submit your transfer request here by Friday, June 19, 2015.
For those who didn't request a transfer, we will process a refund automatically. You will see it back in your account within 5-7 business days after the 19th. Thank you and we hope to see you out on the Battleground again soon.
The Warrior Dash Team
Canceling an event is never easy for any race company and immediately people react online. While many were upset about the cancellation even more echoed it was the right choice. Scott McAdam an OCR veteran commented online,
"For as much criticism and negativity that Warrior Dash has endured the past day, I applaud them for their decision and professionalism. Being what I would call a veteran of obstacle course racing (15+ races per year), and also being friends with many of the different race organizers and directors, I know how much cost is involved just to get the event prepared for everyone as well as the loss they are going to incur from this event. Mother Nature is unpredictable as we all know, but the fact they are offering refunds is noble, especially with the given fact they have no control over this. For the safety of racers and staff this was a great decision, but from a PR standpoint I think it is even better. They are going above and beyond to make sure registrants are pleased."
The Warrior Dash team has been answering peoples comments online as well as emails since the cancellation. If you were one of the people that were affected by the weather be sure to submit your request for a transfer.