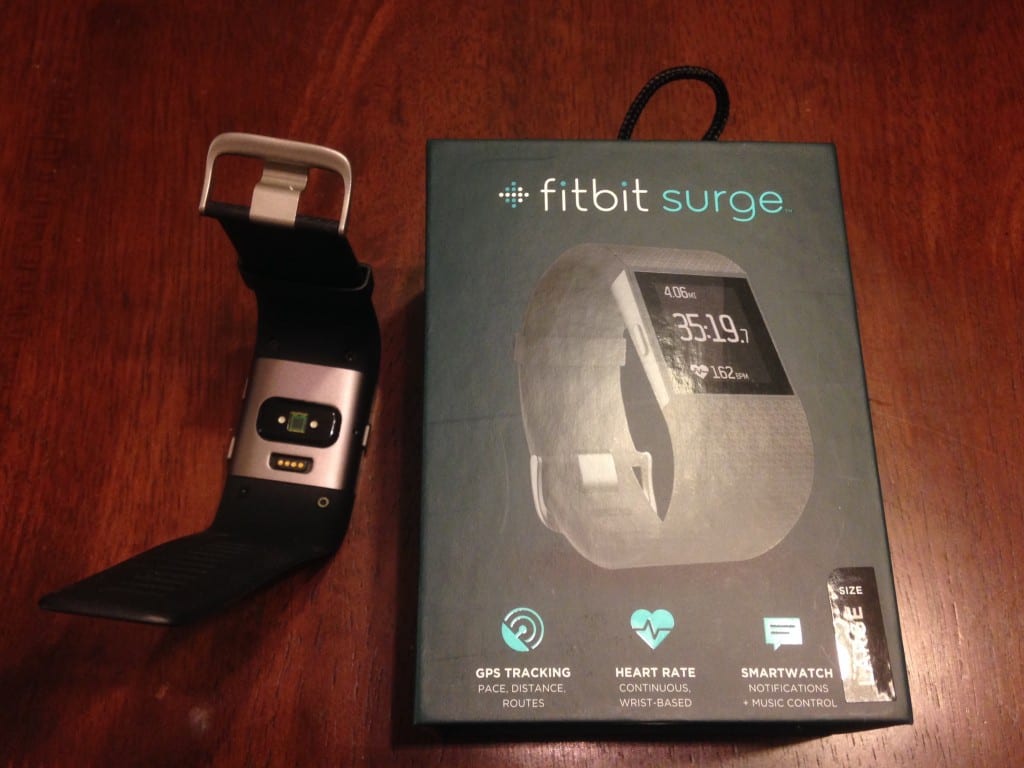 As a competitive athlete, I have been nay saying activity-tracking bracelets for the last couple of years. However, when Fitbit came out with the Surge, I was finally intrigued enough to purchase one. The benefit of the Surge is that it is an activity tracker, GPS and heart rate monitor all in one. What really attracted me was the ability to monitor heart rate without a chest strap. I often forget the chest strap at home or just do not feel like wearing it for training.   When it comes to racing in OCR events, I thought it would be great to be able to monitor heart rate for longer distance OCRs to ensure I do not push myself into a zone that will result in an overall slowing of my average pace. Plus, wearing a chest mounted heart rate monitor would not be ideal when climbing over obstacles and would ruin all those awesome shirtless pictures. After all, why else do people do OCRs?
GPS:
The GPS worked as good as any other GPS function I have used. It quickly tracks satellites and accurately records average pace, distance and total time. Unlike my Garmin 910XT which allows for customizing the screen with specific data sets (heart rate, average pace, current pace, lap pace etc.). The Fitbit Surge does not allow for any customization. The distance and time are always present, however by swiping left or right it will change the bottom display showing information like total calories burned, heart rate, pace, etc. I was slightly concerned about the sensitivity of a touch screen especially when sweaty, but did not experience any major problems. Overall, not crazy about the GPS display screen due to lack of customization but bottom line is that it works and has no major issues. However, I love the ability to wear my GPS watch as a normal watch. This is great for impromptu runs or days when I forget my GPS watch at home.
Activity Tracker:
As a competitive athlete, this was the feature that interested me least. Daily on my workout days it buzzes "Congrats you hit 10,000 steps". Thanks Fitbit, I just ran 8 miles, I know I hit 10,000 steps. On my rest days, my graph shows I have not hit my "10,000 steps goal". Again, I know that, there is a reason it is a rest day. There are also badges and accomplishments that are unlocked for getting up and moving. While I think this may be great for some people, if you are a competitive athlete I found this feature slightly annoying and it only succeeded in inundating my inbox with notifications of my "achievements". Overall, the activity tracker is fairly useless as a competitive athletes but has potential benefits if you starting to exercise.
Sleep Tracker:
This was one of the other reasons I wanted the Fitbit. The ability to track my heart rate while sleeping is something that lets me monitor the possibility of overtraining (your resting heart rate increases if you are overtrained). While this feature works great, the problem is you have to tell your watch you are about to go to sleep before it starts tracking. The first couple of nights I remembered to "start" my sleep timer but after that it became more of a hassle and I would typically forget to start it. While awesome in theory, I wish there was an option to turn on the sleep timer from the watch and not have to use the phone application.
Heart Rate Monitor:
The lack of chest strap made this very exciting to me. I think the heart rate monitor works great for resting and very low intensity workouts but it felt like it was not at accurate at medium to high intensity. While wearing my Fitbit Surge and Garmin chest mounted heart rate monitor, the two would often show different readings by 15 or 20 beats per minute. In my opinion, the lack of accuracy made it not an effective tool for monitoring heart rate zones for exercise.
Water Resistance:
According to the website it is Fitbit Surge is water resistant. Add in an online review I read which showed a guy swimming with the watch and I thought it would be good to go for OCR. However, in my opinion my Fitbit Surge is not even water resistant. I typically get in the shower for a second before I remember to take off my watch. After less than a month, the inside of my Surge is full of moisture. Leaving the watch off for a couple of days makes the moisture disappear but as soon as I put it back on and start exercising the moisture condenses again. I guess it is time to put it in a bowl of rice or just return it to the store and pickup Garmin's 225 once that comes out.
Overall, while the Fitbit Surge could be good for daily activity tracking and an active lifestyle, as a serious OCR athlete it left much to be desired. The GPS was good but the lack of accuracy in heart rate and the lack of waterproofing make it useless for competitive OCR.