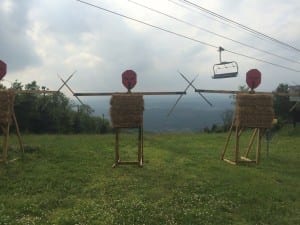 This weekend in the competitive obstacle racing world all eyes will be on Spartan Race Pennsylvania. This weekend marks the next stop on the road to the Spartan Race World Championships with NBC filming the Blue Mountain race this weekend. In addition to the NBC filming the Spartan Combine will also be taking place. The combine is a two day competition testing athletes in all aspect of sports and fitness. Together these two events have athletes from around the world flocking to the small town of Palmerton, Pennsylvania. Blue Mountain is one of the most anticipated events each year by many on the east coast and with these two events happening you can almost feel the ground swell.
While many are focused on Spartan Race this weekend there are a number of other mud runs happening around the country. O2X the innovative series founded last year will make a stop in Canada this weekend with it's first Canadian event. Rugged Maniac will be touching down in New Jersey. Dirty Girl Mud Run is making its way to Killington, Vermont for the first time with over 2,000 participants signed up for the event. Saint Louis will be hosting MuckFest MS.
For those in the west a new event is taking place this weekend the much anticipated Dirty Bird Mud Run. This event is put on by Human Movement Management and is the first to showcase the partnership between HMM and PWDER corp. The course is the first obstacle race or mud run to use a tram and chairlift as part of the course. It also boosts the longest slide in the history of OCR. These factors alone make it worth the trek to Snowbird, Utah. The local community is rallying behind this event with several members of the state congress taking part in the event including the Lt. Governor of Utah.
In the east it is all about Spartan this weekend and out west it's all about Dirty Bird Mud Run. Where are you headed this weekend?