Over the last few months I've been fielding a lot of questions regarding OCR Warrior, what it is, how it ties into the other shows airing on TV from American Ninja Warrior to BattleFrog College Championship, and the new show in casting for Spartan Race as well as what my plans are for the future with the collapse of Atlas Race. In order to answer those, let's go back to how OCR Warrior got its start.
Obstacle Racing as a Show, Not Quite Yet as a Sport
Way back in the stone age of OCR (aka 3 years ago), I was contacted by a fledgling TV network ATLX (atlxtv.com) to host the pilot of an OCR-based show, I Am Spartacus. The premise was pretty simple (and may sound a little familiar); a team of 4 individuals representing an NCAA team would compete together on a bunch of different obstacle courses across the country, a new challenge, and different venue each week.
For the pilot, we filmed at Alpha Warrior in San Diego, 40 feet up in the trees at Flagstaff Extreme, and then out on some rocky desert trails in north Phoenix. The athletes and crew were fantastic, and producer Lisa Ely made the brutal shooting schedule an absolute blast. For as much as we put our blood, sweat, and tears into the pilot, it didn't get picked up by sponsors never making it to air.
At the same time, American Ninja Warrior superstar Evan Dollard were becoming friends. Dollard was also filming a pilot for ATLX. Alas, that didn't get picked up either, we loved obstacles and competition and were looking for a way to turn our passion into a real media project.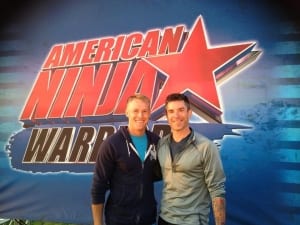 While we were waiting for the show to get picked up, Evan and I had a special date in Venice Beach, CA with the American Ninja Warrior course. While my ANW on-air experience lasted only 2.4 seconds, hanging out with Brent & Kacy was awesome, and talking strategy with James McGrath, Evan, and Travis Brewer was as enthralling as it was intimidating. 
All in all, the 9+ hours waiting to take the course was filled with anxiety and excitement, but the reality is hard to ignore – ANW is a show first, and competition second. It's not that the course is easy, far from it, but as any ANW alumni; it's a long wait, followed by a cattle call, and a show first and foremost. No self-respecting OCR athlete would wait for hours to try an obstacle without voicing concerns on social media and more after the race.
The Spark – and Call That Started OCR Warrior
Based on my experience from both ANW and Spartacus, I had an idea brewing for a show, and it wasn't until a few weeks later on Sunday, April 27 when Margaret Schlachter and I were talking and she made the statement: "I want to do more than write. Television is the next step." That conversation sparked an idea, I jumped on my computer and wrote up a quick synopsis to send off to a couple different producers and right before I hit send, I thought of all the time Evan and I spent waiting for our shows to get picked up and decided to do it myself.
The first call was to my buddy Jerry Foreman at Terrain Mud Run who had an event the following weekend in Phoenix, he even provided his brother Steven as a cameraman and reached out to friends to help make it happen. I checked Evan's availability and booked him a flight to Phoenix that Friday. One email post later and I'd lined up Eric Acuña and his wife Nina, Melodie Bell, Kyoul Cha, and LaShay Marks to round out the field along with Evan. Jamie Hines came onboard at some point in this whirlwind to handle secondary cameraman duties and Andrew Baker offered to shoot aerial footage from his drone. Within 24 hours, we were all set and ready to roll to shoot a show only 4 days away; we just had no idea what we were actually doing.
The Rocket Has Landed
Jerry devised a 1 mile course and we set to shoot on Friday night before the Terrain Mud Run on Saturday, which was a tight window as I was in the studio until 3 pm in Scottsdale and Evan "Rocket" Dollard was landing around 4. With a quick stop at Dick's Sporting Goods to buy the rope for the climb, we were at Wild Horse Pass by 5pm ready to fight the course – and the 2 hour window of dwindling sunlight to squeeze in 4 rounds of live action.
The interviews and hero shots were a blur, I barely remember meeting Steven for the first time and shooting some intros, it wasn't until a week later when I saw the first edits did I remember anything I said. After learning that Kyoul and LaShay were bitter enemies, but willing to put it aside for the show, I put together the match-ups and dragged all the athletes to the starting line for a quick reminder. This was a one-shot deal; all action was live and whatever happened on the course would show in the final video. After that fateful day, OCR Warrior was born.
Check out the entire recap of the first-ever OCR Warrior at Terrain Mud Runs in Phoenix
Next OCR Warrior Origins: Mutiny at Bone Frog Challenge, Wrecked in Ohio, and Vegas Baby!