Founded by Dan "Nitro" Clark (of American Gladiators fame), the Gladiator Rock 'n Run was voted by mudrunguide.com readers as "Best Small OCR Series" in 2014 and noted as a "Regional Powerhouse" by Mudrunguide founder Brett Stewart in his Best OCR Events Period article.
I first met Dan Clark at the San Diego Gladiator Rock 'n Run in August of 2013. My wife and I had just started into obstacle racing that year and wanted to check out this event in our backyard, and we were very impressed! It was a great mix of a competitive race and a fun mud run with quality, well-built obstacles on a challenging course. The festival area featured live music and a party atmosphere with good beer and food trucks, and then there was Dan Clark… he was everywhere; sending off runners in each heat, running pushup and plank contests, dealing with all the minor catastrophies that are inevitable at a big event, and stopping frequently to meet racers and fans, and pose for pictures with whoever wanted one. He was clearly deeply invested in the event, and just as clearly having a fantastic time.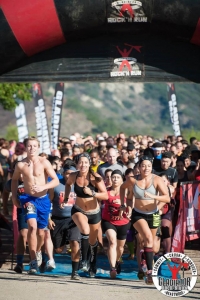 Following our inaugural Gladiator Run in 2013, we ran all three of their Southern California events in 2014 (Irvine, San Diego, and Rose Bowl) and it's clear to me why this race is so beloved. With this in mind, it was my pleasure recently to conduct a virtual interview (via email) with the founder, Dan Clark.
When/where did you start the Gladiator Rock n Run, and how did you get it started?
Dan: Dec 2010 was our first event in the place I grew up.  Orange County, CA.  I wanted to bring something cool to my hometown.  I started with the idea back at the beginning of 2010 after I ran a half marathon.  Running the half marathon was a great experience, and I was proud of the accomplishment especially being a bigger guy – a Clydesdale – as my friends call me.  But I also thought there is got to be something better out there than just running.  I wanted to build something that would speak to functional, all-around fitness, – that would be a blast at the same time.  I've always believed in work hard and play hard.  The goal was to combine that motto into an event thus Gladiator Rock'n Run was born.
We know you were Nitro on American Gladiators.  Can you give us a brief bio on how you went from that gig to Race director?
Dan: I never wanted to be a race director, and I don't consider myself a race director.  I simply wanted a way to inspire and motivate people to get off the couch, reach for a goal and live a healthier, happier and fitter life.  Gladiator is a vehicle that speaks to my mission.
How many of these events are you putting on this year?  Where have they been/will they be?
Dan: I'm the last independently financed and owned obstacle adventure race company. All the other guys are financed and backed by equity.  I bootstrapped this biz and were involved in every aspect. I want to touch each person who does the race and hopefully by the time they are done – they will get a taste at who I am and what I believe — about not only fitness – but about life.   We expanded to 14 markets but didn't feel like I could deliver the same experience, so we cut back to 8 markets. In 2106, I'm considering only doing 4 California events.  Bigger isn't always better.  I'd rather be small and great.  I'll know more in the next few months.
Is Gladiator now what you envisioned when you started?  If not, how has it morphed over the years?
Dan: When I first started Gladiator I was sure it was going to be 85 percent dudes.  Our first event had 50% percent women, and it's remained consistent.  A shout out to all the females who continue to impress and amaze me with their tenacity and competitive drive and their willingness to often show the boyz how it's done.
Tell us about your favorite obstacles.
Dan: The Beast is probably my favorite obstacle.  It's one that we had first, and I've seen a lot of other races copy – but that's just how the biz is.  It's an incline 20-foot wall with ropes used to get yourself up and over.  This is normally a teamwork obstacle because there is a mud pit at the bottom of it making it slick and just evil.  Nothing pleases me more than seeing one Gladiator help another Gladiator – teamwork – working together to conquer the beast.  It's also a great goal for people who don't conquer it their first try and come back and triumphantly crush it the next year.
What (if anything) makes Gladiator different from other races?
Dan: There are a couple of things that distinguish Gladiator, and I hear this all the time. One – is people feel the sense that they are important and matter.  The biggest races Spartan, Tough Mudder have become like Walmart.  They treat participants like cattle and herd them in their corrals and push as many people as they can through.  Participants become a faceless number.  That's not what I want.  I want to people to feel like they are the life blood of Gladiator, and they are what makes this possible and the race is for them.  It goes from everything to free spectators, free bag check, to the awesome volunteers.  It's a personal experience.  I think most people are sick of the big business approach like Walmart and are yearning for something more personal like Trader Joe's or the neighborhood market where people know you're a name, and you matter.
The second big distinguishing factor is you have owner/creator who is also a customer. I think this is critically important.  I love this stuff and run every course on Friday before the participants.  I'm not a banker; I'm a former professional athlete who still competes at a very high level.  This gives me in insight into the customer experience.
What are the plans for Gladiator Rock n Run going forward into 2016 and beyond?
The goal is to be a great experience and to continue to motivate and inspire people to live a happier, healthier more fit life!
What else would you like us to know?
Dan: I started doing this thing on Friday mornings called, "Nitro's Friday 5" that I'm super excited about. I've had so many people ask what I do to keep in shape to be able to continually function at a high level.  So every Friday I send out an email of 5 short tips about peak performance, motivation, and inspiration of things that I'm loving, using and digging in my life.  It's been a lot of fun for me to share things that I've learned from my 25 years of being and expert in the health and fitness world.  I love connecting and sharing and helping.  "Nitro's Friday 5" speaks to that and I'm having a lot of fun with it!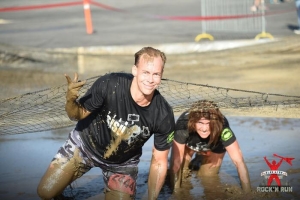 And that sums it up pretty well. Gladiator Rock 'n Run's next event, and last of 2015 is at the World Famous Rose Bowl in Pasadena, CA on Oct 17th; if you're in the area, I highly recommend it. I'm more than a little bummed that race schedule conflicts have prevented us from running any Gladiator events in 2015… I'll be to saving the date(s) for their 2016 races, so I can go back and play soon in Dan Clark's muddy playground.
---
Use code MRG2015 to save 15% on your next Gladiator Rock 'N Run