Warrior Dash concluded its seventh season with more than 2.5 million Warriors since the event's inception in 2009. Warrior Dash had over 30 international event locations this year, challenging athletes on the 5K obstacle courses across the United States, Denmark and Mexico. The brand continued its support of St. Jude Children's Research Hospital, with participants fundraising $1.7 million in 2015.
Warrior Dash World Championship
Five hundred athletes from across the globe competed in the second-consecutive Warrior Dash World Championship on October 10, 2015. Warrior Dash gave away $100,000 to the top five male and female finishers, as follows:

Awards were presented to placing runners in front of a crowd of several hundred spectators. Also, Warrior Dash recognized Team Miss Fit as the highest fundraising team of St. Jude Warriors. Since 2012, they have fundraised over $50,000 through Warrior Dash for the children of St. Jude.
St. Jude Children's Research Hospital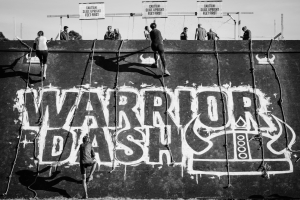 This season alone, over 43,000 Warriors donated to St. Jude Children's Research Hospital, contributing to a fundraising total of $1.7 million this year.
In 2013, Warrior Dash's parent company, Red Frog Events, committed to fundraising $25 million to open the St. Jude Red Frog Events Proton Therapy Center on the St. Jude campus in Memphis. Fundraising efforts are currently over halfway to this commitment, with $12.5 million fundraised. The St. Jude Red Frog Events Proton Therapy Center will be the first center of its kind specifically designed to treat pediatric cancer patients and will be opening in late 2015.
Sponsors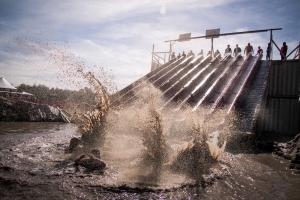 Warrior Dash partnered with a variety of brands this season that provided support to Warriors pre-event and on-site activations, including; Anytime Fitness, Bear Naked, Cabela's, Courtyard Marriott, Delta Faucets, Eco-Sneakers, Elevate Fitness, Gold Bond, High Sierra, Life Fuels, Pear Sports, Propel, Rockin' Refuel, Shock Top, USAgain and Vibram FiveFingers.
Among many highlights this season was, Delta Faucets and Warrior Dash Indiana participants broke the Guinness World Record for most people showering simultaneously. Later in the season, the team at Rockin' Refuel brought Kellie Pickler to the Battleground in Tennessee, where the country-star completed the course with a team of participants. Sponsors and partners for the 2016 season will be announced soon.
2016 Season Coming Soon
Registrations for 2016 locations are now live at www.WarriorDash.com, with additional venues being added. The eighth season will kick-off on February 6, 2016 in Clermont, Florida, with additional locations being announced in the coming weeks.
---
Use discount code WD2016MRG for $5 off your Warrior Dash registration!