I love a challenging course!!  I was fortunate to have an opportunity to go on a course preview Friday evening before the race with Mud Run Guide.  Normally, I like to run a race without having much more than an idea how long the course is certainly not the detailed location of obstacles!  But when you have a chance to do something like this at a championship…you do it. I was fairly confident I'd forget most of it once I got out on course Saturday and I was right.
What I didn't forget was that this course was flat.  In fact, I don't remember any change in elevation to speak of at all.  The only noticeable difference was down during the pond crossing.  Some of us sinking and floundering more than others, unfortunately.  However, because of this, I also expected it to be a fast course even for me.  But I forgot rule number one…"The Doctor lies!"  Wait…sorry, that's from Doctor Who.  The other rule number one…"Never trust a race director!"  Yes, that's the one that I should have remembered as I started out Saturday morning.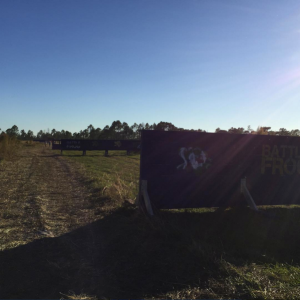 Much of the course ran along the soft-sand park roads.  Although running on the road edges avoided the worst of it, the sand would take its toll over the race day.  The weather would also play a part…being unseasonably warm in December, even for Orlando.  In the first two mile stretch, we hit the O.U.T., Ramp, and 12′ Ladder Walls, mixed in with a tunnel crawl (Tunnel Rat) and the 60 Degrees climb.  There were also two new obstacles…Strong Man (note to self – shouldn't that be Strong Person?!), which was a concrete block carry and a new incarnation of Hooyah, with a bit-too-vertical wall for the average racer.  All of this leading into the Pond Crossing.
The Pond Crossing was deceivingly difficult.  Mostly because the pond bottom had been so chewed up from previous racers by the time I got out that the footing was treacherous.  Not to mention that because of putting in about four miles already chasing the elite's in the morning's photography session, my legs were just a bit wobbly….and wobbly legs are not a real strength of mine.  And that's exactly what they wanted!!  Wearing you down…sapping your energy.  Only now the real fun would begin!!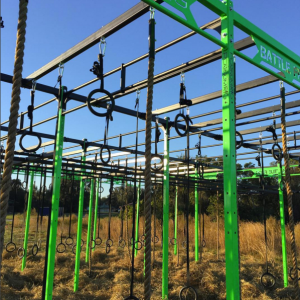 For the most part, the Platinum Rigs are the killers in obstacle course racing (OCR).  So an integral component of the weekly, diabolical plans of the race directors (RD) is exhaust you…mainly the upper body and grip…before reaching the rig.  This was a championship level course…so you should expect a championship level effort from the RD.  And we got it!  Starting with Hump Overs, there was roughly a mile of running to the first rig.  In between would be the Monkey Bars, a vertical tree-cargo net, and a tire flip…along with the 8′ and inverted walls thrown in…just because he can.  There was also a caving ladder…another drain on the upper body and grip strength…and something new, the Log Pull.  The pull was a relatively short drag of a concrete block across the road.  But remember the sand from earlier?!!?  Well, it wasn't long before those blocks dug a nice, long, trench across that sand road…enough to make that pull real interesting.  Then came the rig…. The first rig was a 40-footer with lanes designated for the men's elite, women's elite, and open racers.  Manageable at each level, but much tougher after that last mile.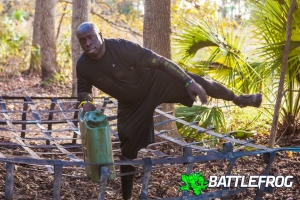 Oh…but this was only the beginning.  After the Normandy jacks…that are much more difficult with a Camelbak on by the way…came the Jerry Can Carry.  Another grip killer and my favorite obstacle of course [insert dripping sarcasm icon here].  However, this was not your average carry….oh no!  This was a half-mile forced march across a balance beam, high-stepping it through a cargo net (carrying the can!) with a rope climb in between.  What sort of twisted mind thought this was a good idea??!!…remember, never trust an RD!  After surviving this, we hit a 6′ wall, the 12′ rope wall (which was set up backward naturally…making it just a hair tougher) and then the Wedge Wall…another new(er) obstacle that's not quite as hard as it looks.  Unfortunately, it's not as easy as you hope either.  Another grip strength drainer.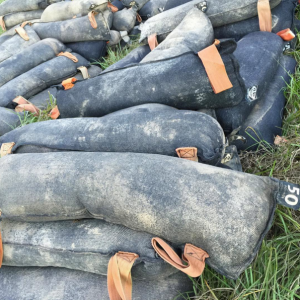 And this is where my course preview recollection failed me altogether, though.  After the cargo net climb, I remembered the last loop leading up to the final two obstacles.  What I failed to remember was the Wreck Bag Carry.  Thankfully, I like the Wreck Bag [do not insert sarcasm icon here!].  Even with that, it was a long, hot, dusty, grueling march…just to get to the second rig…not an especially welcome reward.  Although the second rig was uniform across all the lanes and easier than the first, it was an 80-footer…after an already challenging day!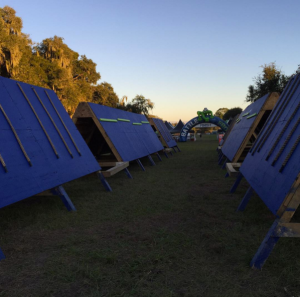 Lastly then came Tip of the Spear…the final obstacle of the race and my nemesis since the first BattleFrog in Barre earlier this year.  But this time, it was different.  Not only was it the first dry course in months, but my shoulder was also starting to improve….and for some reason, I just had a feeling today was the day.  I'd been the elite marshal at Tip of the Spear for two races and had seen elites struggle on this very obstacle but refuse to give up….trying time after time to conquer it.  Once I passed the first section today, though, I knew that all I had to do was not give up.  Not give in to those thoughts telling me it was too tough.  And finally……finally……I had completed one of the toughest obstacles for me in any race.  Whatever my time this day, this was a huge victory I will savor and build on throughout the off-season.  With each success though brings the need for a new goal.  That goal is now The Rig.  2016 will be The Year of the Rig….so be warned Mr. Rig, I'm coming for you!!
I do love a challenging course…and the BattleFrog Championship course was just that!!!
Rating: 5/5
---
Related Links:
BattleFrog Championship 2015 Orlando – A Great Race…That No Else Got to See
Have you done a BattleFrog?  Leave your own BattleFrog Series review and feedback…