New Years Day marked the first time in endurance sports history a race company in the OCR industry sponsored a college football game. The Fiesta Bowl was now the BattleFrog Fiesta bowl. Many people in the general sporting world had their first taste of obstacle racing through the advertisements, on-site mini course, and of course, internet searches during commercial breaks.
The reaction from the world was a mixed bag. Many commented on social media about the perceived poor quality of the commercials, speculated on the amount of money the company spent. A common thread for the day was "WTF is BattleFrog" and why are they sponsoring a college bowl game. Also accompanied by "WTF is obstacle racing".  Obstacle Racing Media posted an article that covered many of the negative reactions and tongue-in-cheek slams on BattleFrog's non-traditional approach to generating buzz for the sport of OCR. However, when you take a look at the numbers we see a different story.
BattleFrog Fiesta Bowl Kickoff
Before the game on December 31, the Miami Heard ran this article, With sponsorship of Fiesta Bowl, Doral-based BattleFrog leaps into national spotlight. From the article…
BattleFrog principals are betting that this title sponsorship not only will help their brand compete with some of the leaders in the relatively new obstacle race industry — including Spartan Race, Warrior Dash and Tough Mudders — but it also will help the brand leap into the national consciousness.
BattleFrog leapt into the national consciousness on New Year's Day. Over the weekend, to the general populist, BattleFrog Series went from an obscure obstacle race series in what many consider an obscure sport into one of the most talked about trending items on the internet.
BattleFrog Trending
Google
While the internet and social media were harsh at times on BattleFrog during the BattleFrog Fiesta Bowl one thing is undeniable, people were on their phones Googling BattleFrog.

The obstacle racing community often talks about the Big 3 when it comes to the leaders in the OCR community. While Tough Mudder and Spartan Race still hold the majority of mind space for people interested in OCR BattleFrog made a sharp spike in searches over the weekend overtaking (at least temporarily) Warrior Dashes position in third on Friday. As of Monday, the interest in BattleFrog went up exponentially after the game. Currently, BattleFrog is trending above all other major competitors. Clearly, the internet has figured out what BattleFrog is and conversely also finding out more about the obstacle racing industry. Reddit users picked up on the uptick of Google activity and created their own thread discussing the trend.
Twitter
Looking at Twitter, for the first time in the company's history, it was a trending item. At the peak of the trend, BattleFrog was tweeted at a rate of 4000 times per hour. While the nature of the comments were mixed BattleFrog's social media team personally responded one-by-one to over 100 tweets asking, "WTF is BattleFrog."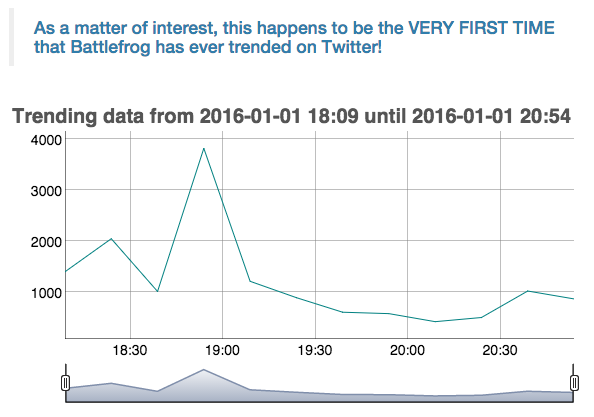 WatchESPN
On WatchESPN, the 2015 Fiesta Bowl was the most-streamed Fiesta Bowl ever, setting new record highs in all major metrics: 159,000 average minute impressions, 693,000 total unique viewers and 35,822,000 total minutes. From ESPN Media Zone.
OCR Media Outlets
Within the OCR industry, the reverberations of the sponsorship were felt, Mud Run Guide experienced a spike in traffic during the game that continued for the rest of the weekend and beyond. Obstacle Racing Media noted a spike in traffic as well. We spoke with Mud Run Fun this morning who also commented on an increase in traffic.  We asked BattleFrog about their spike in traffic and sales CEO Ramiro Ortiz said,
"We are seeing a big spike in impressions, social interactions and sales.  We are also hearing some really moving stories from people who have never run an OCR before and want to set fitness goals.  A lot of parents and children are reaching out who want to run as a family.  It is very exciting."
In the greater sports blogging world outside of OCR, BattleFrog was written about more than ever before. Including websites such as Heavy.com, OneFootDown, ElevenWarriors, Fansided, and SB Nation.  It is undeniable that the whole industry is seeing a positive uptick from the sponsorship.
Outcomes
Many are still scratching their heads wondering why BattleFrog would spend a speculated $3- $5 million on a college football bowl game sponsorship. However, looking at the numbers it is clear that BattleFrog's objective of greater media exposure for both their company and the OCR industry was a success. BattleFrog CEO commented on the sponsorship,
"BattleFrog is an inclusive lifestyle brand focused on love of family, friends, fitness and the great outdoors.  Our partnership with ESPN and ultimately sponsoring the Fiesta Bowl is about reaching people that have never run a race before.  We want them to know it's an amazing way to spend time with you family or your co-workers.  Its an incredible way to set fitness goals, motivate yourself to train and live a healthy lifestyle.  And it's fun.  We offer an experience and a lifestyle that is really unique.  It's wonderful to see people responding."  
While it will be a couple of months before we see the full impact of the BattleFrog Fiesta Bowl sponsorship, it is clear in one day BattleFrog helped to raise the profile of not just their own company but the entire obstacle racing industry.
---
Special thanks to those who helped with the data on this article.