Since we last caught up it has been pretty quiet over here in Europe, one of the major events which took place in the UK was the Mudstacle Awards Dinner, held in December. This event had over 300 attendees representing Races, OCR Gear Suppliers, OCR Team and Individual Athletes. Using an elaborate and robust voting system Mudstacle gave out a series of 'community' voted awards, as well as presenting the awards for the Winners of the UK OCR Winter League and finally some comedy awards, such as best OCR Couple… Jonathan Albon and James Appleton, obvs!
Full details of who won what can be found at the following here
The Winter Fan Dance Race

It wasn't long after the Christmas and New Year that we had our first race, not really an Obstacle Race, more a 'ruck' race. The Fan Dance is a 24km loaded race which takes you up over Pen-Y-Fan Mountain in South Wales, twice, carrying 35lbs in survival equipment. This is an essential element in the UK Special Forces selection process, and this race aims to replicate the same conditions. You have two options when taking on this race, you can carry the 35lb and be in the loaded category, or you can opt for the 'clean fatigue' category and carry around 8lb of safety gear.
Highlights of the 2015 Winter Fan Dance Race can be watched here.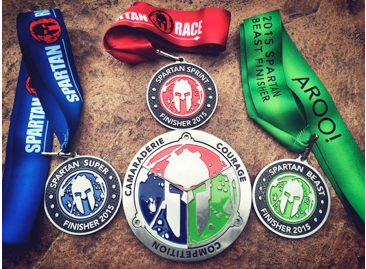 Spartan Winter Trifecta
In Liberec, Czech Republic, the Spartan Winter Trifecta race series kicked off with a chilly Spartan Sprint. Anyone who took part in the 2015 Spartan European Championships will know just how hilly these Eastern European races are. This Spartan Sprint in Liberec did not fail to live up to this reputation and had competitors not only dealing with the snow and frozen obstacles but also with some cheeky accents.
This was the first Spartan Winter Trifecta races with the following still to come:

Tough Guy
Back in the UK everyone has begun discussing The Original Tough Guy race, this event is due to take place on Sunday the 31st of Jan 2016. The talk, as always, is about how cold the race is going to be and what to wear, neoprene versus merino wool, etc. Choosing the right gear is harder than you might think for this race!
The reason this is so difficult is that the first part of this historic 15km race is cross country running with occasional obstacles like log jumps, trenches and cargo net crawls. So although it is cold and windy, you are pretty dry and moving fast – so fewer layers then… But the second part, which is aptly called the 'Killing Fields' involves a lot of water, some ice and moving a lot slower – so more layers then.
So you are left trying to find a balance which doesn't make you overheat during the running section, but provides sufficient warmth to get through the heavy obstacle section. Watch the video from last year's race, won by Jonathan Albon, here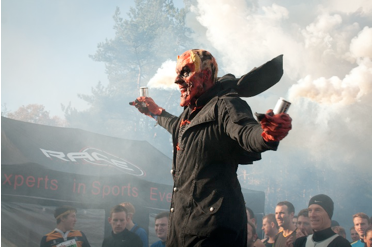 UK OCR League
The UK OCR 'Summer' league also kicked off this month with the first points scoring event being the Brooks HellRunner, Hell Down South race. This is more of a trail run than an OCR, however it is still a pretty tough event with a few tricky swim sections. The winners of this event were Freya Martin, first place female, and Ross MacDonald, first place male. Both are members of the newly branded British Military Fitness Race Team, this is the rebranding of the INOV-8 OCR Race team, the team originally set up by Jonathan Albon.
Thanks all for now, and fairly quiet start to 2016 for OCR in Europe, but stay tuned as next month I shall be back with updateds on Tough Guy, did I get my gear right?, also who is going to win? My money is on Conor Hancock, who came forth at last year's OCR World Championships.
---
All images with thanks to Mudstacle and James Appleton Photography.