The obstacle racing season continues to pick up steam in the West over the weekend. BattleFrog Series was in Las Vegas for the first time, and Spartan Race headed back to Arizona for a Sprint distance race. In Florida, mud runners were being chased by zombies in the Largo, Florida 5K Zombie Run. Around the world races took place in Australia, the United Kindom and Ireland. This week we focus on the two principal races over the weekend, Spartan Race Arizona and BattleFrog Series Las Vegas.
---
BattleFrog Series Las Vegas
BattleFrog Series continued it's western campaign over the weekend making a stop in Las Vegas. Many were excited about the series making a stop in Sin City over the weekend. The course featured many of BattleFrog's signature obstacles.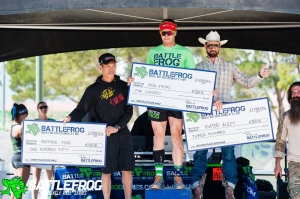 In the elite races, it was the Canadian power couple Ryan Atkins and Lindsay Webster on top of the podium. In second place in the men's and women's elite races were Viktor Alexy and Amy "Magic" Pajcic. In third place were Raymond Fong and Sarah Watson.
In the BFX division, the winners were Wesley Kerr with seven laps and Natalia Guzman with six laps.
---
Spartan Race Arizona
Spartan Race headed to Arizona over the weekend for it's the latest stop of the 2016 season. The Sprint distance event took place outside of Pheonix, Arizona. Many of the top racers from around the west and beyond showed up for the showdown in Arizona. The course was a fast one with the top males finishing in just over thirty minutes.
In the elite men's race, it was Hunter McIntyre who would come up with the win. Seconds later, Cody Moat would cross the finish line. Coming in third would be Ryan Kent after he got a late start on the race Saturday morning.
In the women's elite race, for the third year in a row K.K. Stewart- Paul would claim victory. In second place would be Sara Woodward and in third place would be Kristin Saad.
---