This was the first year we had heard about a venue located in Vaudreuil-Dorion, Quebec, so we thought we would make the 2.5 hour drive and see what all the chatter was about.
The venue is situated in beautiful wooded acreage and provided racers with a gorgeous multi-elevation terrain that looped in and out of ravines and gullies. It was called the Abominable Course, and they offer three seasons to participate in this race –spring, summer and winter. Their slogan: "Unleash your inner Yeti!"
Location
As noted above it was about 45 minutes North West of Montreal.  The scenic drive was well worth it as this area is passionate about horses and the farms and ranches lining the highway are incredible.
Parking
Parking was beside the main registration tent and was provided free of charge.  There were some concerns with vehicles getting stuck in the snow and trying to rock their way out within inches of other parked cars, but the drivers seemed to take it all in stride and remained confident and motivated once parked.
Registration/Race Kit Pick-up
Registration was easy and done directly online, and race kit pick-up had no wait lines.  Racers received a free toque upon registration in black and had the option to buy a cotton or tech tee for $10-$15.00.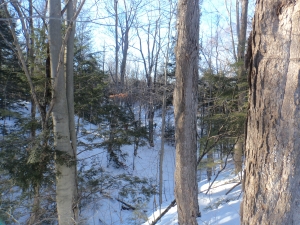 Race Details
We lucked out, and the weather held out for both the drive down and also throughout the event. It was a cool -20 degree Celsius day, but the sun kept us warm in the open areas.  In the woods, we were protected from the wind chill, and it was quite pleasant as we crunched along well-marked trails in the crisp snow.
The start and finish line were located side by side so spectators could cheer on the racers and welcome them back to a
warm fire burning in the centre field.   There were various heats every 30 minutes or so and they capped this race at 500 participants with 355 in attendance.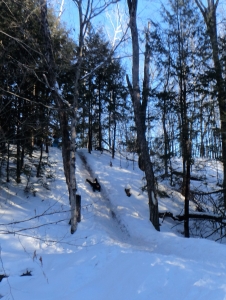 This was a 5.5KM race; however our Garmin 220 tracked it more at 6.42KM.  We looped out through the open field and headed out towards the treed area where the trails had been plowed to a distinct pathway; the soft snow added some resistance to our pace and was a challenge when weaving back and forth in and out of the woods.  I have to admit the course was more challenging than expected and offered up some creative obstacles that kept you entertained for the entire race.  Tires were used to carry, rope lift, flip and drag.  Wood was also a familiar theme to chuck, roll, and toss-over and under pallets in the woods.  We enjoyed the creativity including a Christmas tree drag; steep slide, frozen bucket carry, balance beam walk and sled pull to round out our experience.
This event is also available for families at 3KM long and is very spectator friendly as they can follow you throughout various locations along the route.  A children's course covered 1.2KM and was well received by participants.
Water was provided at the tire haul station and was much needed after many steep climbs and descents throughout the course.
Finish Line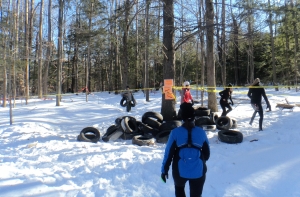 The finish line offered racers their medal and bottled water, and there was a vendor on site selling hot dogs, hot chocolate and warm drinks for a nominal fee. SmartWool was this year's sponsor.

Prizes/Awards
All finishers received a medal and racers could choose between Competitive, Intermediate and Amateur heats timed by QuidChrono and results were made available online quickly.
Volunteers
Volunteers were at each obstacle and directed participants how to proceed.  They were friendly and kept us motivated along the course.
Music was played by some volunteers near the main venue from car stereos and added an interesting party-like atmosphere to keep everyone warm from the inside out.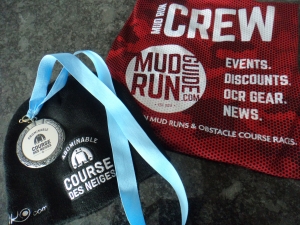 Recommendations
Larger signage for the parking lot as we passed by it once and perhaps a sign along the roadway nearing the venue so we know we are close.
Some type of tent for changing would have been great or a wind protected area near the fire as it was difficult to change in our vehicles on site.
The trail was well marked, but there was some confusion about which way to go near the end with the multiple stations closely linked together. Overall this was fun, challenging, family-friendly event in a beautiful location. Thank you to Marc Bedard, Brian Townsend and all the volunteers!
3/5 paws
---
Have you done a BattleFrog?  Leave your own BattleFrog Series review and feedback…