Civilian Military Combine (CMC) has been a fan a favorite since it began in 2011. Recently, the organization went through a revamp and is re-launching in September 2016. CMC is the original hybrid OCR; the event features both a functional fitness workout and an obstacle course. Participants are scored in each, and their results are the combination of the two events. Mud Run Guide got an exclusive on the relaunch from CMC before it hits the wires on Monday morning. The event will take place at the historic Fort. Hamilton in Brooklyn, New York. Read more below about the relaunch and new offerings from CMC.
---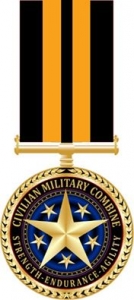 Civilian Military Combine LLC (CMC) announced the launch of its 2016 obstacle race series at historic Ft. Hamilton, Brooklyn, New York. A two-day event, CMC Ft. Hamilton will include a corporate team building day on September 9 where civilians are teamed up with service men and women, and first responders, then the official launch on September 10 where participants of any age or fitness level can race as individuals or as a team.
CMC stands apart from the other obstacle course races in the market as the original "hybrid" obstacle course race that exclusively combines a WOD strength training AMRAP timed component – The PIT™ – followed by a 5-mile race with 25+ military grade obstacles.
This year, CMC introduces exciting new elements to the series including obstacles such as The Irish Table, Spin City, Ranger Ropes and The Flying Monkey (as seen on American Ninja Warrior); CMCPRO heats with cash prizes; and CMCKIDS where kids can try their very own PIT™ experience along with a one mile obstacle course.
Garfield Griffiths, CMC's VP of Event Operations and one of the country's top obstacle course race producers said "I am extremely excited for the relaunch of the all new CMC. While we have many new features and upgrades in store, we have stayed true to the original hybrid obstacle course race format. Also, The PIT™ has been upgraded with new divisions and a more efficient, simpler scoring system that I'm confident everyone will appreciate."
Located in the heart of Brooklyn overlooking NY Harbor and the Verrazano-Narrows Bridge, Fort Hamilton is the last active military base in the city of New York. It was from this location on July 4, 1776, at the start of the American Revolution, that an American battery fired cannons at an approaching British naval convoy. Today, it's a US Army Base Support Installation for the greater New York City area, playing a major role in coordinating disaster relief efforts and it serves members of the military, their families, and over 70,000 veterans.
Tickets for the Ft. Hamilton CMC goes on sale Tuesday, March 15, 2016, at www.CMCrace.com Additional venues and event dates for fall 2016 will be announced soon. For updates visit www.CMCrace.com