Name
Macy Nicole Owens
Age
14
Lives
Prosper, TX
Occupation
Student (7th grade)
Favorite OCR Series
Spartan Race
Favorite Obstacle
Multi-Rig
Least Favorite Obstacle
Bucket Carry
Ideal Race Distance
Super (8+ miles)
2016 OCR Goals
Make it on the podium at a weekend Spartan and get top-10 in Spartan World Championships
Bio
I'm a seventh grader at Reynolds Middle School in Prosper, Texas. I grew up loving to run and was given the nickname "Cheetah" at age two. I started competing in cross-country around the age of five. I enjoy playing softball, basketball, volleyball, track, cross-country, and Spartan racing in my spare time.
Why do you compete in OCR and how did you get started in the sport?
I love the challenge of the obstacles and the competition. My Dad and I started running obstacle races at The Patriot Games and I just fell in love with the sport.
You seem to have a lot of parental support, as your dad, Brandon, also races at a lot of the same events as you. Do you think it's important for parents to consider OCR as a sports option for their kids rather than the typical bigger team sports (softball, basketball, soccer, etc.)?
I do. Some parents might consider team sports too dangerous for their kid and I don't think Spartan racing is that dangerous. OCR would be a good option for their kids to do if they don't want to do a team sport.
What is a typical week of training like for you?
I train five days a week (sometimes six) between school practices and Yancy Camp workouts. I try to go to one or two Spartan races a month, and I just get my work made up turn it in later when I travel.
Do you follow a diet? How do you eat to compete?
My family follows a diet based on the premise of a high-quality version of a normal cultural diet because of our athletic endeavors. We eat smart, we eat a lot, and we supplement smart.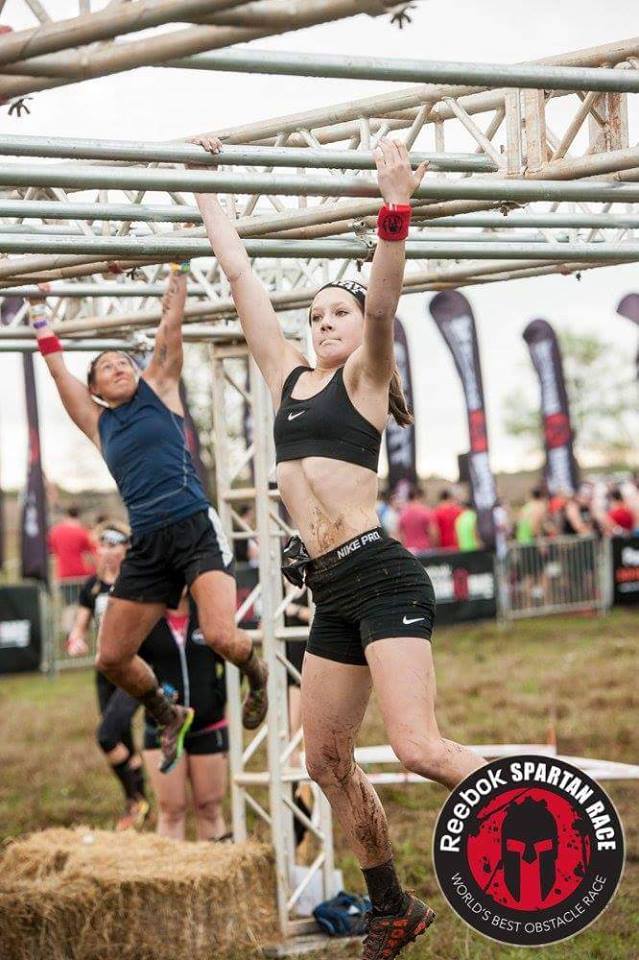 Which classes are your favorite and least favorite in school? Outside of obstacle course racing, are you involved in any extracurricular activities?
I like Athletics, Math, and Science the most and History the least. I also play softball, basketball, volleyball, track, and cross-country.
Have you thought about which colleges you want to attend or what major(s) you might choose? If so, where/what are they and why do they appeal to you?
I want to go to Baylor, Texas A&M, University of Texas, or Arkansas. I also want to be a neurosurgeon because it's physically and mentally challenging, just like a Spartan race.
You're one of the younger elite competitors in most races. Do you have dreams of being one of the top female OCR athletes when you get a little older?
Yes, I want to win the Spartan World championship before I graduate from high school. Some people might think that's impossible but I believe I can do it. I also see myself competing in the 2024 Olympics and using my abilities from OCR to get there.
Who are your favorite racers on the pro circuit and why?
My favorite racers are Rose Wetzel-Sinnet, Laura Messenger, Isaiah Vidal, Matt Novakovich, Kristen Kenoyer Woodland, Jackie Rust, Laura Perry Lunardi, Lindsey Webster, KK Stewart-Paul, Alexandra Walker, and Amelia Boone. Sue Luck was the first to teach me how to throw a spear correctly so here's a shout out to her, too.
Do you have any secret talents?
I love to ride horses.
What is your 15 seconds of fame moment?
Placing 4th at the Spartan World Team Championship in 2015 with Jackie Rust, Kristen Kenoyer Woodland, and Laura Perry Lunardi. In addition, Obstacle Maniac ranked me as the #2 Female 20 & Under in 2015. I've also been in the newspaper and on Spartan Race's Facebook page.
Do you feel that there are a lot of teenagers at races? What would you do to make OCR more appealing to teenage athletes?
I feel like there could definitely be a lot more teenagers at the races. I would make an elite race just for teenagers to race in.
You were on the same team as several other top-level racers at the 2015 Dallas Spartan Race team championship. Tell me a little more about that event and some of your favorite memories.
I ran with Jackie Rust, Laura Perry Lunardi, and Kristen Woodland at that event. At that race, Rose Wetzel-Sinnett and I were the only elite woman to complete the Clif Multi-Rig and I would love to be on a team with Rose Wetzel one day. That race was also a great experience for me because it was my first elite race and my first Beast. My teammates are so wonderful and I was truly blessed to be a part of their team.
What is your message to other aspiring teenagers?
Even if you think you can't do it, you can. It doesn't matter what you do for a living or where you are in life. You can do it. I've seen people that are paralyzed from the waist down and they've finished the race, so stop saying you can't. Prove yourself wrong. Trust me, it feels so good after you run a Spartan Race, even just to tell yourself you finished a course that was mentally and physically challenging. You will come out scratched and bruised but you will not come out defeated.