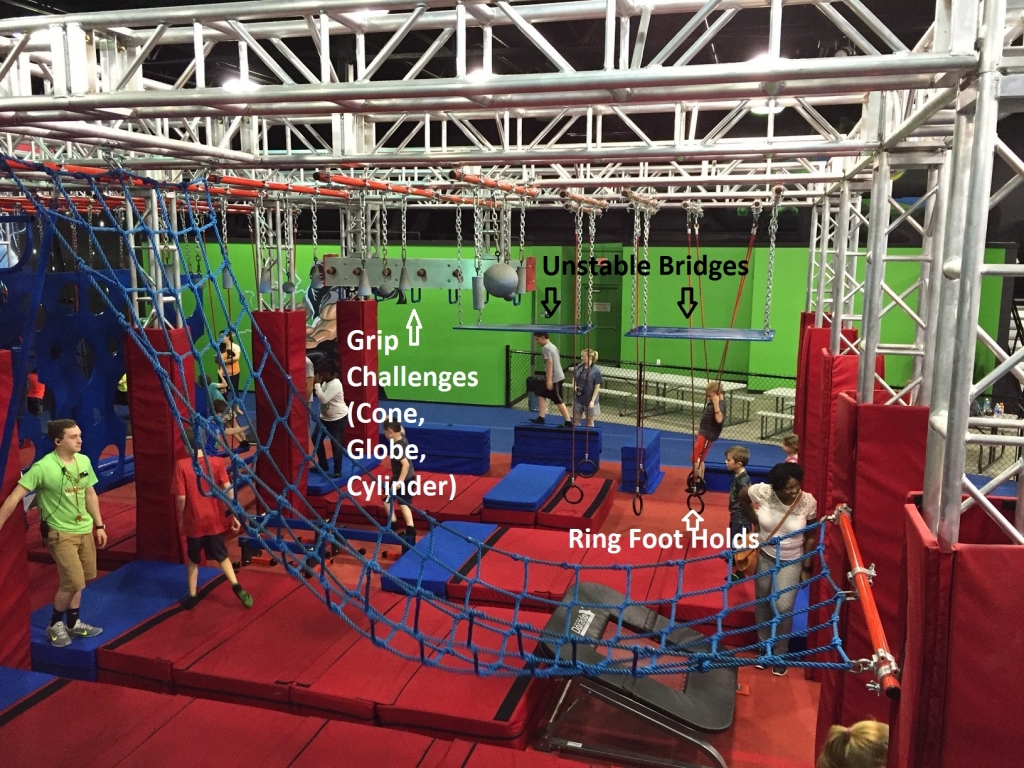 Velocity Air Sports opened in Charleston in July 2015. Velocity is primarily a kid paradise with over 60 trampoline areas with dodgeball, basketball, foam pits and fun galore. But… tucked into the back of the 40,000 square foot facility is an American Ninja Warrior (ANW) style gym that is a training grounds to Charleston, SC American Ninja Warriors such as Kyle Johnson.
This Velocity location (there's also one in Jacksonville) has the following Ninja Warrior obstacles to practice on, in no particular order:
Unstable bridge
Inverted cargo net
Mini trampoline
Floating Boards (with holes)
Ring foot holds
Quad steps (smaller version)
A field of Gymnastic Rings at varied heights
Trapeze swing
Balance beams
Bosu Ball quad steps (Dancing stones)
Ring toss
Swinging frames
Horizontal S ladder
Rope Climb
Click here for a couple short videos from their website.
They also used to have a Salmon Ladder but removed it after a few close calls. General Manager Heather Stevens told me that she still has the Salmon Ladder and may include it back in the gym at a future date.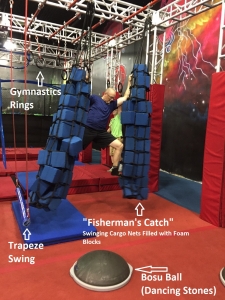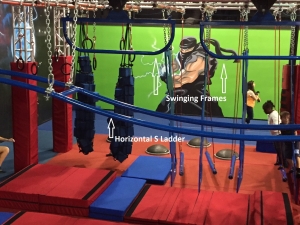 In addition to the dedicated Ninja Warrior Gym section, many of the "kid's areas" also translate to great ANW training. There is a flying trapeze bar where you start from an elevated platform and swing out over a foam pit – great for grip strength and getting used to your body moving through the air and releasing as you fall into the pit. There is also a separate area that has silk curtains to climb. This area lets you attempt to grip onto large curtains and swing from one to another over a foam pit – great for grip strength if you spend some time here.
The facility is only 9 months old and is still getting its name out into the community as a Ninja Warrior Gym. Local groups from the Army, Navy, and several local businesses use the location for workouts and team building activities.
Overall, Velocity Air Sports is a great option for aspiring American Ninja Warriors, Obstacle Course Racers, or anyone just looking for a fun way to get some functional training into their workouts. The Ninja course at Velocity Air Sports will test you for sure. At the time of this article, the cost for one hour was $14, or two hours for $24. Working these obstacles consistently for an hour will give you a great workout that focuses on grip strength, agility, coordination, balance, explosiveness, and overall upper body strength. For parents it's also a cool way to sneak in a great workout while the kids play on the trampoline field.
---