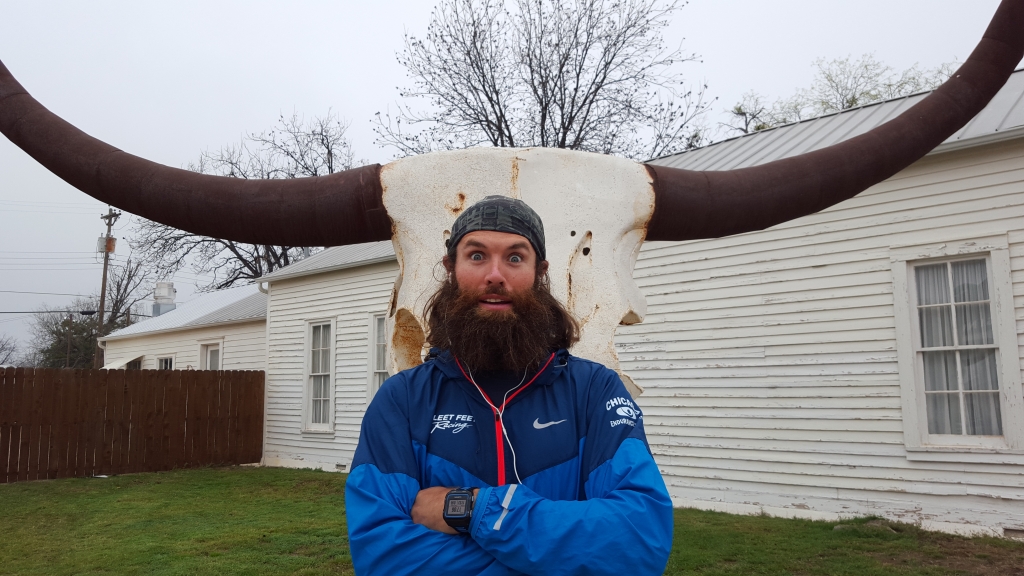 Day 33, March 18
Miles today: 50.1
Miles Run so far: 1,312.4
Miles to go: 1,161
Adam's continuing on strong walking and running his way to Dallas Fort Worth! We are pumped to get to the big city! Adam traveled a whopping 50.1 miles today with 1,312.4 miles down and 1,161 miles to go! He's gone over half way! Bring on Day 34!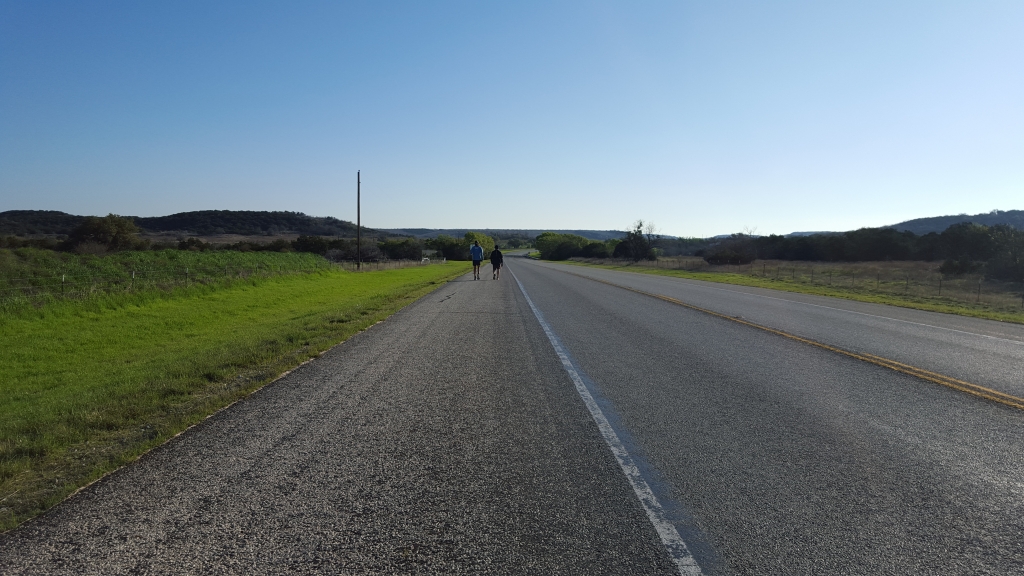 Day 34, March 19
Miles today: 50.2
Miles Run so far: 1,362.6
Miles to go: 1,111
This is Adam's fifth day in a row doing 50 miles! That's 250 miles in five days! What an accomplishment! A new friend, Brent, from Dallas woke up at 5:20 this morning and drove two hours to run with Adam just to get time with him before more folks join him in the big city. The team has loved meeting amazing, new folks all along this cross country journey! The encouragement from everyone along the route continues to push Adam forward.  Excited for Day 35!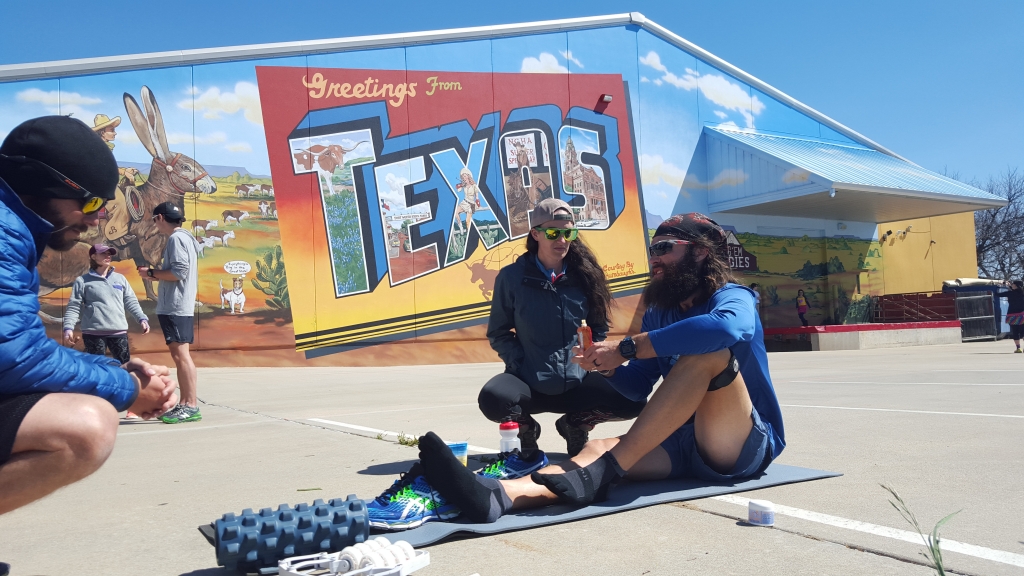 Day 35, March 20
Miles today: 43.4
Miles Run so far: 1,406
Miles to go: 1,068
We are finally in the Dallas Fort Worth area! There have been some amazing folks coming out to run with Adam and his great ultra pal, Ralph joined in, too! It's been an exciting day meeting so many new people! The high energy kept Adam going and he completed 43.4 miles today. Onto more of Dallas tomorrow!
Day 36, March 21
Miles today: 48.6
Miles Run so far: 1,454.5
Miles to go: 1,019
Adam walked across the entire DFW area and is moving further east after finishing 48.6 miles today for 1,454.5 miles down and 1,019 to go! He's working his way to having less than 1,000 miles left! Now, onto some rest to continue on tomorrow: Day 37.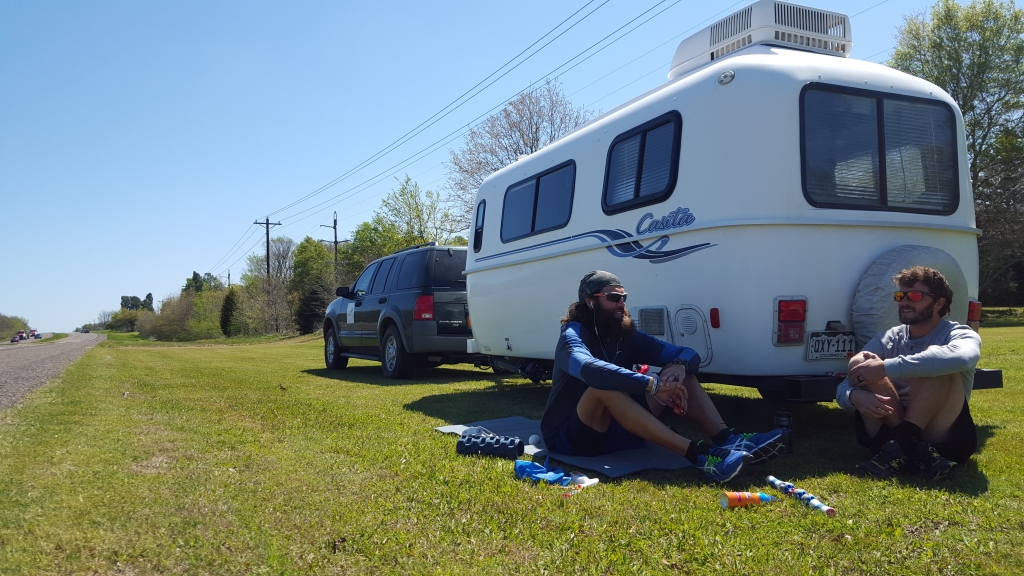 Day 37, March 22
Miles today: 51.5
Miles Run so far: 1,506
Miles to go: 968
Adam and the team are feeling great to be out of the city and back into the country! We spent a bit of the day hanging out at the Sherriff's house as a pit stop. Adam made it: Less than 1,000 miles to go at 968 til he hits the Atlantic Ocean! We're all proud of Adam to have dominated 51.5 miles today!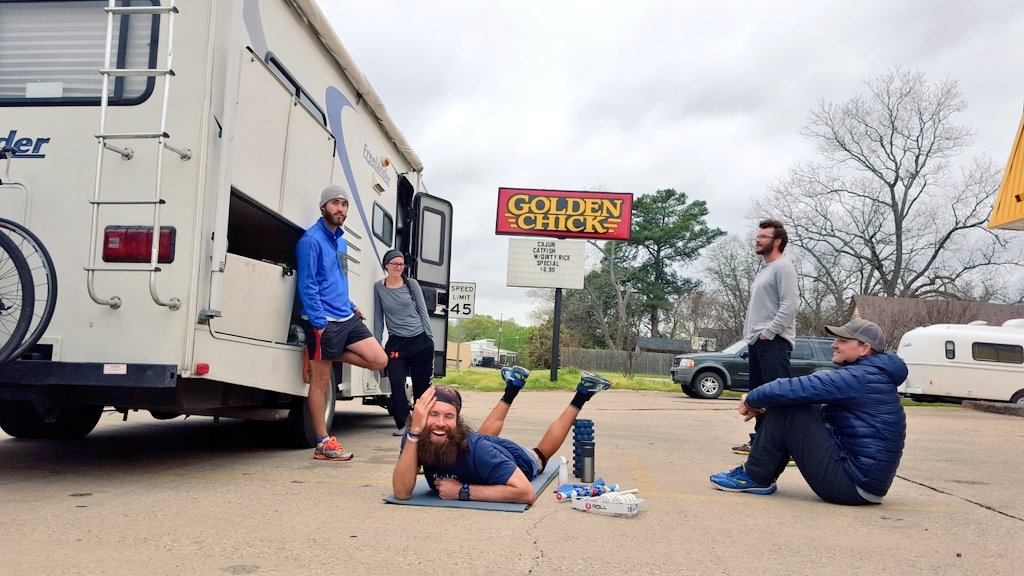 Day 38, March 23
Miles today: 55
Miles Run so far: 1,561
Miles to go: 913
Adam got dry therapy two nights in a row in Dallas and has been feeling awesome!  He said he hasn't felt this good since Day 1! The team has been all high spirits with Adam feeling this great! This changed around sunset at mile thirty seven for the day when Adam's right shin started flaring with shooting pain again. Even though he's experiencing pain again, he finished 55 miles today. We're using tonight to focus on helping his shin feel better. Here we come Day 39!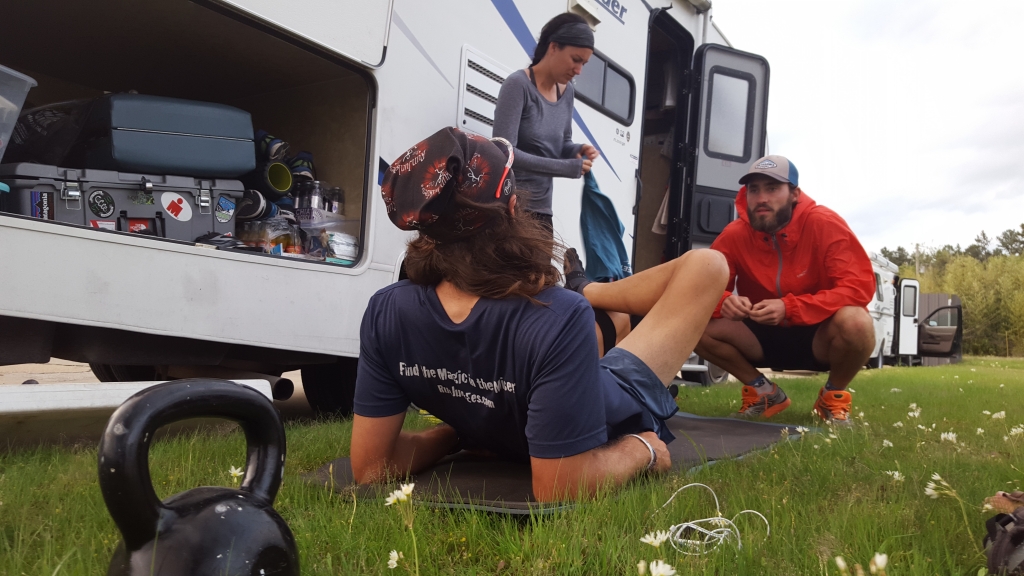 Day 39, March 24
Miles today: 43
Miles Run so far: 1,604
Miles to go: 870
Day 39 was a day of continued shin pain with a big goal to cover 55 miles. Adam didn't accomplish his intended goal but still persevered through 43 miles for the day in pain. The day finished with Adam completing a total of 1,604 miles run so far from California! A big morale booster for tomorrow: we are only two miles from crossing into our fifth state, Louisiana!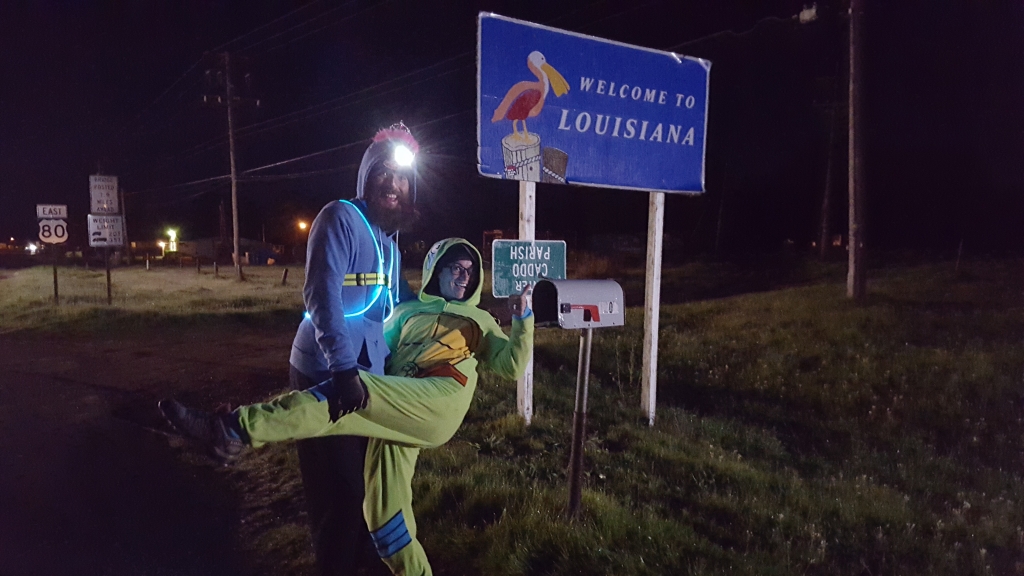 Day 40, March 25
Miles today: 25.5
Miles Run so far: 1,629.6
Miles to go: 844
Today started off with a bang! Adam walked his first two miles for the day in Texas and then arrived at the Louisiana state line! The team was pumped! We have been talking about Texas for the last 39 days and now we are beyond the big state! Excited to be moving eastward and into the fifth state with 844 miles to go!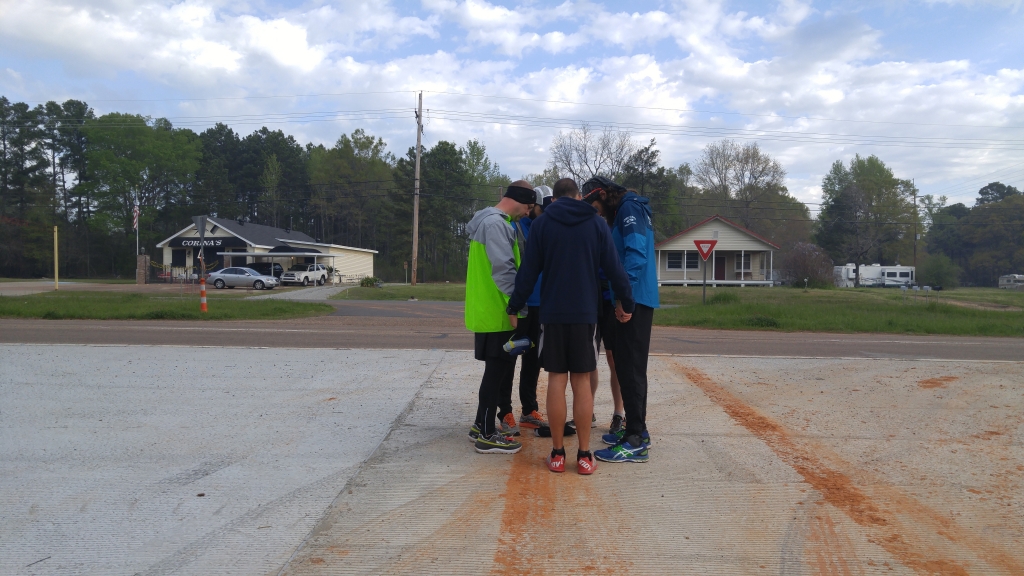 Day 41, March 26
Miles today: 40
Miles Run so far: 1,669.6
Miles to go: 804
Adam had a great day today! He started out the day with crew mate Clayton and then two more new friends joined in for a five mile section. After Paul and Chad finished their jog with Adam, the two prayed over Adam and the crew. The people we meet along the journey are just amazing and the team has felt welcomed in every community across the country. We are thankful to continue making progress with 40 miles completed today with a total of 1,669.6 so far and 804 to go. Bring on Day 42!
Day 42, March 27
Miles today: 45
Miles Run so far: 1,714.6
Miles to go: 759
Photo(s) or video: Attached
Happy Easter! Today the crew celebrated Easter by starting the day like normal at 5 am sharp, then heading on to mass at a local church, and sharing the holiday with a big brunch all together as a team. Even though it was a holiday, Adam still worked hard and completed 45 miles today for a total of 1,714.6 so far and 759 to go! Four ladies even joined in for a few miles in the afternoon, too, after they had already done their workout for the day! Alisa and Tera were just so excited to meet Adam coming through town! During such a busy day, the team squeezed in a bit of fun and want to wish everyone a Happy Easter with the above video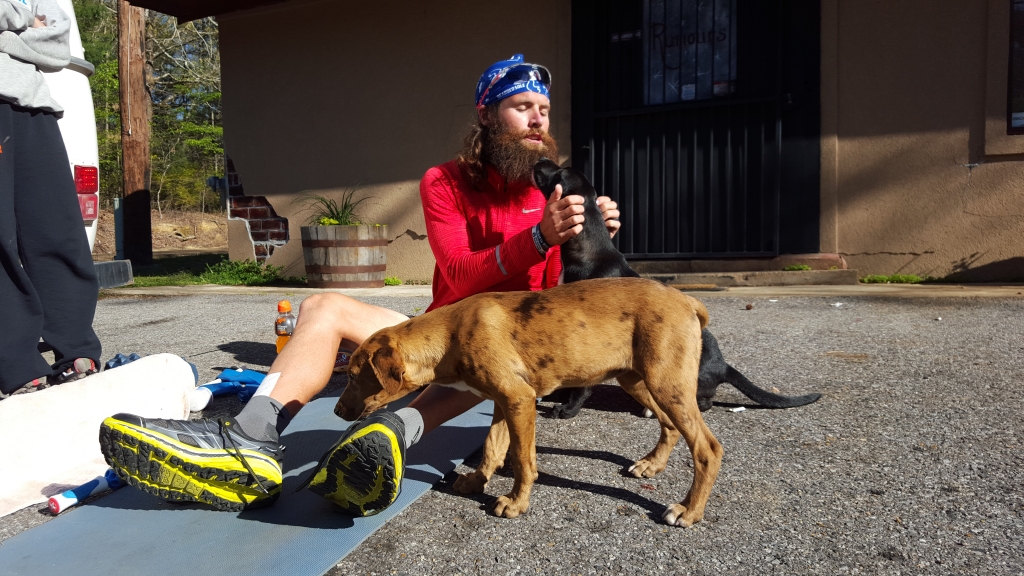 Day 43, March 28
Miles today: 29
Miles Run so far: 1,743.6
Miles to go: 730
Photo(s) or video: Attached
Today was a slower day than normal, but Adam still progressed by getting in 29 miles from 5 am to 8:30 pm. He was experiencing a lot of pain in his right shin and right hip. He's amazing to persevere through all of the pain. Progress is progress! One of the best parts of the day was having two puppies follow Adam for 3 miles and keep him company. The crew would have loved to keep the pups as our trans-con mascots, but we reunited the puppies with their family. Onto Day 44 in Louisiana!