This week, BattleFrog and Rugged Maniac ruled the East Coast, and an extremely wet & muddy Lone Star State played guest to thousands of dedicated Spartan Racers. World-wide, people came out in droves to challenge themselves at such amazing events like Vanderbijl South Africa's Warrior Race, Valladolid Spain's Farinato Race and one of the indisputable kings of pain, UK's The Suffering.
Devastating storms and historically-high flooding wrecked havoc on eastern Texas last week, causing the cancellation of Dirty Girl Mud Run in Houston and Dallas*. Despite many areas of the Spartan Race Houston venue being waterlogged, in the true Spartan spirit the race went on!
Who jumps out of a perfectly good helicopter?
Let's start out Last Weekend in OCR with one of the most interesting events this weekend took place in South Texas, which featured some of the most innovative twists on an OCR we have seen in some time:
THE BERSERKR GAMES, TEXAS
While most races are content with an inspirational race announcer and a hopping starting corral, The Berserkr Games does things a little differently. It is a team event that begins by riding on the side of and jumping off of a helicopter into a body of water.
Along the course there are physical and mental challenges, that include shooting, an impressive tire jungle and 12' holes that you need to get out of with the help of a rope assist. Some really interesting stuff from the Berserkr Games, as of press-time, they are not sure when they are planning to hold their next event.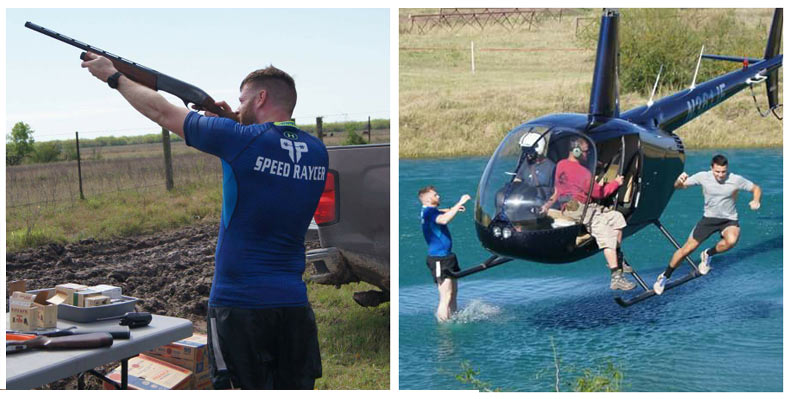 (Pictures: Ray Tincher)
Spartans Don't Fear the Rain
SPARTAN RACE, HOUSTON TX
There was a lot of concern about the weather going into this weekend's Spartan Race, but it didn't keep any of the big players away. The men's podium was topped by Isaiah Vidal, Victor Sanchez and Michael Mark, while the ruling women were led by Rose Wetzel, Kate Cramer and Jackie Rust.
Biggest Team Lone Star Spartans member Chuck Detwiler III had an amazing time and said
"While the course was exceptionally muddy there were no flooding issues. The rains made the water crossings chilly and gave the streams a little extra water for fun and depth. The Spartan team made a great decision to bus people in from the Waller ISD Football Stadium, rather than have a major parking lot full of stuck vehicles. The weather was perfect. Sure the festival grounds were muddy, but it didn't dampen the fun."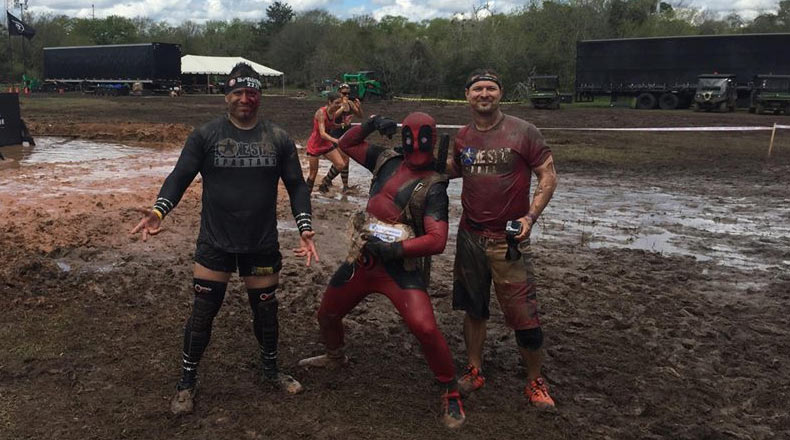 (Photo: Chuck Detwiler)
Swampin' The BF Way
BATTLEFROG, TAMPA FL
"The Beard" was away in Atlanta designing the ESPN event and race for next week, leaving Marco Bedard to create his first course on his own, to much success. Nathan "NaPalm" Palmer who took third on the men's podium told us
"It was definitely a runner's course! I'm still nursing a shoulder injury, and it took me 3 more tries to complete the Platinum Rig. But it's moments like that, that I look forward to in these races because people are cheering you on and everyone builds each other up. I have run three BattleFrogs and have yet to be disappointed."
The men's podium was rounded out with "Airforce" Ken Corigliano in first, and Bobby Wiltshire in second, with the impressive women's podium boasting Clou Godbout in first, Rachel Corvington in second and Ashley Samples taking third.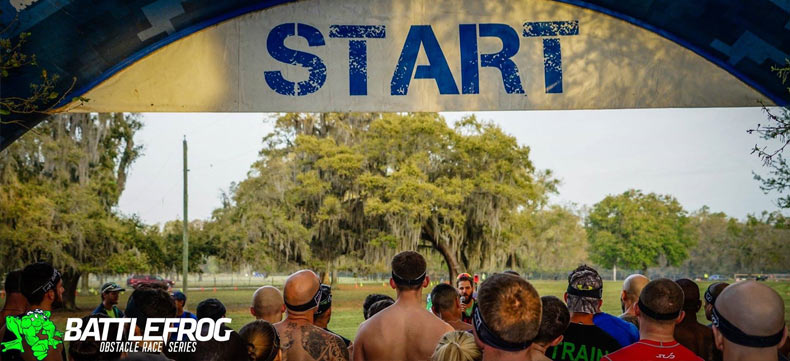 Shucks!
RUGGED MANIAC, SOUTH CAROLINA
Rugged Maniac debuted 2016 on Saturday in South Carolina. The event brought local flavor to the day with South Carolina themes from Oyster Shucking Contests to the South Carolina state seal on Rugged Maniac's version of the Warped Wall. It was a great event with fun for all ages, and a great way to find yourself on the podium, even as a first time racer! In fact, Rugged Maniac thinks SO far outside the box, that they awarded two top male finishers due to the fastest overall time not being in the elite wave but still being significantly faster than the elite heat winner.
The Top Male (Overall) went to Stephen Wilson, while the Top Male (Elite) was awarded to Matt Bare 2nd Male was Devin Caster, and the third place spot went to Benaiah Martin. Melanie Jones, Michele Marsar and Deslyn McLeod took it home for the women!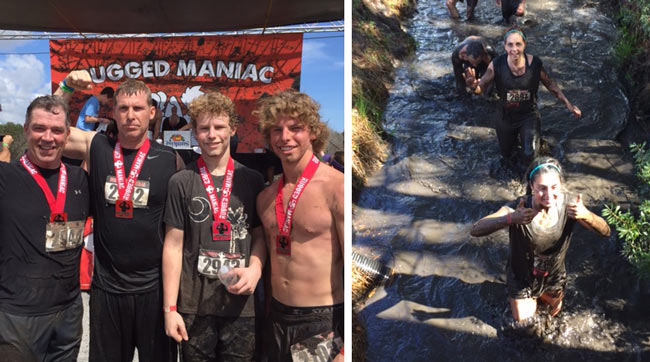 (Photos: Brian Tallmadge)
Dirty Girl Mud Run News:
Houston Flooding caused damage to the DGMR trailers and equipment, causing a cancellation of the Dallas events as well:
"It is with great regret that we inform you the Dirty Girl Mud Run in Dallas, TX is cancelled.  Our equipment took on major damage from the recent flooding as we attempted to set up for the event this weekend in Houston. Due to repairs and a list of unknown flood conditions, we will not have the ability to produce an enjoyable and most importantly, a safe event, in Dallas. Our hearts break with you as we were very much looking forward to running in Dallas, however the circumstances are understandable and our thoughts are with those affected by the flooding.  
We have the following options for our participants: 
1.  Transfer.  We are allowing all Dallas participants to transfer their entry to our Austin event, on April 2, 2016.  Please email your transfer request to support@humanmovement.com by Tuesday March 15th at noon MST, if you would like this option.  Please include your name and email address used to register.  Please use the subject line "DALLAS TRANSFER". The transfer is of course free of charge.
2.  Refund. If you do not choose the transfer option you will be refunded automatically.  You will not need to email your refund request.  All non-transferred registrations will be refunded.  Please allow 7-14 days to see the funds.  They will be returned to the original card of purchase."