As OCR facilities pop up throughout various towns, it is nice to see that we are finally getting a few permanent outdoor facilities up and running in Ontario.  The Ragnarok Run was held at OCR Land in Smiths Falls, Ontario and attracted racers from Ontario and Quebec.
Just 1 hour from both Kingston and Ottawa this is an excellent central location for a race venue.  We found the address albeit with some difficulty (even though we had a map) and drove up the winding driveway to a somewhat industrial park-like setting.
Registration online was quick and easy and racers received correspondence via email before the event to update them on any changes and what to expect etc….upon arrival volunteers were ready to hand out t-shirts (cotton), wristbands and asked if racers would like to be timed for the 6 PM Torch Run (optional).
Ragnarok Run Race Details…
We thought we were going to get away with some fluffy snowbanks and groomed trails along the route…to our dismay it decided to rain for a few days before the event and then re-freeze, only to thaw once more.  This left us with a wet and cold beginning to the race with knee deep slush and sheer ice that racers had to circumnavigate to avoid slipping.  Our shoes were soaked from the start and those with drainage (thank you Pearl Izumi) could at least not suffer from squishy toes.  Once the initial shock of frozen feet wore off, we could focus on the challenges ahead.
The 5K course looped out and back through a forested area, and a large bonfire was the centrepiece that guided racers along a jagged T-shaped trail.
This was a family friendly event with a fun run available starting at 4 PM, and then adults could opt for the 6 PM Torch Run or the 8 PM Elite heat.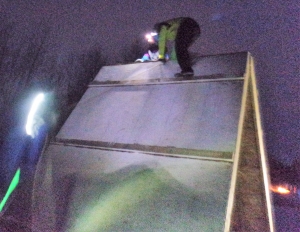 There was water available along the course, but it is recommended to carry a small supply if you plan to be out there for an extended period.
Along the course racers had the opportunity to climb some fantastic walls, some rope walls, and some with cross beams only.  They could also test their strength with lifting, carrying and balancing while working their way along wooded trails and hanging ladder challenges.  During the forest portion racers could be heard expressing "how dark it was", "how mentally/physically challenging this is" and wondering "are we nearing the end" as uncertainty began to creep into their psyches while winding back and forth relentlessly.
The obstacles were well built, and the large central bonfire helped make the outdoor race feel vibrant and alive.  All racers had to wear headlamps for the 6 & 8 PM heats as there was little to no visibility along the trails canopied by overhanging fir trees.  Trails were fairly well marked, however, as the race progressed footprints became a bit scattered and the safety tape guiding racers had been torn down, gently flowing in the breeze adding an eerie quality to the already unnaturally quiet woods.  At one point you could hear the branches creaking and the icicles breaking off as gusts of wind blew overhead.  One gal mentioned she had expected "a zombie to pop out" and another said she was "reliving the Blair Witch Project in her mind" adding to the mystique of this course.
Awards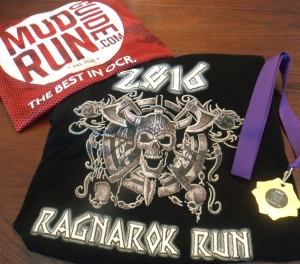 This race had no penalties for missed obstacles in the first two heats and burpees for those missed during the Elite heat.
The finish line was back at the start line and volunteers awaited racers with their finisher's medal and tracked bib numbers for those who had opted into the timed event.
StrongBars Nutrition was on site to offer racers bananas and snacks and Smiths Falls, Carp and Seeley's Bay have reasonable restaurants for those wanting to share a bite with friends, both new and old, after the race.
This race recognized the top 3 male/female racers in the Elite heat and gave a secondary medal out in recognition. See results: http://www.webscorer.com/race?pid=1&raceid=63457
Special congratulations to two of our teammates: Kelly Morrice -1st place in the 6 PM heat and to Laura Skoblenick -2nd place in the 8 PM Elite heat!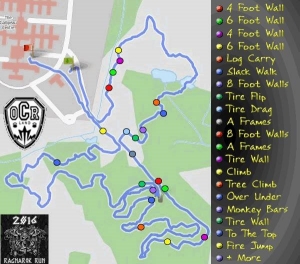 As with any race, volunteers are what make it work.  More volunteers could have been used in this event to keep racers motivated during some of the wooded sections; however, those that were along the course were friendly and helpful and had to endure three heats of racers over a 5 hour period. Big thanks to those that came out to support the event.
Gear Guide…
Garmin 220 watch, Pearl Izumi M2 trail shoes, Dakota Insulator Grip Gloves, Running Skirts compression socks, adjustable Energizer Headlamp, Under Armour sports bra, Road ID, QALO ring, Obstacle Guard leg/arm protectors.
For this being their first annual event, it had some creative obstacles for a variety of racing levels and unlike many events; the proceeds are going to the Smiths Falls Hospital Foundation. Thank you to Matt Volk and Rise Above the Mud.com events team!
3/5 paws
---