This was an inaugural race in a few ways. Although it was the second race of the season, the first in Florida in February it was the first Warrior Dash qualification method for OCRWC after making the decision to drop their individual Championship event. Finally, of all the races I've competed in, it was my first Warrior Dash. This event left me dizzy (more on that later) and a tad underwhelmed since they are considered one of "The Big Three".
Leading up to the race, WD did something kind of cool by putting up the course map and obstacle list on the website ahead of time. Seriously, it was great. It gave all of us who were competing a pre-race game plan. Previously, I was all about not looking at maps because I loved the surprise of the course and not knowing what was around the next bend; however, with competition becoming so stiff now, it's a disadvantage to not have an idea of what's going on ahead of time. So, kudos for the map, obstacle list, and even a video showing the obstacles so we know what to expect.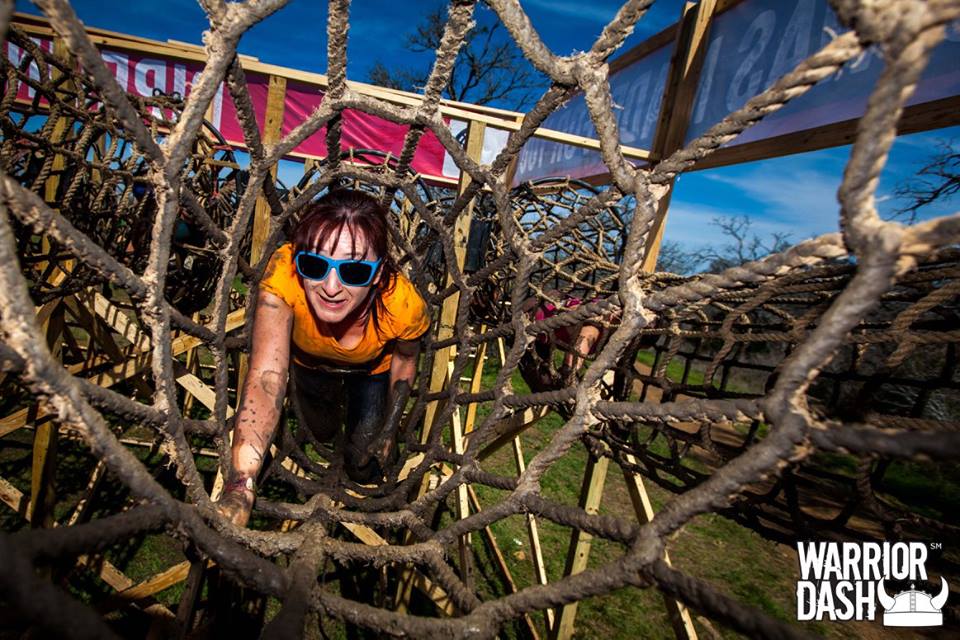 Upon arriving there was a well-organized and spread festival area with a good amount of tables for racers to plop their things on and get ready There was an easily found and well-staffed bag check tent, and initial registration was done by last name instead of bib numbers. I enjoyed that instead of having to get a pen, write it all down and remember numbers early in the morning. Seriously, who enjoys playing Memory at 6 am when driving out to race? They also had a mini-rig in the middle of the festival area with many people (myself included) using it to help us warmup with the rings and a few of us crossing the middle T-Bar section.
Now we come to the almost start of the race. Given the size and scope of WD as far as the course is concerned, I would best compare it to Savage Race. One thing I have stated in the past many times is that Savage Race has the absolute best start line hype up in the business. I was hoping Warrior Dash would be the same. It's a smaller series that's meant for a fun challenge. I wanted to get excited at the start line; I wanted them to channel what their WARRIOR DASH was going to be like. Get us ready for war! Maximus, lead us into the fog and promise us our glory of battle!!!! There was none of that. First, the start line MC was barely audible. It was loud but muffled. Kind of like a 35-year old K-Mart PA system. Better yet, visualize any adults speaking in any of the Charlie Brown movies. The most we had was just some joke interactions with a few people and talking to some racers about where they were from. I didn't feel like we were going to run a race. I just wanted that countdown to get moving.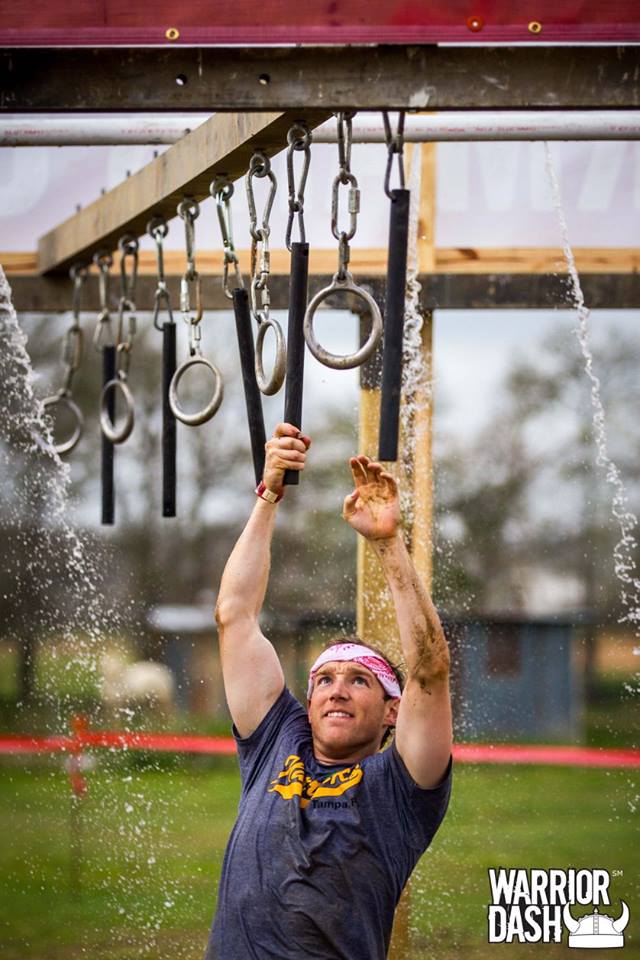 Once we were off, it was a mad dash. The initial run had us wrap around and run through a roadway between roaming horse pens with a couple of horses in each.  A few of my speedy friends also happened to be at the race. Michael Mark, Jack Bauer and myself were out in a mad starting dash. Our group turned into six but getting to the first obstacle, a set of Over-Under with a long crouch-runnable tarp in between. Remember… Crouch runnable. Then we were into the switchbacks for a bit and then to the trenches obstacle. We all dove in and it had a switch we couldn't see halfway through, and I liked that. Kept you on your, toes? I digress, then is was a good 30-40 feet under a tarp again to get out of the switch trench. Now, I thought this was fine. I could crouch run this again no problem. There was no problem until my forehead happened to find a piece of lumber holding up this tarp. Rattled, I look and see the obstacle only had another 15 feet, or so, there can't possibly be another… SLAM!!!!  A second 2×4 to the forehead. From then on I went from fighting for a 1-3 spot on the podium to just wanting not to vomit while I ran. Pro-Tip: Watch what you are doing on an obstacle. Don't assume anything, or you'll get smacked in the head and have an annoying bruise the next week for work. Crossing the finish line, we were handed our respective finisher cards for OCRWC Qualification and the Warrior Dash 2016 medal, which is quite substantial. They took the cards back once we gave them our names for the list and it was time to relax and confer with my fellow athletes.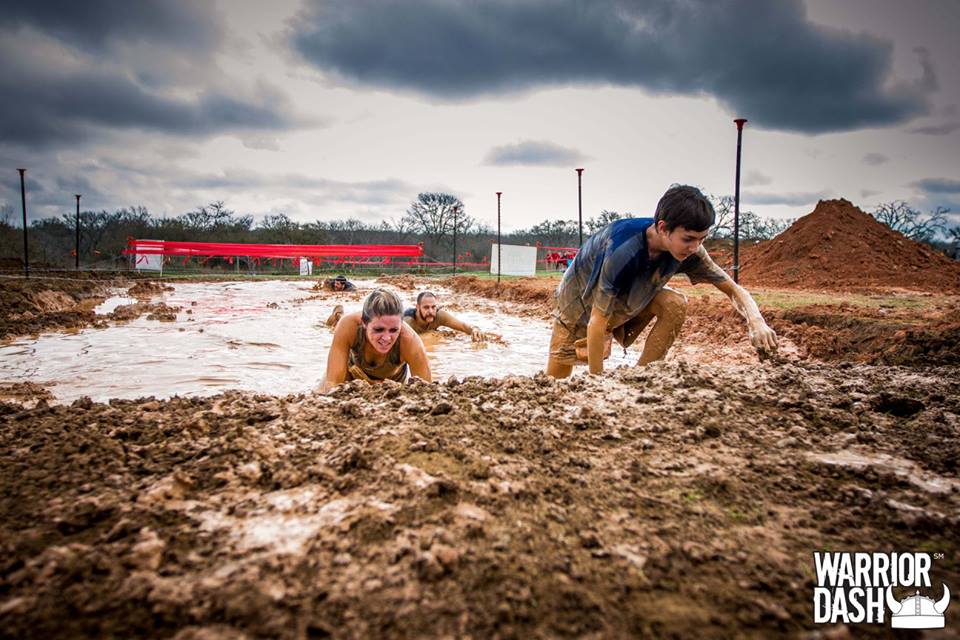 The course itself was pretty much flat. Mainly because… South Texas. That's what was provided, so they took us through every single trail they could. Well done for seeing what was available and using the most of what they had. It was a small venue that offered little in the ways of distance and large enough areas for obstacles to avoid bottlenecking. Going through the course in my daze, I also couldn't help but feel, it wasn't the same as on the map. Obstacles were much closer together than planned. The online map said it was a 3.7-mile course. We ended up a full mile shy of that. This was confirmed since even in my stooper, I finished in 23 minutes and change. Plus, my GPS read 2.7 miles. This was confirmed by other racers also having a 2.7 or 2.9 mile, with only one person showing a 3-mile distance. After seeing everyone's readouts on Strava and Suunto later that day, they cut out an entire section of the course. Probably because it was going through a church's grounds and they didn't get permission. (That's my postulation, do not take it as fact).
Overall, this was an excellent event. I feel they can improve their starting line experience for the racers and make it something memorable, rather than just a Saturday romp through some mud and 12 obstacles. 2016 felt it started a bit slow, but since they are one of the larger entities in our sport, I'm hoping they can make their next events feel special.
Rating 3/5:
---
Have you done a Warrior Dash? Leave your own Warrior Dash review and feedback
Use discount code WD2016MRG for $5 off your Warrior Dash registration