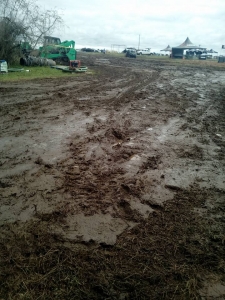 Recently in Texas, the most challenging obstacle has been the weather. It seems when it comes to OCR, and Texas Mother Nature has a good time messing with Texans.
Spartan Super, Sprint, Sprint, Super – double weekend… it rained all week leading up to the races, and the night/day of as well. So much so that the Spartan build crew had to constantly fix and brace everything. The rope climb pits kept eroding away, and they had to brace them not to collapse. The morning of the final Sunday Race, we started over an hour behind because of a lightning storm that caused massive flooding at the venue. The Festival area had to be rebuilt, and the course was modified.
Fast Forward to October for the Beast in Glen Rose. Everything was awesome. The weather all week was great, it was cool but not cold, everything was perfect. Then… Friday night happened. If you remember the storm in the movie 300 where the Persian Navy was tossed and strewn about, that was the same storm. Water crossings on the course went from six inches to over 6 feet overnight. I'm not exaggerating. Small streams to raging torrents of debris filled chaos. Almost 2 hours later we were able to get on a much shorter course for safety.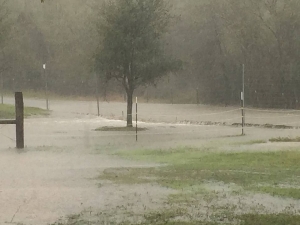 Many people didn't even get in until 3-4 hours after their heat was supposed to start. Spartan was great and let them run through to darkness and defer the entries if they wanted. The real test was getting out of the place. The ground was so soaked, they had to push and pull everyone out with tractors. Then they had to get tractors to get the other tractors out. Day two saw fewer entrenched vehicles and many more tarnished souls on the course. The mud was so life suckingly thick and sticky, nothing could be done to mitigate it. Atlas stones were nearly impossible to lift; the 8-foot wall had a 75% or higher failure rate for the elite field because it was impossible to jump out of the mud. I just want you to visualize the tar pits from the first Land Before Time movie. That's how terrible it was.
That brings us to today. March 10, 2016 , and we have the same issue. Dirty Girl Mud Run had to cancel their event because their entire venue is under 4-6 inches of water, at least. Dirty Girl Mud Run put this out today on social media,
"Dear Dirty Girl Mud Run Houston Participants,

It is with great sadness that we inform you that the event is cancelled this weekend. Our venue is almost completely underwater making the course impossible to create.

We have the following options for our participants:

1. Transfer. We are allowing all Houston participants to transfer to Austin. The Austin event is on April 2, 2016. Please email us your request to support@humanmovement.com by Monday March 14th at noon MST, if you would like this option. Please include your name and email address used to register. Please use the subject line "HOUSTON TRANSFER".

2. Refund. If you do not choose the transfer option you will be refunded automatically. You will not need to email your refund request. All non-transferred registrations will be refunded. Please allow 7-14 days to see the funds. They will be returned to the original card of purchase."
After looking at the photo, it seems the venue has transformed into a lake. Spartan Race is currently suffering as well from flooding up in Hempstead. The crew is busy fighting it off and hoping for a great race this weekend. There are a few hotels flooded out already forcing many to find alternative accommodations. I and about 700 other people had to make emergency hotel bookings 1-4 towns over because of the monsoons through the week.
One thing is for sure; Texas always has a significant weather event for every OCR hosted here. This year, it just seems Poseidon is bored of the Mediterranean. Pardon me while I listen to Texas Flood from Stevie Ray Vaughan.