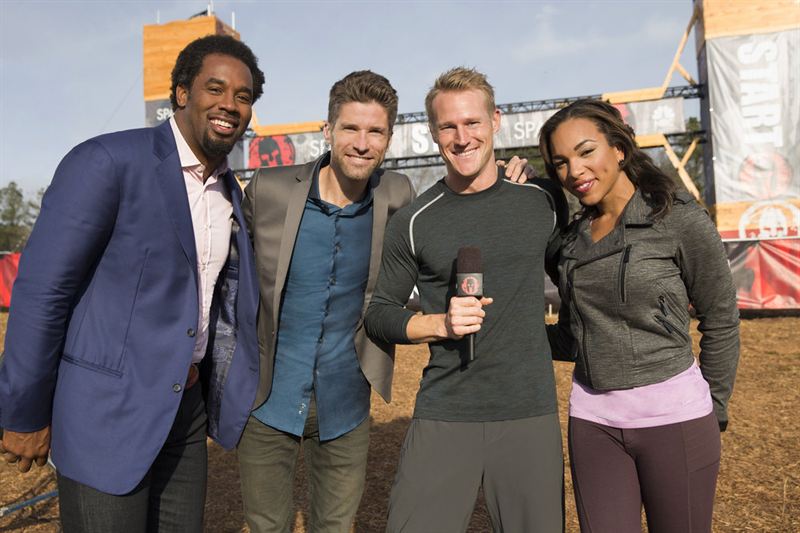 NBC and Spartan Race today officially announced that former NFL linebacker Dhani Jones and former professional soccer star Kyle Martino will man the helm of the new NBC competition show 'Spartan: Ultimate Team Challenge' airing later this spring on NBC. The two will be joined by course reports American Ninja Warrior and OCR Warrior competitor and co-host Evan Dollard and current sports anchor, MJ Acosta.
The show was taped in the fall and is set to air on national television this spring on NBC. Read more about the hosts below and about the series which " engages teams to battle over mud, frigid water, and razor sharp barbed wire for a chance to win $250,000."
---
UNIVERSAL CITY, Calif. —March 10, 2016 —Dhani Jones and Kyle Martino have been named hosts of NBC's new competition series "Spartan: Ultimate Team Challenge," with Evan Dollard and MJ Acosta as course reporters.
From the producers of "American Ninja Warrior" and inspired by Spartan Race — the creators of the world's leading obstacle course races — "Spartan: Ultimate Team Challenge" raises the bar on team competitions. Groups of friends, families, co-workers and more must work together as they race across specially designed Spartan courses engineered to test their determination, endurance and will. Thirty-six teams will compete on the most demanding Spartan course ever devised and will have to push through the pain to win $250,000. 
In each episode, six teams of five players will compete in an intense physical challenge through massive obstacles. Each team will include one Spartan elite, along with two men and two women who, together, will attempt to complete rigorous obstacle courses that test their agility and stamina. The winning team from each episode moves on to face the biggest and most demanding course ever built at the National Finals, where one team will emerge victorious and claim the first ever Spartan championship.  
THE HOSTS
Dhani Jones has had an eclectic life — entrepreneur, philanthropist, NFL linebacker, author,television host and explorer.
He began his career as an NFL linebacker, playing with the New York Giants, Philadelphia Eagles and Cincinnati Bengals. In 2010, following his post-football life, Jones launched his philanthropic endeavor, BowTie Cause, designing signature bow ties for organizations around the country. He has also become partner of two advertising agencies — Proclamation, based in Cincinnati, and VMG-Creative in New York. His entrepreneurial spirit has continued to push him in new directions, adding Qey Capital and Hyur Staffing Services to his roster.
Jones is also an author, writing his travelogue/memoir, "The Sportsman: Unexpected Lessons From an Around the World Sports Odyssey," in 2011. The book recaps his rise to NFL fame, as well as his time as a host of Travel Channel's original series "Dhani Tackles the Globe." He is currently the host of "Playbook 360" on Spike and "Be a Champion" on CNN.com.
Kyle Martino played professional soccer for the LA Galaxy and Columbus Crew as well as representing his country with the US Men's National Team. Martino was named Gatorade National Player of the Year in High School, ACC Player of the Year in College, and after being selected in the first round of the Major League Soccer Draft, won Rookie of the Year in 2002.
Martino's on-field career was cut short due to injury, but after hanging up his boots, Kyle quickly found his way into TV, where he currently is a studio analyst for the English Premier League on NBC Sports, co-host of "36 Hours" on Travel Channel, and a live event host.
THE COURSE REPORTERS
Evan Dollard is a nationally recognized TV host and personality who got his start on television by climbing and jousting his way to a championship title on NBC's "American Gladiators." He leveraged his fame as "Rocket" to become a five-time fan favorite of NBC's hit "American Ninja Warrior" and is featured on Esquire Network's spinoff, "Team Ninja Warrior."
Dollard quickly established himself as an active lifestyle expert, hosting several on-air and web programs, including Esquire Network's "Well-Trained Warrior" and ESPN 2's "BattleFrog College Championship." He also hosts and self-produces the competitive web series "Ninja Quickie," featuring head-to-head physical challenges with top athletes from around the world.
MJ Acosta is currently a sports anchor/reporter for KNSD-TV (NBC7), the NBC O&O in San Diego. Flexing her broadcasting muscles, she was also a licensed boxing announcer with the Florida Boxing Commission for two years, in which she announced dozens of boxing and MMA matches in both English and Spanish. Acosta has branched out to help the next generation of athletes as well, spending several years as an anchor for Generation Next Youth Sports Network prior to joining WPLG.
When Acosta isn't in the newsroom, you can find her embracing her athletic nature by running a charity 5K race, pushing through obstacles at events like the Spartan Race, or exploring her adventurous side by sky diving. In addition, Acosta has a passion for philanthropy, working with several organizations, both locally and nationally, including the Wounded Warrior Project, Best Buddies and Susan G. Komen's Race for the Cure.
"Spartan: Ultimate Team Challenge" is executive produced by A. Smith & Co. Productions' founders Arthur Smith and Kent Weed ("Hell's Kitchen," "Unsung," "Ellen's Design Challenge"), along with Anthony Storm.