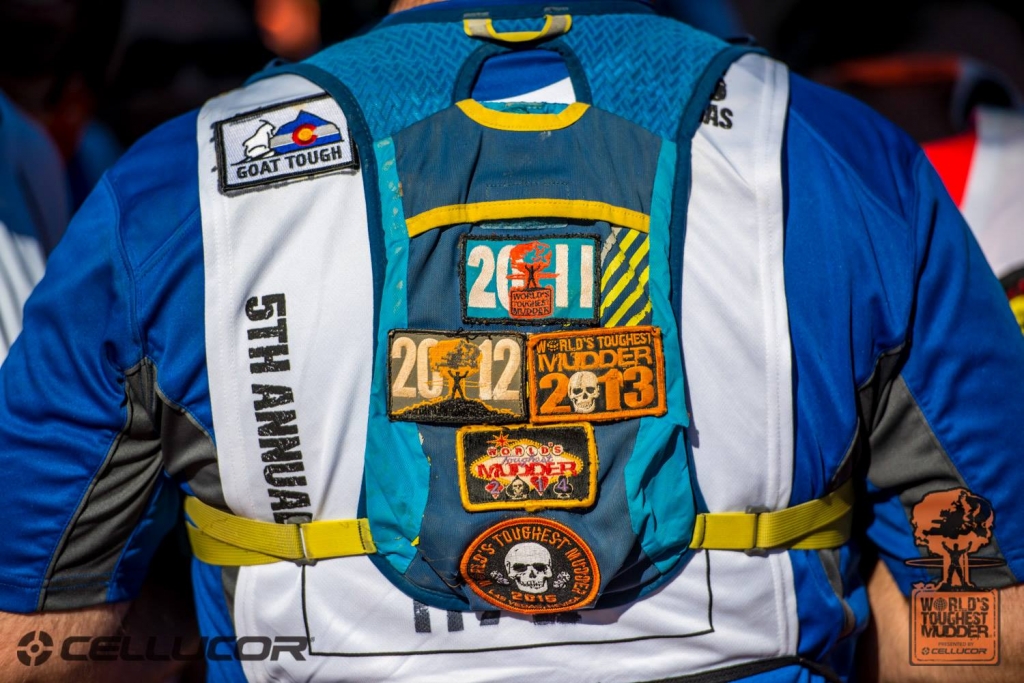 Tough Mudder changes the rules in their signature championship event, World's Toughest Mudder (WTM), every year. With each change, there is great controversy and great potential. Sometimes the rule changes are in response to feedback or problems they encountered in previous years, or sometimes they just like to change it up. Before I describe the first announced rule changes, I'll preface the controversy with this. In sports, and especially OCRs, we rely on the organizers to define the rules of engagement, and we challenge ourselves to do our best within those confines. The rules affect our performance, as the heavy lifts in Spartan Race that challenge ultrarunners and body-weight experts like myself. In signing up for an event and agreeing to participate, we accept the conditions set by the organizers even if we disagree with the rules or think that the rules place us at a disadvantage.
The core rules of WTM are simple: complete as many laps of the course as possible in a "24" hour period (quotes explained below). There are mandatory-completion obstacles that you are expected to be able to do irrespective of your fatigue level (e.g. Berlin Wall). There also are penalty obstacles that, if you complete them, give you an advantage over your less fortunate competitors (e.g. The Cliff).
World's Toughest Mudder Rule Change #1: 2 person teams, same $100,000 Cellucor 100-mile challenge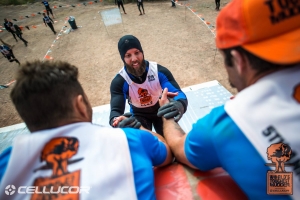 Tough Mudder is all about teams, camaraderie and working together to achieve great things. Their regular season events feature obstacles that are almost or entirely impossible to complete alone (Pyramid Scheme/Everest 2.0). In each of the five previous WTM's, teams were 4 participants, and if a single participant failed a penalty obstacle, the whole team took the penalty.
Last year, they highlighted their team challenge by offering a $100,000 award to the top team that ran 100 miles or more. For context, Ryan Atkins in 2013 is the only person to complete 100 miles of WTM (although Ryan Atkins of 2014 finished 95 miles in 22:30 and was averaging 1:10 laps). Ryan Atkins and some other OCR greats compiled some epic teams to make an attempt at the grand prize at WTM15. In the end, Ryan's team of Sinergy Sports won with 80 miles on what was, debatably, the hardest WTM ever. That's a lot short of 100. The 5-mile lap split for 100 miles using last year's rules was 1:15. They ran 1:34 per lap, 19 minutes slower. Logically, when they lapped me 16 hours into the event, they said that getting 100 miles would be a miracle.
This year teams are TWO people. My prediction: a couple of people are winning $100,000 this year. Here are a few reasons why.
Let's guess that each person has an 80% chance of completing a particular penalty obstacle. The chance that a team of 4 would all succeed is 41%, and my friends in the team competition said it often happened that just one of them failed an obstacle. The chance that a team of 2 would succeed is 64%. That's a huge difference.
Ignoring the math, if you're Ryan Atkins, then it's pretty hard to find THREE separate people that are world-class OCR athletes that won't get hurt during the event. He tried hard last year, and one of them got hurt part way through. This year, it won't be hard to find just one other world-class OCR athlete to run with him. After all, Ryan's running an obstacle course training company with Jon Albon and Matt Murphy (obstaclecourse.training).
If you're not Ryan Atkins, then this rule change might attract some other big names to WTM by making the $100,000 achievable. Nikademus (Ultrademus) Hollon famously was tempted by the $100,000 in WTM15 but broke up with his team part way through because it wasn't happening. He went on to get fourth. Other ultrarunning and OCR greats might be tempted by this carrot, making WTM an even higher profile event than it already is.
On the other hand, if you're a former team champion from the Sinergy Sports, Spartan Wolfpack or 3am Waterfalls, you now have to compete against the men that you bonded with over 24 grueling hours. The three non-Ryan members of Sinergy Sports have to compete against each other for the privilege of running with Ryan. Miguel Guillermo Medina, Dennis Wayne Welch and Mark Jones from Wolfpack have all publicly expressed interest in WTM16. How is the team going to split up? Is there going to be someone left out? Will someone forego WTM entirely if they're not chosen?
Rule Change #2: Team Prizes Match Individual Prizes Per Participant
In previous years, the team cash prizes for the top 5 finishers were higher than the individual prizes, but each participant got much less if split evenly. This placed an extra penalty to people trying for the 100-mile award. Either stick with the team for the outside chance at $100,000, or go it alone for more individual gain.
This year, that penalty is GONE. If you're the top team, you get as much money as if BOTH of you were the top individual finisher. Even if you don't get 100 miles, your plan B is pretty good. There's no cost to the slightly faster team member to keep with the slower team member if they're going to get the same end place. There will be fewer teams than individuals, so going team likely means more chance at cash.
In a world where most world-class OCR athletes still have a day job, the chance at real cash for their efforts makes WTM a central event to people trying to make the transition to a full-time athlete. By placing, even more, incentives and bigger overall cash prizes, WTM has the potential to draw some big talent from around the world, and for good reason.
Last year we had a significant rule change for teams that I predict will still be in place: teams can break up before a specified time (last year was 10 am). They must finish the lap as a team, but between laps they can declare themselves as individuals. This was in response to some drama on the women's side in 2013: Deanna Blegg may have had a chance to beat the OCR Queen, Amelia Boone, if Deanna wasn't literally dragging an injured team member (Team Underarmor got 75+ miles, as did Amelia). Because of this history, I think they'll allow teams to break up, but that hasn't been announced yet.
The Team Controversy! Is a couple a team? What about the Women!
There's long been an unofficial World's Toughest Mudder Couple competition that has been mostly for giggles. In 2013, the husband and wife McBride team ran 40 miles together and inspired many people about the strength of marriage, but they weren't a "team" based on old rules. In 2014, they got 58 miles and Kristy McBride was the 8th woman.
The skeptics say that by calling a couple a team that Tough Mudder is diluting their message of the importance of team and camaraderie. It is true that they were unique in requiring a four-person team at such a high caliber event. However, regarding the core US-based OCR companies, they're still unique in that they have a team division at all. Spartan, Warrior Dash, and BattleFrog, so far, are all individual competitors only. OCR World Championships still has a 4-person team format, but many competitors run in both individual and team waves.
As discussed by Amelia Boone in the World's Toughest Mudder Community, there's no team competition for the women. If a team is gunning for the 100-mile prize, they're going to be a boy's club. Amelia Boone and Deanna Blegg are the only women to go 75+ miles since we moved to Vegas. By excluding all women or co-ed team divisions, Tough Mudder excludes the top women from the teams. In OCR, we have some great women competitors. It'd be great to see them flourish in a team competition that mirrors Tough Mudder's all-inclusive attitude that they have at their regular season events. #feminism
Rule Change #3: Season Passes and WTM 2017 Passes for the Top 10!
This doesn't represent as much of a change as it seems. Since 2012, Tough Mudder has been giving out regular season passes for all competitors that reached 75+ miles. In 2014, this was the top 17. In 2015, this was the top 20. This encourages top athletes also to participate in regular season events and keep the brand strong. With the WTM passes, Tough Mudder might be hoping to keep good competitors coming back each year to keep the WTM itself strong.
The question that Tough Mudder has left unclear is: Is the 75+ mile prize still in place? Financially, a WTM entry is similar to a season pass, so Tough Mudder is giving away the same amount of money to the top 10 as they did to the top 20 last year. Since Tough Mudder is a for-profit company, are they going to save $5,000 by removing the 75+ mile prize? That would be a blow to roughly ten athletes that could support Tough Mudder across the globe during their regular season events, but provide more support to the top 10.
The Controversy: Master's Divisions?
In the OCR world, we like to talk about how OCRs could eventually become an Olympic sport. The logic is that the steeplechase is a tame version of an obstacle course, so adding a few other standardized obstacles could be within the Olympic message. However, in most other athletic competitions, there are masters divisions. Spartan Race had a master's division last year as well as BattleFrog but Warrior Dash, and Tough Mudder did not.
There are so many great master's athletes out there, and they deserve recognition. Tough Mudder itself has some great masters athletes that compete without as much recognition on the podium. These include Deanna Blegg (mentioned above), Ken Jacobus and Jim Campbell.
The young athletes represent the pinnacle of athleticism. The masters show that age is just a number and anyone who puts the effort in can achieve greatness. Regarding the longevity of the sport, as the young athletes age, they become master's athletes and coaches. Each coach can be responsible for attracting hundreds of more athletes to an event.
Rule Change #4: Noon Start (and End?) Time
The last rule change applies to everyone; irrespective of if you're going for podium prizes. The first four years of WTM, we had a 10 am start time. Last year, we had the challenge of a 2 pm start time. This year, we get to try something new!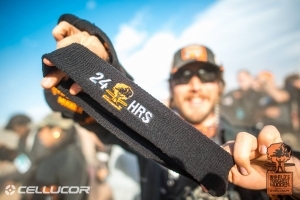 In my opinion, the start time of a 24-hour race is less about the start time and more about the end time. When WTM was in New Jersey, the sun would come up at 8:30 am, so there wasn't much day running after the cold zombie shuffle of the night sets in. Last year sunset was at 5 pm, so most people didn't even get a full obstacle-laden lap in before the cold really set in. Once the sun came up at 6:30 am, there was a lot of work to be done. The late start also gave people an extra challenge of cleaning up their stuff and getting out of the venue before 5 pm, when the sun came down. That was a surprise for a lot of people, and there are some horror stories from people who were out on the course at the cut-off time of 3 pm, made it to the base camp by 4 pm, and had to teleport their stuff a half mile to their car before 5 pm.
This year represents a compromise between these options. Noon allows people to get obstacle laps in before the challenge of nightfall, and challenges people to keep on doing work after the sun comes up. We also will see the full glory of the finishes in full sunlight, which is great for photo ops. It also makes set-up and take down easy for participants and Tough Mudder. People were running the event only need to start final set up 2-3 hours before set-up, which is a reasonable time of morning.
However, everyone in the community has an opinion about what is the best start time for a 24-hour event. Midnight provides a certain degree of elegance because it's how much you can run in one calendar day. Early start times mirror most other races, where elites kick off at 7am-8am, and non-elites people can catch late afternoon flights home on Sunday. Later start times reduce day-night transitions, where big mistakes can be made. In my opinion, there's no ideal start time for a 24-hour race. Humans weren't made for staying up for 24 hours.
The controversy behind this rule comes in the subtle phrasing of the announcement: "The race will start on Saturday, November 12th at High Noon and end 24 hours later on Sunday, November 13th, at High Noon." (emphasis added) The subtitle of that section highlights the start time, but the prominent picture highlights the word "FINISH."
In all previous years, WTM has had a soft cut-off: you had a certain amount of time to finish the lap that you were on at 24 hours. This buffer time has been shortening as WTM has matured. Back in 2012, we had a luxurious 4-5 hours. In 2013-2014, we had 2 hours. Last year, we had one short hour. If you're working out the pacing for your mileage goals, that buffer time helps an enormous amount. If your goal is 75+ miles, you need 1:36 laps without a buffer, and 1:40 laps with a one-hour buffer. That's 48 seconds per mile slower.
The strict 24-hour cut-off is new to Tough Mudder but is common to 24-hour ultrarunning events. BattleFrog's inaugural 24-hour event (BFX24) had a hard cutoff, which made finishing videos less exciting because it was hard to predict when the top people would cross the finish line for the last time. It made awards ceremonies easier because, at 24 hours, everyone knew their final place.
BUT, Tough Mudder hasn't officially specified that they are using a hard cutoff. That's left for us to discuss, and for Tough Mudder to quietly observe while plotting mischievously at TMHQ.
Conclusion
Overall, these rule changes have the potential to attract some high-quality competition to the event and to keep that competition coming back year after year. The controversial elements of the rules come in what wasn't said, and how we are reading between the lines. From my experience with Tough Mudder, I know that this isn't the final word. There will be more rule announcements to come, some of which will be new even two weeks before the event. Some may even contradict earlier announcements. That's just part of what we sign up for.
---
Kerr's WTM Performances
World's Toughest Mudder 2016 will be my 4th WTM. I did 40+ miles (150th male) in 2012, 75+ (16th male) in 2014, 75+ (12th male) in 2015. Amelia Boone has beaten me every year, but I matched her final distance the past couple years (she still finished before me). This year, my goal is at least 80+ miles.