Obstacle Racing fans will be setting their DVR's tonight as two action packed Obstacle Racing shows hit the airways at Primetime tonight. On NBC the Spartan: Ultimate Team Challenge airs at 9:00pm and on ESPN at 9:30pm the BattleFrog College Championships Season 2 debuts on ESPN. College teams from around the United States will try once again to take home the championship title. Tonight kicks off the three night event on ESPN.
---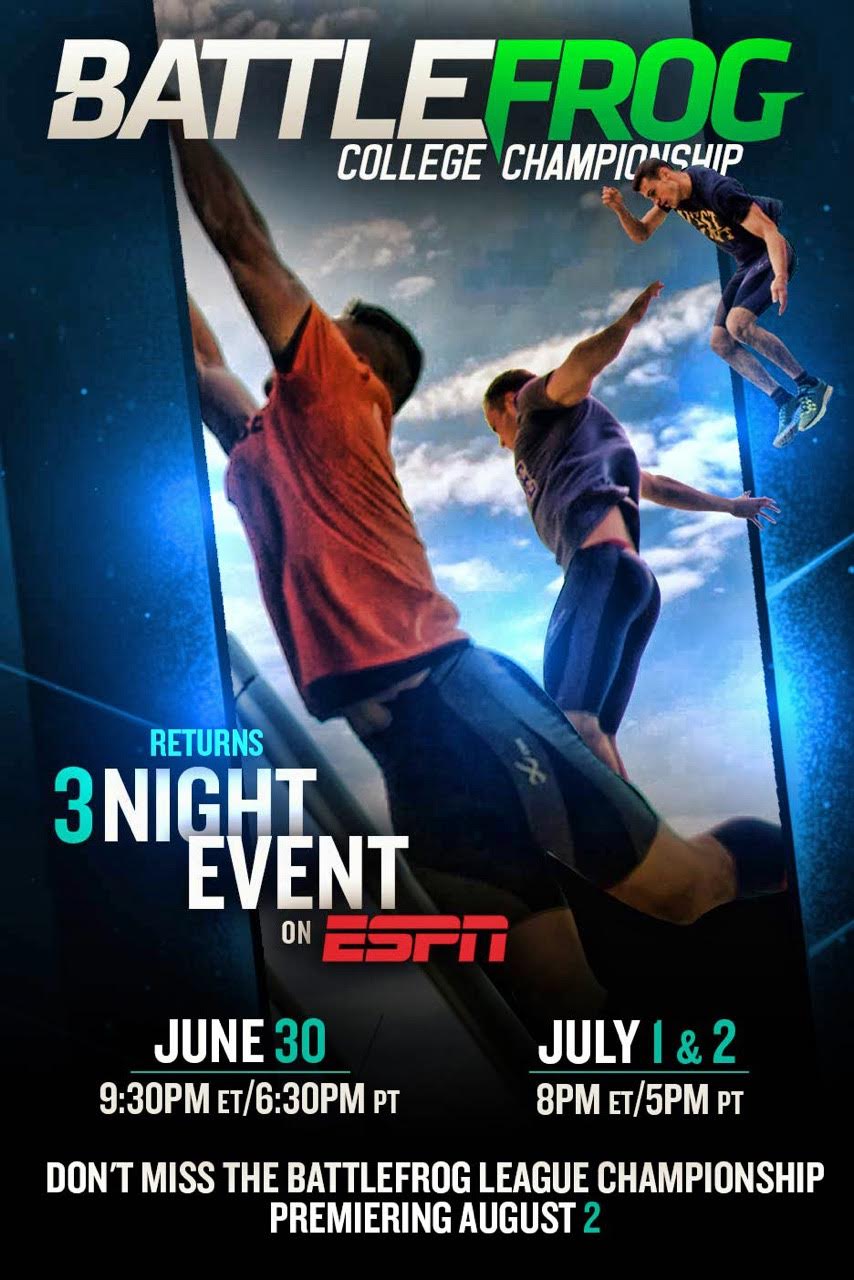 Athletes from sixteen (16) of America's top college obstacle course racing teams are set to dazzle audiences in prime time as the popular BattleFrog College Championship returns to ESPN as a three-night primetime television event June 30 to July 2 on ESPN and will re-air across ESPN2 and ESPNU in the coming weeks. Encore performances will air throughout the summer. 
The BattleFrog College Championship launched to rave reviews and large audiences in 2015. The show features a 350-meter, side-by-side co-ed relay across a challenging and exciting BattleFrog course made up of twenty obstacles.  OCR is the fastest growing participation sport in the United States with 2015 attendance reported to be greater than marathons.  The show was jointly created and produced for ESPN by veteran TV sports content specialists 51 Dons and BattleFrog, the nation's fastest growing OCR series.
"Obstacle course racing continues to grow in popularity and we are excited to feature the 2016 BattleFrog College and League Championships on our networks", said Dan Margulis, senior director, content strategy and scheduling for ESPN.  "It is a unique test of athleticism, endurance and mental strength."
BattleFrog CEO Ramiro Ortiz believes the co-ed BattleFrog College Championship strikes a chord in part because women make up more than half of OCR competitors. "BattleFrog is about love of country, family, friends, fitness and the great outdoors. We loved hearing from so many families who told us it was their new favorite show and that they couldn't stop watching! OCR is truly a co-ed sport. More than half of our competitors are talented women who come out to test the skills they built at the gym. We are very proud to have created a format that offered positive, powerful role models for families."
This season will see the return of Army (West Point) to defend its 2015 Championship against revamped contenders from the previous year including exciting teams from Ole Miss, Wisconsin, Virginia Tech, and Virginia.  The show will also highlight new rivalries with the addition of Air Force as well as fleet footed squads from Texas Christian and Arizona State.  Two top Atlanta-based schools (Georgia State and   Tech) will compete for hometown bragging rights on the BattleFrog course at beautiful Lanier Islands Resort, just outside Atlanta.  The full field includes United States Air Force Academy, Arizona State University, United States Military Academy (Army West Point), University of Colorado, Eastern Kentucky University, University of Florida, Georgia State University, Georgia Tech, University of Illinois, University of Mississippi, Syracuse University, Texas Christian University, University of Texas, University of Virginia, Virginia Tech and University of Wisconsin.  Competitors come from 25 states and countries as far flung as Japan.
Award-winning sports director and Executive Producer Ron Luscinski of 51 Dons promises the most exciting OCR show yet.  "Everything is heightened in Season 2," he said.  
"The rivalries are more intense.  The teams are stronger and faster.  The course is fast, tough and exhilerating.  This action-packed show will literally take your breath away.  The BattleFrog College Championship sets a new standard for obstacle race coverage.  Sports enthusiasts and families are going to love this show."
The BattleFrog College Championship will bring together the diverse broadcasting talents of Ron Pitts, an experienced play-by-play broadcaster, Amelia Boone, the most decorated woman in the history of OCR and Rachel Demita, host of Take Two's NBA2K video game series.  College athletes are invited to apply for Season 3 of the BattleFrog College Championship.