Happy Monday everyone! I hope y'all rested up well last week and enjoyed your time with family, because this weekend there was NO shortage of events to choose from, and the results pages looked like a roster of all the competitive OCR athletes we know. In other words, the competition was fierce, the races were out in full force and we proved there is plenty of something for everyone. It was an incredible weekend to be inspired by what we do and love, and get our mud on!
There is no shortage of races to talk about, so without further ado…
---
WARRIOR DASH – NORTH CAROLINA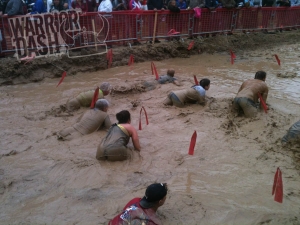 Set on a nature preserve/farm site, this Charlotte location familiar to many Warrior Dash aficionados, offered both tried and true WD favorites and some well-received new obstacles. Keeping with their goal of bringing fun for all levels, they once again hit the mark, with another solid event.
Andy Zuber was there for his fourth year, and had this to say about the day;
"As always, the course was fast and flat but well laid out to keep obstacle back-ups to a minimum. The obstacles are always great for the beginning obstacle course racer and fun mud runner and this year did not disappoint. After a long flat field run to spread out the racers, participants were faced with obstacles like "Shocktop Unfiltered", "Trenches", "Diesel Dome", and "Mud Mounds". After some additional double track trail running through the woods, racers faced "Deadman's Drop", "Pipeline", and "Warrior's Summit". There was about an additional half mile added to this year's course that included a new obstacle called "Fisherman's Catch" and "Risky Business", both of which included spraying water that was great on the humid 90+ degree day. The course finished up at right about 3.5 miles after "Hard Rain", "Goliath", and "Muddy Mayhem". All in all, it was fun course that is always a great gathering of seasoned obstacle course friends from all over the Charlotte area, a ton of new racers looking for a challenge, and a bunch of teams helping each other through the trails at this historic farm site."
Pictures courtesy of Warrior Dash
---
BATTLEFROG – PORTLAND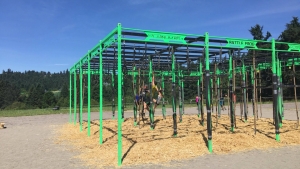 It is hard to find a more gorgeous backdrop for a race in the US than the Portland area, and since BattleFrog is famous for making the terrain do some beautiful dirty work at each race, these beautiful woods and hills hopefully distracted the racers from the challenges they were faced with. With one of OCR's biggest West Coast races going on just south of there in Northern California, it opened up the podium to some new deserving faces, and everyone there had a fantastic time.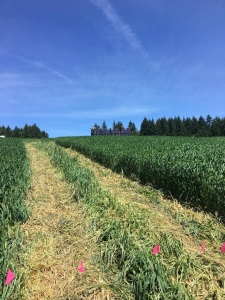 Alexandra Walker, no stranger to the podium had this experience;
"The race started on time and had athletes grinding it out immediately. Out of the gate, there was a steady incline quickly separating the more skilled runners from the rest, and this set the tone for the rest of the race. The obstacles throughout the course were well spaced and offered fun challenges for newcomers. Although a few standard BattleFrog obstacles were not present at this race, there were great new obstacles keeping everyone on their toes. From the Labyrinth maze, to rolling downhill like a kid, to the blackout obstacle, this was a fun race, with great competition, topped off with stunning scenery to treat your eyes with along the way!"
Topping the winners circle for the men were Matt Kempson, Ian Hosek and Matt Hallett and for the Women we saw Leighanne MacCarthy, Corinna Coffin, and Lauren Taksa.
Pictures courtesy of Alex Walker
---
CONQUER THE GAUNTLET – KANSAS CITY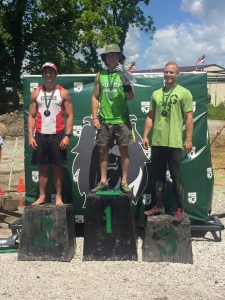 CTG is quickly becoming one of the "little guy" industry favorites. Not only does it have an obscene amount of heart and soul that goes into every race, but the organizers have no interest in making the race a huge, expansive event – but instead to grow and nurture the events they do put on and build on the quality as the numbers continue to grow – and they DO continue to grow! Known for their rugged, challenging obstacles and loyal fan base, this location is a favorite for many and it showed.
In order to podium, finishers have to complete their race with their belt (similar to the bands used in other races) and there are generally a very select group that do. In Kansas City, we did not get to see any female podium takers, but for the men, they had Cody Peyton, Jordan Buscemi, and Tyler Barrett.
Congratulations to all of you amazing Conquerors!
Pictures courtesy of David Mainprize and CTG
---
TOUGHEST – STOCKHOLM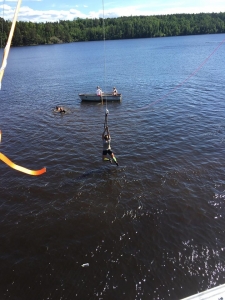 We do not often cover a lot of international races for LWIOCR, but this favorite series in on the bucket list for SO many people, I could not resist. Every event is different, every event has new, and more outlandishly wonderful obstacles, and every event brings people from all over the world flocking to see what all the fuss is about, and leaving knowing exactly why this is such a beloved race series.
We were lucky enough to get the testimony of James Stangle, from the MIT Tough Team, who made the trip to Stockholm for this weekend's event.
"The venue was absolutely amazing, nestled in the middle of a large forest with a breathtaking view of the lake. The spectator area was second to none with the course rotating back to the center multiple times giving over 1000 spectators access to obstacles such as the Platinum Rig, Swing Walk, Dragons Back, their version of Wheel World, and of course their famous finishing obstacle, the Ramp wall. The support the spectators provide to the Toughest Race experience is invaluable.
As for the course itself, there was a great mix of terrain and obstacles to challenge every aspect of our sport. The highlight of the day, had to be the rope swing from a tower, which was quite intimidating at first glance. The concept is simple, yet definitely messed with your head. Hold on tight, swing as far out into the lake as possible, and LET GO!
One thing that sets Toughest apart from many others, is their utilization of the fast/elite lane. The fast lanes consisted of very advanced obstacles and for those brave enough to attempt and complete them, you are rewarded with a clear lane to run past the penalty for taking the easier lanes. Should an elite athlete fail the fast lane, they are forced to take a penalty. This provides a huge advantage to those who excel at obstacles, while at the same time, others still have an opportunity to compete by performing the penalty and moving on. The normal/slow lanes had simpler yet challenging obstacles and once you completed it, you would go through a series of crawls and over/unders to slow you down."
The podium was topped by Toughest champion Jon Albon who was joined by Krister Sellman, and David Nordstrom. For the Women we saw Jennifer Asp, Karin Karlsson and Hilde Rorvik Nordstrand
Pictures by James Stangle and Toughest
---
SPARTAN RACE – BOSTON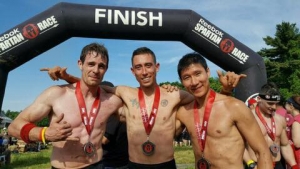 This weekend was a big one on both coasts for Spartan, and there were no shortage of racers that came out to play, and they came out early, as these top finishers were guaranteed to put on quite a show.
On Saturday, the top dogs were Ryan Kempson, Junyong Pak and Josh Fiore who were joined by Kathleen Lamphear, Orla Walsh and Nicole Fitzgerald
Sunday saw a whole new batch of podium toppers with Kieran McCormack, Michael Miraglia and Shane Leighton joined by Debbie Koch, Kelly Sullivan and Serra Langone.
---
SPARTAN RACE – MONTEREY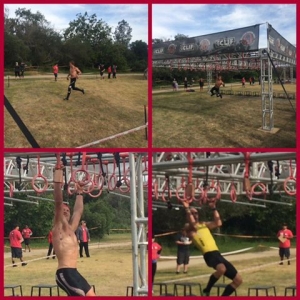 One of the premiere races of the year, this event showed like a who's who of Obstacle Course Racing. If you look at the results, the top 20 were mostly all huge contenders at every race, and the course was riddled with mud, glory, tears, sweat and surely a bit of blood. Whenever you have this many big players in one place, there will always be controversy. But in the end, people showed incredible fortitude and put it all out there proving that our sport's athletes are some of the most amazing in the world.
Climbing to the top for the men were OCR rock stars Ryan Atkins, Hunter McIntyre and Robert Killian and the incredible women's podium gave us Lindsay Webster, Faye Stenning and Rose Wetzel.
Incredible job, all of you – from the Elite, to the first timers – this was a fantastic weekend, full of fun, and we are all inspired by everything you give the community!