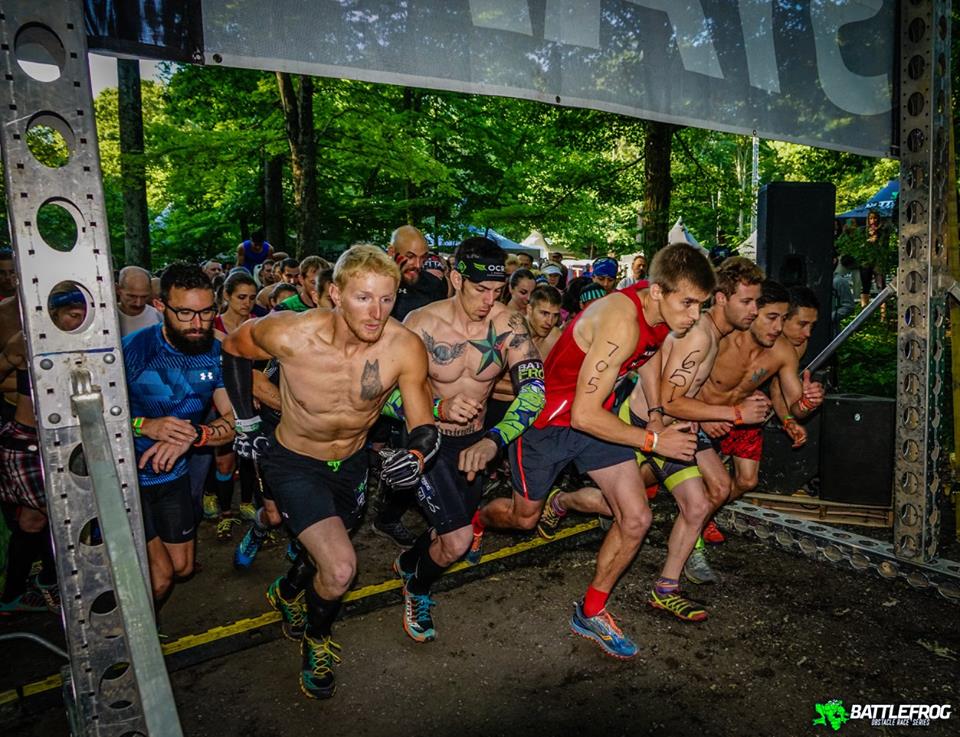 Living in the country, you could have a hell of a raucous drinking game counting how many times you hear "Is it hot enough for you?" in a day this time of year. With temperatures in some parts of the country in the 100's, most people would consider outdoor racing to be a certifiably crazy idea.
Luckily – we are not most people, and we wear our crazy like a badge of honor.
We raced in the stadiums, mountains, cities and waterfalls. Up bleachers, through rivers, and past casinos. We had the big names in the industry met with up-and-comers and local one-offs. The podiums were packed with the wonderfully insane men and women of our community, and even Father's Day was mud-splattered.
People might call us crazy, but no one will ever say we don't know how to have a good time.
---
SPARTAN RACE TRI-STATE NY SPRINT #2 AND DALLAS AT&T STADIUM SPRINT
Spartan Race loves Tuxedo so much, they couldn't get enough – and neither could all the locals. With TWO sprints in NY this time around, if you didn't get your red pie piece yet – you had plenty of opportunities this weekend. Taking the Podium Saturday was Josh Fiore, Joseph Nuara and Miles Bartlett and were joined by Faye Stenning, Laura Lunardi, and Ember Schmitt. Sunday, Josh Fiore kept a death grip on his first place spot, and was joined by Ryan Hall and Joseph Nuara this time in third. We had a new crop of amazing women with Katie Huber, Sharon Cranwell and Charlotte Curtis.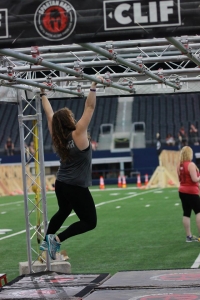 At the AT&T stadium in Dallas, TX, the Lone Star Spartans came out in full force to put the fear of God into their quads and develop a traumatic relationship with stairs. LSS's leadership council member Drew Bowker gave us this little bit of insight into the day:
"The Spartan Stadium crew built out another phenomenal course taking full advantage of what seemed like every set of stairs they could find.  The starting line on the main concourse immediately took us to the top of the stadium, then off to tackle the monkey bars, hurdle the walls, carry the Atlas ball, miss the spear throw and scale the ropes and nets without the extra mud or water obstacles.  After a 4 mile run through the stadium, we received our medal proudly in the end zone."
Earning top quadzilla spots were Isaiah Vidal, Michael Miraglia, and Shane Leighton with Kate Cramer, Orla "Vermonster" Walsh and Cassidy Watton. In a display of additional badassery, it bears mention that Kate not only took 1st for women, but took 3rd OVERALL. Phenomenal.
---
BONE FROG Challenge – ATLANTIC CITY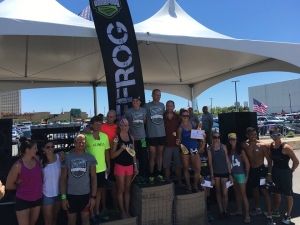 Bone Frog Challenge  is quickly becoming a true industry darling, and for good reason. Put on by a great group of people, the fun and well-designed obstacles really find that perfect middle ground between challenging and attainable, and the positive buzz keeps on growing. JB who was on site for MRG sent this in shortly after the race finished:
I really do not what I can say about Bone Frog Challenge, but, WOW!!!
The short track concept that Hobie Call brought to The Team was a refreshing change from the long distance courses. Where the long distances are about pacing, this BFC Sprint was about how fast can you go?
And Hobie's 19min and change finish answered that question… "Pretty damn fast!"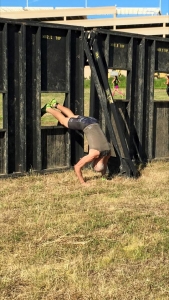 Right before the race began, Hobie was having fun with the other Elites. Joking and taunting them good naturally. But when the air horn went off, it was all business!
There were several lead changes between the top 5. It was all about how quick they got to an obstacle and then thru it, then the length of the run afterwards. It was pretty exciting all the way to the end.
About half way thru the race, Hobie had Woods in his sights and slowly reeled him in and at the end of "Night Crawler" Hobie started to pull away!
Coming across the Finish Line in under 19mins, Hobie Call put on an amazing clinic on how to run an OCR! Cannot wait for the Carolina event on July 23rd.
It certainly does not hurt that their payouts are worthy of many competitive athletes making a special trip to more than one of their limited locations. The who's-who of a podium continued this week, with Hobie Call, Ryan Woods and Brakken Kraker with heavy-hitting women's top three, Corinna Coffin, Elise Fugowski and Jackie Landmark
---
BATTLEFROG – TRISTATE NJ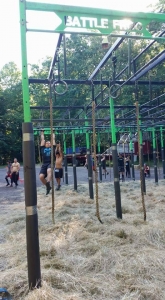 We all saw pictures of Beard lying in bed with Dante's Inferno worthy temperatures this week, but if any of you thought that meant you were getting off easily, you don't know BattleFrog Series. The colorful and exuberant Heather Migliorato-Petri was there with her kids, and had this to say about her day:
"It was a great course this year. It seemed to go by so quickly that it didn't seem like we'd already completed 25 obstacles by the end! It was challenging enough- especially the rig configuration. I think the swim was the most talked about obstacle- excellent choice to throw into the race this year. Tip of the Spear got a lot of people. The terrain was a nice change from the usual flat course and there were some very rocky spots. A lot of ankle rollers! I did miss the mud from last year when we were feeling like we were in the scene from the never ending story. My kids had a great time running the BullFrog, and since it took them into the woods, it meant we had to go with them, which was half the fun!"
On the Podium, we saw Matt Kempson, Ryan Kempson and Jarrett Newby met by Katie Vitali, Jessica Broadwell and Christina Shewchuk
---
BARBARIAN CHALLENGE – NOCULUALA FALLS, ALABAMA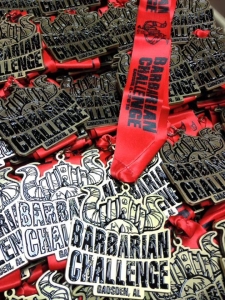 How many times can you say you shimmied up ropes, traversed rigs and clawed your way up walls with a waterfall as your view? Unless you race in Hawaii, that is a pretty hard combination to come by. The Barbarian Challenge however, has made that happen on the mainland. Billy Findeiss loved his experience and shared it with us:
"The course has everything you want in an OCR, with the addition of so much more. We started with cannonfire at the beginning of every heat, and went into Hills, mountains, mud, a gorgeous waterfall and MORE hills. This was their 6th event, and the six mile course had all the standard fare, but with an amazing obstacle designer like Cal Burr, we were given SO much more – including an obstacle made of metal tubing that you basically have to be a snake to bend around without touching the ground. Attendance was at about 1400 this year – this is definitely one to put on your to-do list!"
---
BLACK SWAMP DASH – OHIO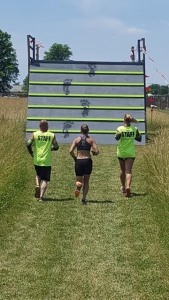 Yet another smaller yet much loved race, the Black Swamp Dash brought familiar faces from all over to play in the mud. CTG PRO TEAM member Brenna Calvert came out and had this to share with us:
"This was my 2nd year in a row racing the Black Swap Dash in Oak Harbor, Ohio, and Troy and Sandy Anthony (owners/designers) truly delivered another spectacular event. While it was a flat course, the use of the swamp offered its own built in challenges. Great, fast course and the obstacles were top notch, with favorites being a unique balance obstacle made of a series of posts, incline, decline, and very skinny, and a new one featuring cargo net "monkey bars", a different twist on the basic grip obstacle. This year the race was an OCRWC qualifier, which was awesome, since they had already adopted mandatory obstacle completion. Make sure you add this race to your calendar for next year, you won't be disappointed."
Thank you to all of you amazing crazy people for your contributions this week, and keep them coming in… we could not do this without you!