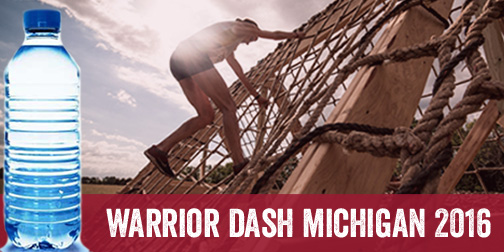 Participants Can Help By Signing-Up Before June 30th To Race in Michigan
Warrior Dash is giving back to the Flint, Michigan community in conjunction with their upcoming Michigan Warrior Dash.  This will be the event's fifth year returning to Genesee County Parks at E.A. Cummings Center. This year Warrior Dash is doing a little extra for the community so badly hit by the Flint Water Crisis. All you have to do to help give back is sign up to race and enjoy a Warrior Dash and you will be directly helping the people of Flint. From Warrior Dash:
With the recent impact on the community's water sources and the Flint Water Crisis, Warrior Dash is committed to helping the area that has welcomed the event since 2011. Warrior Dash will be fundraising bottled water and supplies for the Berston Community Center in Flint. For each participant that registers between June 14 and June 30, 2016, Warrior Dash will donate one 24-pack of water. Berston Community Center has worked with Red Frog Events, the event planning company behind the Warrior Dash series, to determine the best needs for the community and how they will be able to make the best impact.
"Warrior Dash values the relationships with the communities that welcome us each year," Megan Gaseor, Lead Warrior Dash Michigan Race Director said.
"With our longstanding relationship in the Flint, Michigan-area, and the recent impact of the water crisis in their city, our team is dedicated to pitching in with our resources and extending the effort for our participants to help, as well."
Along with donating one case of water per participant signed up during this period, Warrior Dash will be donating additional supplies including baby wipes, lotion, and Vaseline, regardless of participant registrations. Warrior Dash will be announcing the final donation total on-stage during the event this July 30, 2016.
"Warrior Dash has been a staple in our community since 2011 and we are grateful for their efforts, especially during this time of need across the area," said Bryant BB Nolden, 1st District County Commissioner, Genesee County, Michigan, Genesee County Parks and Recreation Commission, Executive Director, Friends of Berston.
If you were looking for a reason to try out a Warrior Dash for the first time or return back to the event you started with. This is an opportunity to help the people of Flint, Michigan while at the same time enjoying a day in the mud.
---
Click Here for More Information about the Michigan Warrior Dash
Use discount code WD2016MRG for $5 off your Warrior Dash registration!