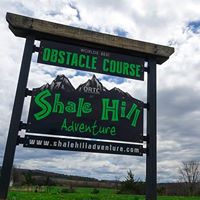 Shale Hill Adventure consistently known as one of the being a hidden gem of OCR has their annual 24-hours of Shale Hell coming up soon. One lap on this course is enough for most but those looking to take it further can challenge themselves with up to 24-hours of running and hundreds of obstacles, on August 6-7 starting at 10am. If 24-hours of continuous obstacles are a bit extreme Shale Hill Adventure also offers what "mini-hell"  with a 5k, 10k, and 8-hour running options starting on Saturday, August 6.
For those training for longer endurance OCR's like BattleFrog BFX, Spartan Race Ultra Beast,  World's Toughest Mudder, or even if you have a Ragnar in the future 24-hours of Shale Hill offers a unique opportunity to challenge yourself and get in a lot of obstacle training in the process.
---
24 HOURS OF SHALE "HELL" DIVISION (INDIVIDUAL ADULT, YOUTH, MASTERS, & JOURNEYMAN):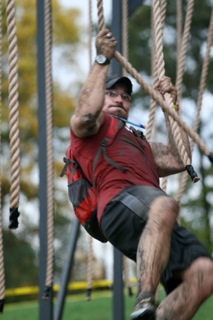 Take your love of adventure racing and combine it with the most intense 10K Obstacle Course in America and you'll find yourself at SHALE "HELL" for the next 24 hours!  Each lap is over 6 miles long and you'll navigate through 70+ obstacles along the way.  Our never ending loops of obstacle madness will have you crying for more walls, ropes, ladders, poles, drags, carries, water traverse, the GREAT WALL and the infamous TARZAN SWINGS (just to name a few) only to have your last ounce of energy zapped at the Anaconda!
24 HOUR RACE "ONLY" OPTION
New this year, The first (1st) hour of the 24 Hour Race "ONLY" will be done obstacle free.  After an hour into the race, an airhorn will sound and you will then start completing obstacles on the course from there on out. If you fail an obstacle, you can retry as many times as you like until you are successful…or…only after you have "failed" the obstacle then you can perform the penalty designated.  "Skipping" an obstacle and taking the penalty in lieu of trying it is considered cheating and will not be tolerated.  If you are caught skipping obstacles, you are no longer eligible for prize winnings and will be automatically be put in the journeyman division.  Subsequent laps will have different penalties and will be announced on race day.  You will be required to mark down on a chart/wipe board your time-in, lap count & time-out before you go out on your next lap.
TEAM DIVISION:  24 HOURS OF SHALE "HELL" TEAM DIVISION (ANY 4 PEOPLE & ALL AGES):
The TEAM division consists of 4 people (any combination of ladies and gentlemen, adults/masters/youth).  All four (4) members run together and complete all obstacles together.  If any member of the team fails an obstacle, then all team members must perform the penalty at that obstacle.  Additionally, you cannot help each other at obstacles and all four (4) members of the team must complete each lap in order for the lap to count.  
8 HOUR DIVISION (INDIVIDUAL, YOUTH, MASTERS & JOURNEYMAN):
This division is run as an individual and you will have 8 hours to complete as many laps as you can on the 10K course.  This is just like our 8 Hr. Polar Bear Challenge in February each year, but without the snow!!!  Failed obstacles require that you perform the designated number of spiderman pushups for that obstacle before you can move on to the next one.  CREWING for a 24 Hour participant is "INCLUDED" in your registration.
5K & 10K SINGLE LAP DIVISIONS (INDIVIDUAL, YOUTH, MASTERS & JOURNEYMAN):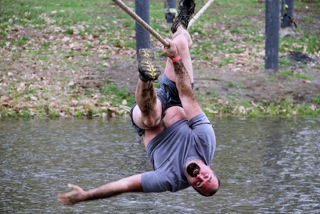 Enjoy the great energy of the weekend and join us for single lap options on our 5K or 10K obstacle courses!!  Open to Individuals, Youth, and Masters all with the Journeyman option.  This fast-paced sprint race will have you hungry for more and you'll be back to compete in our longer format races in no time 😉  Designated penalities for failed obstacles are required at the obstacle you fail.  You may repeat the obstacle as many times as you like until success or failure, but if you failed it, you must perform the penalty for it.
CREW REGISTRATION:
To have a crew member to support you for your 24 Hr. or 8 Hr. registration, they must register as a crew member.  This entitles them to access to the Shale Hill obstacle course for the duration of their stay, camping, access to facilities for porto-johns, cooking/grills and insurance.  Included it their preregistration entry is a FREE Shale Hill t-shirt!!!  The cost to crew is $60 per person.  Option:  They can enter the 5k/10K Single Lap division and for only an additional $15 "camping fee" per night, they can camp/crew for you!!!
JOURNEYMAN OPTION for ALL divisions:
Sign up for the JOURNEYMAN option to forego penalties at failed obstacles.  However, you are still required to attempt every obstacle on the course.  This designation exempts you from performing penalties on failed obstacles, but you are also ineligible for prizes.  So, come run the course without the pressure of completing all the obstacles and have a great time taking a more relaxed approach to competing at Shale Hill
CAMPING:
2 nights included for 24 Hours of HELL – Overnight camping is included in your 24 Hour registration for BOTH Friday and Saturday nights.
1 night included for 8 Hours of MINI HELL – Overnight camping is included in your 8 Hour registration for Saturday night only.  If you want to camp Friday night before your race, then you will need to pay for an additional night of camping for $15 pp.
5K & 10K SINGLE LAP REGISTRATION does "NOT" include overnight camping either night.  If you are crewing for a 24 Hour participant, you still need to register for camping one or both nights at $15pp ($30 both nights).  Please select this option on the registration page before checking out.
---
For more information and registration visit the Shale Hill website. With so many options there is a race for everyone at Shale Hill's 24-hours of Shale Hell.
---
Use discount code SHALEHILL10 for 10% off your Shale Hill Adventure registration!