Be sure to check out the bracket of results each week, and our behind the scenes interviews, news, and more.
Spartan Ultimate Team Challenge Episode 6

Last night, Spartan Ultimate Team Challenge Episode 6 aired on NBC. Last night was a battle once again between some strong teams. Last night's episode featured Ryan Woods, Matt Willis, Robert Killian Jr., Joni Merritt, Neil Craver, Grant McCartney and many others. This was on of the most exciting episodes to watch of the season!
Did you catch Neil Carver's dive through the barbed wire in the process setting a course record in the first round? Woods led his team to a commanding first round victory setting a new course record in the process. The Free Spirits would move onto the finals which would be a battle between Spartan Race World Champion Robert Killian Jr's team and the Free Spirits. It was a showdown at the finals on the slip wall but the Free Spirits would prevail and move onto the season finale and championships next weekend.
Free Spirits
Brittney Uhl
Working with a Spartan Elite was great. Ryan was very encouraging and did a great job leading the team. Thankfully our team was very well-rounded. We had talked and known what everyone's strengths were, coming into the race. We did a lot of mentally walking through the obstacles we anticipated, planning out what everyone's role was. This helped us execute the obstacles quickly and efficiently. We had a plan, but we knew we would have to be flexible and quick-thinking during the race. My teammates are all amazing athletes and people, so it was easy to work well together!
Castle Rock Commandos
Danica Druva
Robert Killian is a very humble and inspiring athlete. He strives to bring out the best in each athlete, and I think that's what made our team so successful. He was a great team leader, and I think that comes from his experience in the military.
Our team was pulled together out of Castle Rock's local gym, "The Gym". Jocelyn, Vance, and Mitch all trained CrossFit together. Mitch and I have raced together. Mitch was the strategic planner behind it all. He saw our strengths and pulled us together as a team. Because we all knew each other, we were able to start training together before filming. We ran together in Boulder and also attended Spartan obstacle training class. We had bonded as a team before we filmed. We went into the show knowing everybody's strengths and how we communicated best.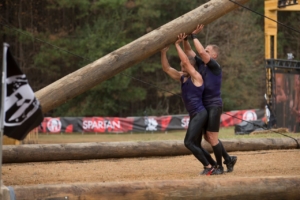 Since Rob, Mitch, and Vance are all prior military, they had a better understanding of how to conquer obstacles as a team. This gave our planning an edge up. As we sat through the mandatory athlete meeting, the guys were already figuring out how each obstacle would be completed. After the meeting, we sat upstairs and walked through every obstacle. Strategy and possible outcomes and how they could be overcome together. We laid on the floor and went through how each would be performed, so we had team fluidity during the race. The next day we went on a team 10-mile run to clear our minds and just had fun! The day of the race, we discussed the obstacle everyone was struggling with, the slip wall. We reviewed our plan, and we all had faith it would work. The most important thing to our team was communication and support. We agreed on everything as a team and stuck to it!
I found out about the TV show in mid-October the week after my season had ended. I got one of those "we want YOU!" emails from Peter Szeliga about them still looking for elite team leaders and that I should apply. I figured why not? The worst that could happen was I didn't get picked, and that was the end of it.
Blonde Ambition
Alex Sawicki
As far as training goes I had planned on taking a couple of weeks "off" from intense training to let my body re-coop from going non-stop from April until October. I had periodized my season to be at peak around world champs and then I was going to go low key for 3-4 weeks after the Pittsburgh sprint to just reset before going into off-season training.
Unfortunately, I only got about two weeks in of "relaxed" training before I got a phone call from Rod Moreno (one of the NBC promoters) saying that I was being pitched as a possible candidate for an elite racer. That cut my relaxation time down, and I started my off-season training early just in case I got the call (which I obviously did) that I had made the show. Training at that point had just been a lot of aerobic base work, some endurance and speed work, and more traditional strength training work like I had done while I was playing soccer in college. That kind of strength work (squats, deadlifts, power cleans, military press, etc.) is one that I benefit from greatly, so I was trying to really build up a strong strength base before going into the show and the 2016 season. I had been told that it was going to be short course so I wasn't overly concerned with the endurance part of it but I figured since the show was team based they would have us doing a lot of heavy difficult carries so strength was going to be a big thing.
As far as team strategy went we were shown what some of the obstacles were going to look like beforehand so we had an idea of what obstacles we could possibly encounter while out there. We tackled each obstacle in theory and then took a trip as a team down to OCR King Compound to try and put some of those strategies into practice. We worked on getting over walls, verbal cues to make sure we were moving in sync, and what order we wanted to go in for some of the obstacles like the spear throw and how to line up for the log carry. The biggest thing we spent time on was obviously the slip wall, we must of spent hours going over ideas on how to tackle it and what order we should climb…we even went into the hallway of the hotel and laid down on the ground one at a time and pretended like we were climbing up it to make sure we liked our strategy. The one thing that we all agreed would play to our favor on the wall though was the fact that the shortest member of our team, Jake, was 5 ft. 11 in. and the rest of us were 6 ft tall or taller. Going into the slip wall with over 30 ft of height between the 6 of us made it *slightly* less daunting. I swear though we must of gone over that strategy 100 times before actually getting on course!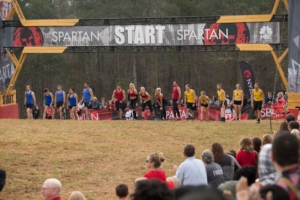 With only a week to train together there wasn't much time for us to become stronger or faster so we mainly spent time strategizing the obstacles and working on how we were going to communicate on course to be more efficient. Jake, Joni, Bonnie, and Aaron had all told me that they had mastered the art of "silent communication" and that they worked well together on minimal words. Me, on the other hand, I had played soccer and softball for the majority of my life so I was used to being on a team and talking A LOT, it's very rarely, if ever, that I shut up while working with other people. So we also spent a little time on making sure everyone knew their roles so that when the time came we could work off of minimal instruction and then I would just step in with encouragement when needed.
Going into this challenge with 4 individuals who are already experienced obstacle course racers made my job as an elite racer a lot easier because they were already familiar with what it feels like to be out on a course. They've climbed walls, carried heavy objects, done the Hercules Hoist, thrown spears, done dunk walls…not at this magnitude and not as a team obviously but at least some of the obstacles looked familiar. They've also all raced together before so they all know how the others operate, it was just my job to insert myself into the equation where need be. They honestly made my job a breeze because they all know each other so well and have so much race experience. I became the vocal leader and the voice of encouragement but there was no point during the race where I REALLY had to push them, they're all such driven individuals that the drive and want to win took care of itself. I've said it 1,000 times but I don't think any number of times can really convey just how truly thankful and blessed and lucky I was to be put with my team, they're all amazing athletes and amazing people and they made my job easy which meant we got to spend a lot more time having fun and focusing on the competition.
Being chosen as an elite racer and being given to opportunity to represent Spartan race and myself as an "elite" athlete was an absolutely amazing experience and a huge honor. 2015 was my first season racing as an elite and although I had a podium to my name along with a couple top 10 and top 20 finishes I didn't have quite as extensive of a race resume as some of the pro team members or some of the top elites. Finding myself in a room standing beside Amelia Boone, Rose Wetzel and Orla Walsh and all the other pro team members was slightly intimidating but I also had a moment when I was like "what are you worried about? you're here because you deserve to be". Plus I think one thing that ended up being awesome about the show is that it didn't matter who your elite team captain was, whether they were a Spartan Race world champion or someone like me who's just breaking into the world of elite OCR, what the competition came down to was how you worked as a team and how efficiently you got through the obstacles. It was an absolutely incredible experience and a huge honor to be picked as an elite and being able to say that I helped my team be a part of something that no one else has done before. It was just an amazing overall experience to meet so many new people and to get to talk to the pro team and hang out with other like-minded athletes, definitely, something I won't forget!!
Second Chance
Matt Willis
I was very fortunate that I already knew Ryan and Jack. Both of them were friends of mine with whom I raced before. This allowed us to already communicate very easily while also bringing Shaylen and Allison into the fold just as easily. I had a blast out there because the entire time was spent training together, going to an obstacle training facility to so we could plan all of our orders at each obstacle. My job was just putting all of that together and making the best use of the talent we had. This is something I love to do. Whether at work and putting together teams to tackle technical issues and upgrades, or out on the course, this is one of my favorite things to do.
---
---
What did you think of the episode?
Share your thoughts in the comment section…