As the "Spartan: Ultimate Team Challenge" season concludes with the two-hour Thursday, July 21 telecast (8-10 p.m. ET/PT), the winning teams from past episodes will race against each other on the most demanding Spartan course ever devised. The longer course and more challenging obstacles will put the teams through their toughest race yet as they push through the pain to win the $250,000 grand prize.
The competing teams are:
TEAM GRIT
Kevin Bull (Scotts Valley, CA), Lance Pekus (Salmon, ID), Maggi Thorne (Lincoln, Nebraska), Monica Gilmore (Aromas, CA), Spencer Mahoney (Marblehead, MA)
In addition to competing on "Spartan: Ultimate Team Challenge," Kevin Bull is also competing in the finals of this season's "American Ninja Warrior." Team GRIT has another popular Ninja in Lance Pekus, who is best known as the "Cowboy Ninja."
AMERICAN DREAM TEAM
Carmen Crum (San Lorenzo, CA), Gillian Gallego (Virginia Beach, VA), Isaiah Vidal (Colorado Springs, CO), Horacio Pastor (Oakland, CA), Ronald Quintero (Berkley, CA)
This international team boasts competitors from countries such as Honduras, Italy and Venezuela, all in pursuit of winning the Spartan crown. 
BOUNCE SQUAD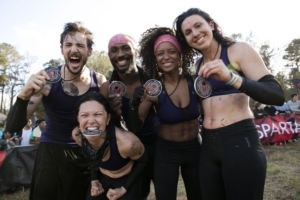 Aimee Flint (Wilmington, NC), Amber Johnson (Wilmington, NC), Luke Reynolds (Wilmington, NC), Solomon Harvey  (Wilmington, NC), Tawana "Tee" Jackson (Wilmington, NC)
This group of co-workers, who work at a trampoline gym, are running the race for team member Tawana Jackson's mom, who lost her battle with breast cancer.
MUDDY MINGLERS
Daniela Stratman (Canoga Park, CA), Hunter McIntyre (Malibu, CA), Ken Martin (Woodland, CA), Ryan Gulino (Redondo Beach, CA), Stephanie Buech (San Carlos, CA)
The Muddy Minglers all met online in a group that was formed for Spartan racers over 40 years old. Their Spartan elite, Hunter McIntyre, is one of the most well-known Spartan racers in the country.
COMEBACK KIDS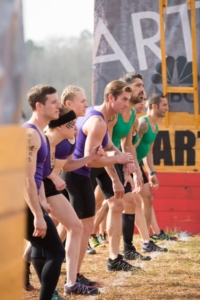 Beni Gifford (Wylie, TX), Ian Deyerle (Monterey, CA), Lynnae Kettler (Austin, TX), Laura Messner (Nashua, NH), Matthew Campione (Mesquite, TX)
The Comeback Kids team name resonates with their story — they have triumphed and overcome hardships such as addiction, depression and an eating disorder. They each credit Spartan races as helping them get through the tough times.
FREE SPIRITS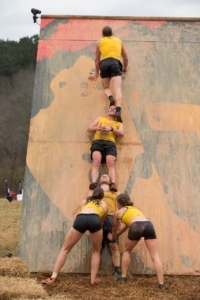 Neil Craver (Winston Salem, NC), Brittany Uhl (Honolulu, HI), Grant McCartney (Honolulu, HI), Tiffany Nguyen, Ryan Woods (Boone, NC)
Grant McCartney and Neil Craver are no strangers to obstacle course racing as they have both made a name for themselves previously on "American Ninja Warrior."
"Spartan: Ultimate Team Challenge" is executive produced by Emmy Award-Nominated A. Smith & Co. Productions' founders Arthur Smith and Kent Weed ("Hell's Kitchen," "Unsung," "Ellen's Design Challenge"), along with Anthony Storm ("American Ninja Warrior").
---
---
Who are you rooting for?