If we were to pick two words to sum up this last week in OCR, I would have to say it was "Spartan" and "Beard". One crushing it with nationwide domination and growth, and the other…for its lack thereof. (RIP chin curtain) With races all over the world continuing to make our weekends more fun, muddy and battle scar-worthy, we sink back into our desks today and reminisce about all the good times the weekend gave us. Here are some highlights!
---
BATTLEFROG – LOS ANGELES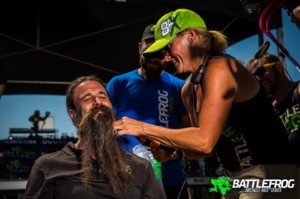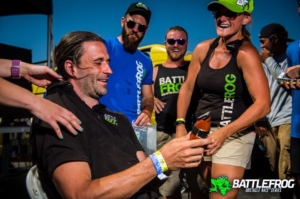 Okay, let's get this one out of the way so I can minimize my personal PTSD. The deforestation of BattleFrog's Assistant Director of Race Ops Christopher Acord's face seems an unlikely thing to be a public spectacle, but as well as causing women everywhere to swoon at the dimple reveal, it also raised nearly two grand for three worthy charities, including Operation Enduring Warrior, The Navy Seal Museum and St. Baldricks. We are all very proud of his fuzzy sacrifice, though one of us might require a bit of therapy.
It turns out, there was also a race that day, and a really good one at that. Second Place Female Masters winner Julie Werney gave us an account of her day, after crushing the course:
This weekend, BattleFrog hosted the regional championships in Riverside, CA, a course that was not only flat but fast. Elite waves started with a packed corral of Veteran racers and first timers alike.

The course hosted the usual suspects of obstacles with a few newcomers present. Caged made an appearance as did a new obstacle, Snake Eater. Snake Eater ran you up and down the nearby levy, providing the only elevation gain on the course while making competitors ahead and behind clearly visible, which definitely created a psychological challenge.


The sand on the course proved to be the racers biggest obstacle, as it sapped energy with every step. Overall another great race and one I was excited to be part of. With the support of our team, King's Camps and Fitness, we produced two podium finishes in the masters category proving this to be a successful Regional Championship.
Taking the podium for the 'Frog were Ryan Atkins, Glen Racz and Matt Kempson, joined by Atkin's amazing new bride Lindsay (Webster) Atkins, Nicole Mericle and KK Stewart Paul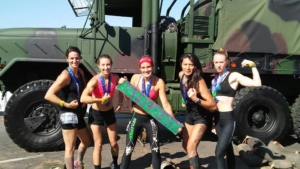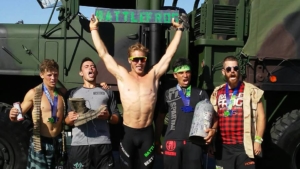 Pictures courtesy of Julie Werney and BattleFrog
---
WARRIOR DASH – WISCONSIN
The series that we love to…well – love. So many of us count Warrior Dash in as our introduction into OCR, and many more of us still jump at the chance of reliving that moment when it comes through our town again. The OCR Project and BattleFrog Championship participant Jay Flores was there with his OCRP team and had this to say about his experience
Warrior Dash Wisconsin has proven once again that it is one of the best race series to introduce a friend to OCR with! The OCR Project (www.theocrproject.com) joined Warrior Nation for a 5K full of great terrain, fun obstacles and a TON OF MUD! Warrior Dash brought the well-built and fun obstacles that almost anyone can do, like Diesel Dome and Goliath which pumped up the adrenaline while the Trenches and Muddy Mayhem left the Warriors covered in mud from head to toe which led to some amazing team pictures. There have even been some upgrades to Fisherman's catch, to provide some even more challenging lanes for those who are ready to take their OCR game to the next level. Warrior Dash truly has something for everyone, and it culminates with one of the best festival areas in the sport.
Stepping up on the WD Podium were Jordon Buscemi, Kenny Halloran, and Matthew Hayes joined by Jesalyn Johnson, Lauren Pawlowski and Andrea Oobogai.
---
SPARTAN RACE – BARRE MA, UTAH, AND TRIFECTA WEEKEND HAWAII
Total. Spartan. Domination.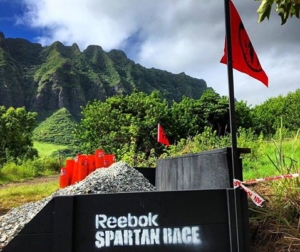 Spartan Race Supers everywhere + Hawaii's Jurassic Park backdrop offering up your choice of fun, or pain or both with not only a trifecta one-stop shop, but an Ultra Beast where those of you who lamented that last years was too easy, got your wishes for something more wonderfully brutal granted.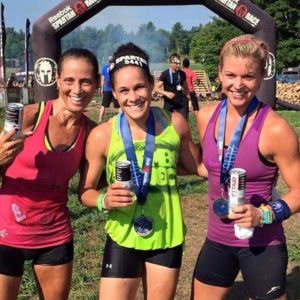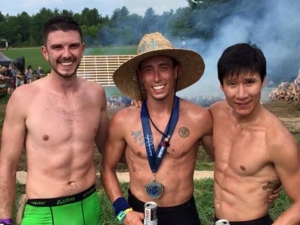 Lone Star Spartan's Bearded badass Drew Bowker was out of his usual territory in Barre for the Super, and gave us this to be jealous about:
Spartan brought it's Super to Carter & Stevens Farm in Barre, MA this weekend.  When I arrived, the festival area was spread out before me and the party had already begun.  This was my first Spartan race in the northeast and while I wasn't about to tackle the hills of some of their signature courses, I was encountering the temperatures I thought I had left behind in Texas.  It was approximately 90 and sunny at the start this morning.   

The course was well laid out and wound us in and out of the shade allowing some break from the heat.  Many of Spartan's signature obstacles dotted the 8.5 mile course,   and the water obstacles were a refreshing mid course break.  The spear throw was early in the course and was my only failure, so I was able to keep the burpees to a minimum.   Oddly missing today was the Monkey Bars.  I was able to spend the day with Spartan 4-0 and New England Spahtens –  a plus as both groups welcomed this Lone Star Spartan unquestionably. 
SO much podium to be had…
Hawaii's elite for Saturday are not posted as final yet, but on Sunday, we saw the Sprint dominated by Brendan Hunt, Kevin Donoghue, Daniel McClough, Jade Ross, Laura Messner and Brittani Lum.  The Super was taken by Jarrad Page, Jason Reardon, Vincent Gallegos, Alex Sawicki, Emilee Smith and Nicole Kiefer and the Beast was held down by Brakken Kraker, Tyler McCredie, Jono Blodgett, Sara Knight, Sue Phillips-LeClerc and Sara LeBlanc.
In Utah, we had the superstar triumvirates of Hobie Call, Robert Killian and Cody Moat with Alyssa Hawley, Laurel Shearer and Leona Moat, And in Barre, it was Ryan Kempson, Myles Bartlett and Junyong Pak, joined by Dana Bogan, Laura Lunardi and Katie Huber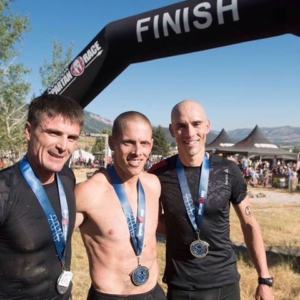 Pictures courtesy of Spartan Race
Congratulations to everyone who put in work this weekend and brought out the family to make amazing memories…and stories to last a lifetime.