Once again we find ourselves recovering from an action-packed OCR hangover. From wildfires to rope-climb controversy (and the classy athletes that took accountability for their own actions), there was plenty of chatter throughout the community. But at the heart of it all, above all else, were the races that we are all come here for. The West, the East and the South were all represented this last week – and while there were more events worldwide than we could begin to cover in once article, here is a little taste of what the weekend offered up!
SPARTAN RACE – ASHEVILLE AND PORTLAND
The internet was abuzz this weekend with controversy over "RopeGate": Were athletes informed properly about the rules before racing? Were there enough officials? Instead of joining in on the speculation, superhuman Ryan Atkins and Ryan Kent instead decided to take personal accountability for their actions and move forward without dwelling on what ended up being a DQ. What happened? Well, in a nutshell, both Atkins and Kent grabbed a rope and "committed" to climb by jumping up and grabbing before realizing the rope they chose was impossibly slick. Both dropped and chose another rope, climbed to the top, rang the bell and continued along their merry (fast) way. Unfortunately, the rules  state that once you commit and fail, it's burpee-a-palooza and athletes are NOT allowed a second attempt. As penance, I am pretty sure Ryan as we speak is biking up Mount Everest, upside down, utilizing a square-wheeled unicycle.
Meanwhile – Randy Moss crushed the Spartan Race rig. Fact.
Tara Perdue Holley from FC Spartans was out on course racing and volunteering all day and had an amazing experience, sharing this with us;
The Asheville Super Spartan can be recapped in one word…..BRUTAL. As a 3 time Finisher at the VA Super, I can say this year's course on Black Mountain rivals Wintergreen.  The long inclines and treacherous declines wore on your legs and had even veteran racers stopping for breaks. The sandbag carry was placed on steep terrain making that little pancake feel like it weighed 100 pounds coming uphill, and the bucket carry was a long incline to the top – giving us a taste of what was yet to come – the great uphill climb. The placement of Stairway to Sparta and the A-Frame Cargo net allowed racers to see the beauty of the mountains while on the course, but the finish was where you found what you are made of – back to back to back to back to back upper body strength obstacles. This course was as much mental as it was physical. You really had to dig deep and see what you were made of!
Climbing the podium with undoubtedly wobbly legs were Hunter McIntyre, Robert Killian, and Angel Quintero along with Lindsay Webster, Faye Stenning and Rose Wetzel.
On the course in the beautiful Portland hillsides, we had podium crushers Jesse McChesney, Mitch Henderson and Bret Rausten with Rea Kolbl, Sara Knight and Allison Tai
BATTLEFROG – SAN JOSE
It is not uncommon for Beard to send me pictures or videos during the days before the race, but I did not expect to see one involving a helicopter putting out a massive brush fire. The days leading up to the race were somewhat uncertain, and worker safety was tantamount as they kept in communications with local fire officials throughout the week. Come Saturday they were totally confident they had a safe course, and managed to put on a great race that was enjoyed by everyone who wrote in to talk about it. Corinne Kohlen was excited to have them come through her neck of the woods, and had this to say about the day:
Parking at the venue was fantastic and easy, just short steps from the venue base area. The venue itself consisted of many large and rolling hills, tall grasses, shady oaks, and a surprising amount of natural water considering the CA drought. Between miles of challenging hills, racers navigated ramp walls, the 60 degree wall, 8 foot walls, to the infamous wreck bag carry.  After racers were literally wrecked by the wreck bag, when your legs were jello from all the elevation change, we rounded a corner into what seemed to be an upper body gauntlet: the wedge traverse, platinum rig one, a fantastic swim (which felt AMAZING!!) the dreaded jerrycan carry, followed by the very difficult "Tip of the Spear" and Platinum Rig # 2. If you survived this upper body gauntlet, you were rewarded with a refreshing jaunt thought two slightly muddy but still wonderful swamp/ponds, which felt great as the temperatures during the day seemed to reach between 90-100 degrees. Right before race finished, we jumped into an ice bath which again was met with welcome arms in the heat. BattleFrog clearly had safety every bit in mind as fun and challenge this weekend. 
On the BattleFrog Series podium were Josh Zwonitzer, Cole Schwartz, and Bryan Mancini joined by Corinna Coffin, Lauren Taksa and Ally Reite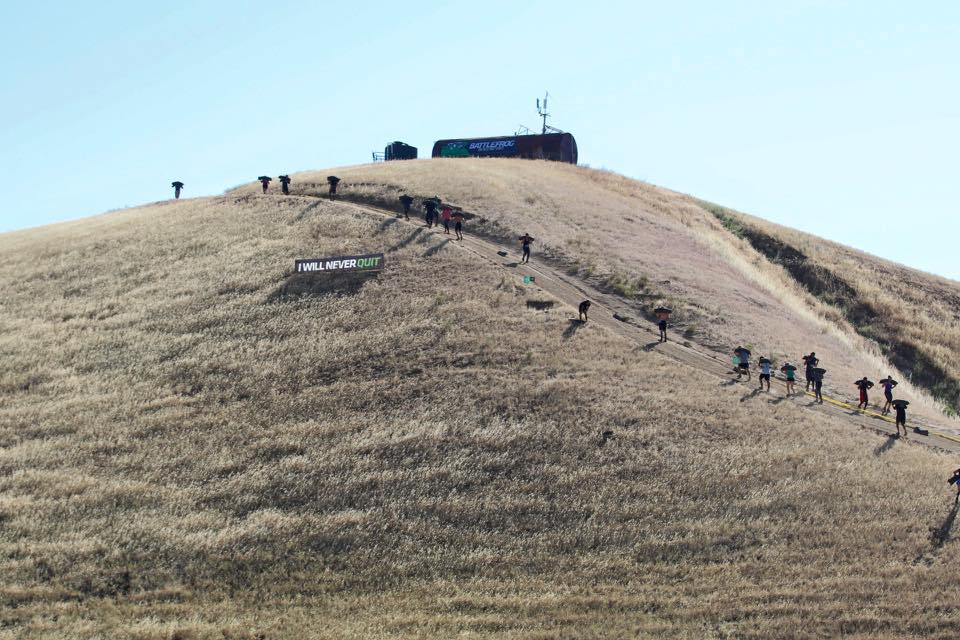 CONQUER THE GAUNTLET – KENTUCKY
Jason Rulo just waxed poetic for us about his experience at this amazing emerging force to be reckoned with, and he was not alone in his experience. Conquer The Gauntlet athlete and All-around rockstar Lucas Pfannenstiel told us about his day on the course:
Conquer the Gauntlet didn't disappoint the hardcore OCR athletes this weekend in Louisville, KY. The course showcased 4.6 miles and 25 obstacles on some beautifully steep terrain at General Butler State Park. The first 2 miles were on a stretch of winding single and double wide trails with various obstacles along the way, and then challenged the racers on a 0.2 mile Conquers Carry where logs of various shapes and sizes were hauled up an incredibly steep mountainous hill. After 2 more miles of running and obstacles, the course took you through a 150m swim back to the spectator area. Once out of the swim we met the Tarzan Swing, (rig) followed by CTG's epic 5 walls and the z-beam. Finishing out the course was the feared Pegatron, situated perfectly at the finish line. Most racers made it out of the swim with their belts, but few were able to cross the finish line with those belts around their waists. CTG continues to build a name for themselves with this epic race, and finish line spectator viewing was one of the best I've seen at an OCR!
Holding the gauntlets proudly were PJ Granger, Cody Peyton a tie for third between Evan Perperis and Tyler Barrett. The women boasted not only the top three, but the ONLY three to finish with their belts, and  Ashley Samples, Brenna "RedBeast" Calvert and Sally Etherton took home that particular high honor.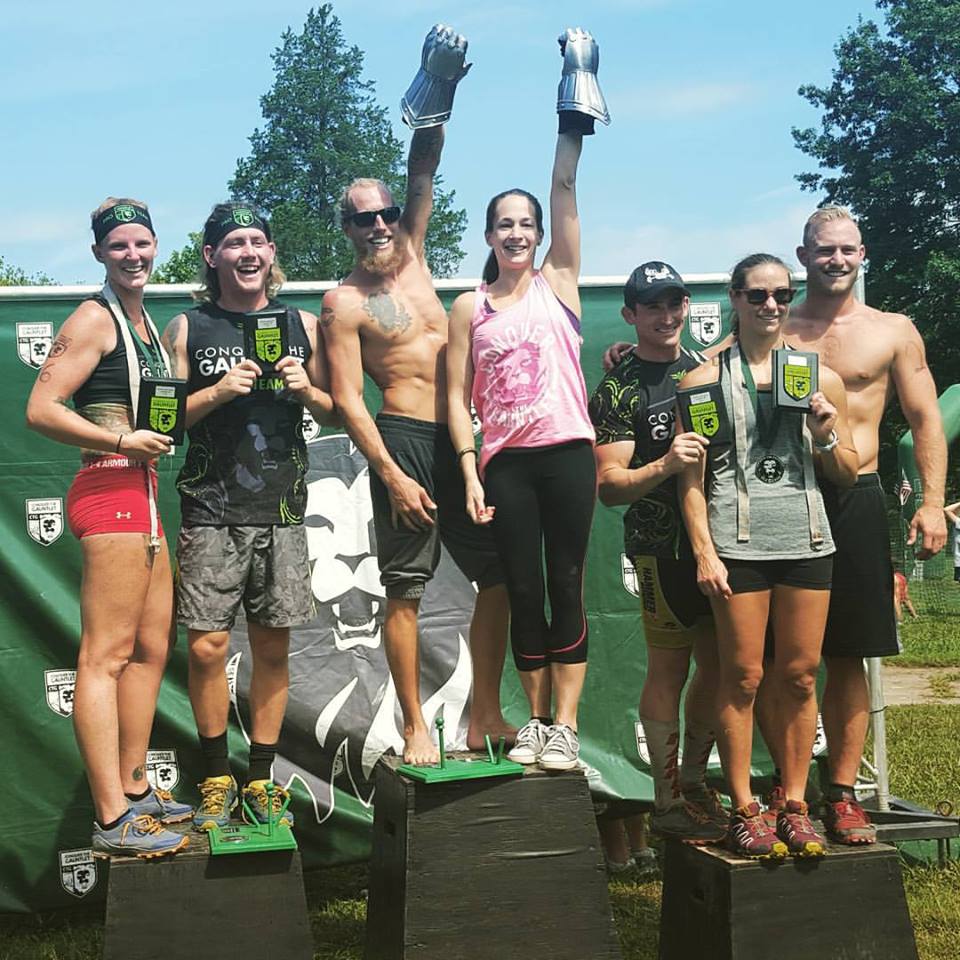 TERRAIN MUD RUN – NEW JERSEY
It is always a nerve-wracking undertaking when you begin to grow as a race series. Adding more dates and expanding your territory brings more challenges and more potential for a variety of problems. But Terrain Racing manages with every event to bring in the numbers and keep its racers happy and coming back for more. Is it the obstacles? The venues? The people? The staff? Most likely, the answer is….yes. OCR GEAR Team member Ron Lenczewski was there with his family, and shared his experience with us
 The Terrain Race made their NJ debut at Raceway Park in Englishtown on Saturday. Up until the very last week the 5K entry fee was a mere $30 not including an insurance fee, with the open heats open to ages 7 and up, making it truly a family event. The 5k course consisted of few obstacles with most placed towards the end of the race, and a fair amount of mud. The start was unique as everyone made their way into an above ground pool and scaled over the side to begin. The course consisted of monkey bars early on followed by a 14′ or 15′ wall with ropes. From there a barbed wire crawl utilizing string instead of barbed wire, to an A-frame cargo net climb, and onto a 25 lb. wreck bag carry for a short distance. Like other races that use this venue, Terrain made use of the Moto tracks using a short rolling mud area with waist deep water. The last obstacles consisted of a climb onto a cargo net then down a cargo net onto an area of waist deep water shortly after, to a multi rig type structure made out of wood over an above ground pool. The participants had to traverse from rock climbing grips to suspended rods, balls, and skulls. This was the most difficult obstacle of the entire race as well as the most fun. From there the next obstacle before the finish line was an angled balance beam to a cargo net and down a fireman pole then onto the finish. This was a fun day doing what Terrain was trying to create, a family inspired race. And of course, the best part was the spinning monkey medal!
The 5k results are stated as still unofficial, but the Terrain site lists the winners as Cory Stevens, Charles Vassallo and Anthony Vlasica joined by Chelsea Aronica, Chrisa Dustman and Melissa Richmond
For the 10k we saw top honors go to Michael Miraglia, Chris Irvine and Jason Soukup with Kelly Sullivan, Miriam Nace and Nicole Aleles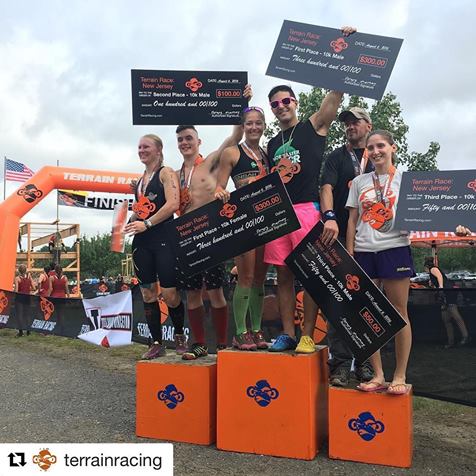 ---
Phenomenal job to everyone who came out this weekend and became a part of OCR history. Whether you ran with your kids, ran for your own personal best or ran to climb the podium, you are what keeps our sport alive and growing and we can't wait to meet you all out there some time soon!
And on a VERY important side note HAPPY BIRTHDAY to our very own EIC, Margaret Schlachter, who is not only crucial to everything we do here at MRG, but to our sport in general. We also love her an awful lot for about a million other reasons – but that requires its own article…