While unboxing these new Reebok All Terrain Super OR's, I actually said the following phrase out loud:
"I really want to like these shoes."
Why? Because I've been down on Reeboks in the past; actually I've been really anti-Reebok for over a decade, and I can't for the life of me wonder why. I vaguely remember a pair of The Pump back in their heyday, and then shunning them right about the time you learned who Kurt Cobain was until, well, last week. Maybe it was style; in the 80's and 90's I exclusively wore Chuck Taylors, and then once I started playing hoops 8-10 times a week my feet were always in a pair of Nikes. Once I started running, Asics caught my eye (note: I still have the nearly 13 year-old Asics 2000 GT from my first marathon for some invariably stupid reason, as I haven't worn them in over a decade), and then it was a blur between brands from Vibram FiveFingers, Newton Running (paid for IMAZ in '09, and I still have their logo tattooed on my ankle), a gaggle of Nikes, and finally fell deeply in love with Spira Footwear, and wouldn't be caught dead with anything else on my feet while running on the road… and then, I stopped running on the road when OCR came into my life.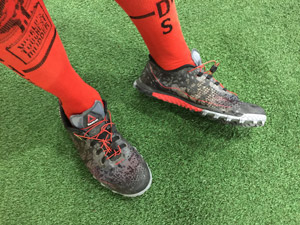 Over the past 4 years, I've tested a bunch of models from different off-road footwear companies, and have grown to appreciate the likes of Salomon, Inov8, Monotrail, Pearl Izumi, Adidas, La Sportiva, and Merrell, while falling deeply in love with Icebugs, most specifically the Zeals. That's not to say I haven't continued to test other shoes, I pre-ran sections of the inaugural OCR World Championships in 2014 with the first Reebok Super, and spent a bunch of miles actually checking out any kicks that were sent my way. Occasionally, small names impressed – look for a positive Salewa review coming soon – and sometimes I was totally underwhelmed.
Mud Run Guide has reviewed some Reebok OCR shoes, just not me personally, Eric Acuna tested out the All Terrain Super two years ago, and I wasn't all that thrilled with the 2.0 versions I ran 10k at The Battlegrounds last year while setting up the Summer Splash course. I didn't review 'em, just gave the borrowed pair back to Brian Chumbler, but he'd already made the switch to Icebugs.
Note: Nike is nowhere to be seen once I got off-road. Their ACG (All Conditions Gear) line was just ending its run in 2012 or so as OCR hit, and they haven't seemed to care about this market at all. Maybe now that they are turning their focus away from golf equipment they can put out some kickass trail shoes… but I'm not holding my breath, and we already have some great brands kicking some serious ass and spending the time & effort on R&D; like Reebok appears to be doing.
As with all the shoe reviews, I test them in multiple different sports so you get the biggest bang for your buck. At writing, the Reebok All Terrain OR's are priced at $124, so unless you intend to invest in these only for OCR use you should have an idea how they fare for other outdoor sports. I test each pair as spikes for indoor soccer on field turf, softball, golf, and trail running – as well as out on the OCR course. Please note: One are my reviews are lacking is long-term wear testing; the reviews are up after 2-3 weeks of testing in various conditions, and I'll update the review here if they start wearing quickly after further use.
Stats: Reebok All Terrain Super OR
Rugged racing is the best. Tear through mud in this Spartan shoe, equipped with tough CORDURA® for ultimate durability. Navigate turns with the secure grip from midfoot teeth and indented lugs. H20 drains leave water and mud behind.
2-way stretch Ripstop CORDURA® fabric provides lightweight durability
Speed lacing provides TPU on the eyestays for a quick and smooth pull through for a secure fit
Midfoot teeth add extra gripping power
H2O Drains let water escape and keep feet dry
Square, indented lugs give 360° traction to traverse slick surfaces securely
Underfoot rock guard protects against hard objects
Best for: Spartan Races and other obstacle course race competitions
Reebok Rising
I didn't bother reviewing the Reebok Supers or the Super 2.0's as Eric covered it in his review, and I barely noticed a difference between the models. Frankly, I was pretty "meh" on the whole experience as they both seemed like the same floppy shoes that had great drainage, good traction, but felt like a slipper with not even a drop of stability or support that could fall off my feet at any second. They were "ok" but in my mind were behind the models we were seeing from Inov8, Salomon, and Icebug. I'm not entirely sure I was entirely fair in that assessment, so I wanted to make sure to give the new Reebok All Terrain Super OR my full attention, and test from every angle I could before giving my opinion… here goes:
The All Terrain Super OR's are the best OCR shoes Reebok has put out to date. While they have made some improvements it is clear that they are sticking to the same strategy as earlier models; less is more.
Less is More, but it's Still Less Too
In the All Terrain Super OR, the "less" can refer to any of the following: weight, heel-toe drop, laces, cushioning, or stability.
Weight: At 7.6 oz. (in a men's size 9 and 6.4 oz. in women's size 7, there's no doubt they are one of the lightest off-road shoes possible while still retaining any good tread depth and midfoot protection. Reebok could probably eschew the "midfoot teeth" that the OR's have in common with much of their CrossFit Speed line for rope climbing – but of course that's a big selling point with these shoes and quite possibly the most substantial part of their structure. Cutting anything out of the shoe is obviously pointless, there's no real cushioning to get rid of, and they are already extremely light & flexible.
Heel-Toe Drop & Cushioning: Contributing to the light weight is the tiny little slice of foam in the heel, giving the All Terrain OR a 5mm drop. While they are not a "zero drop" they are a minimalist trail shoe with many similarities to racing flats; narrow, extremely light, barely any cushioning, and flexible as hell. Throw in some very adequate tread and you have a neutral, minimal, trail racer. Even with the lack of cushioning, they are not harsh on the trails; the occasional sharp rock sneaking into a non-lugged area of the sole is noticed for sure, but overall they are a pretty comfy ride for such little shoe.
Stability: None. Let's be real; the upper is just there to keep the shoe on your feet and prevent debris from building up – which it does well – and you can't expect it to provide any lateral stability at all. The midsole appears to have a small amount of recess to cradle your heel, but a very small amount. When you're running straight ahead (think road running) this is great as most runners don't need it, but when you're cutting on turf or zig-zagging on technical terrain, stability is a requirement, and the All Terrain OR doesn't come close to checking this box.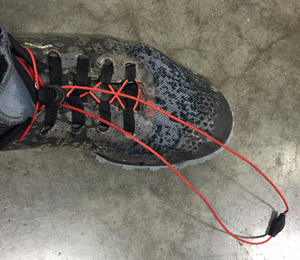 Laces: I sincerely do not like the speed lacing on these shoes, and think the downsides of being used in an off-road shoe outweigh any weight or "speed" value they present. I can't find the logic in creating a loop that can easily get snagged on debris or obstacles, or using a flexible TPU cord that stretches and requires re-tightening during an event; once they get muddy it's nearly impossible mid-race to tighten as the tiny plastic toggle is easily defeated with a small pebble and you've probably tucked the hell out of the laces through the loops to keep the excess from being exposed or possibly even dragging along the ground. Maybe they create a "gee whiz" factor on the shelf, but I feel they suck when using these laces for their sole purpose; tightening the shoe so it fits – and stays – on your foot. Speed laces were designed to make triathlon transitions faster; slide your foot in and pull – then run! With the extremely long excess cord that needs to be tucked to avoid tripping you up, they are anything but fast to get on & go, and they are also a pain in the ass to unwrap and tighten. A simple pair of poly laces is a big upgrade, er, downgrade.
The laces and lack of eyelets conspire with the absence of stability to provide very poor motion control for the foot, greatly undermining their whole reason for existing as an off-road shoe for OCRs. Using eyestays vs. eyelets means the laces have less area to cinch across the top of your foot; a few miles in as the cordura stretches, and the TPU laces stretch, your wet feet start to slide around – especially in the heel. A second top eyelet and a slightly deeper heel cup would go a long way to fixing this problem (see how Reebok uses "Adaptive Fit" in the closest neighbor to the All Terrain Super OR, the All Terrain Thrill) and provide lateral control – not lateral stability to support the foot – but control to keep the heel of the shoe right where it belongs, directly attached to your heel. In my experience, the All Terrain Super OR failed miserably here. No matter how tight I cranked the laces down, if I stopped quickly and changed direction, my heel slipped more in the OR's than any other shoe I've recently tested.
Bright Spots
The Reebok All Terrain Super OR's are extremely light and flexible with great traction, and just the right combo of heel-toe drop and cushioning along with a midfoot rock plate to make them great trail racing shoes on non-technical terrain. The upper is surprisingly breathable for a high-tech "durable" material, and they are extremely comfortable if you have a pretty normal foot width; though they may prove to be a little too narrow for some athletes.
While they are good in all categories except stability/ground control, the All Terrain Super OR's really shine when it comes to water drainage and absolutely dominate this category. With the right socks and no tiny pebbles clogging up the water ports in the midsole, it's nearly impossible to keep any water in your shoes for more than a few steps out of the mud pit.
Here's the live facebook video I shot at Terrain Racing in Flagstaff where I tested the Reebok All Terrain Super OR and Merrell All Out Crush each on a 5k lap of the course:
Bummer Spots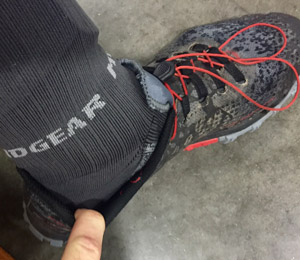 I hammered the laces pretty hard already, but their shortcomings make the shoe less than desireable for active sports where ground control during changes of direction are key. Without a pronounced heel cup or a way to properly lock down the heel by lacing up with a runner's knot, unfortunately the Reebok All Terrain Super OR's are better suited to linear running than technical trail running. While I didn't notice any slippage on traverse walls or other obstacles, I was severely disappointed with them changing directions at full speed while playing soccer – somewhere I really, really wanted them to succeed. After finally tossing my indoor cleats in the garbage a few weeks ago, I really thought the OR's would be my new go-to kicks on the pitch. Until I change the laces, the lack of ground control makes them a no-go.
The lack of stability is also a sore spot for me, as your ankles take a ton of abuse over the course of an OCR or aggressive trail run, especially as the distance creeps over 5 miles. I found the Reebok All Terrain Super OR's were light and comfortable for a 5k, but for longer distances I'm consciously going to pick something with a little more stability to keep my ankles from throbbing.
Other Active Sports Performance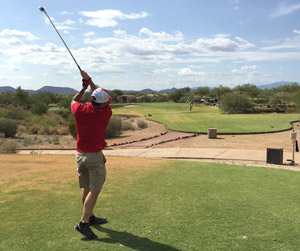 For all-around outdoor wear, these are amazingly comfortable, light, breathable, and provide plenty of traction. For training and sprints on trails or turf, they perform exceptionally well with just enough cushioning to make the experience less jarring if you happen to heel-strike. Softball, golf, trail running, or any activity where sharp lateral movements aren't necessary are a perfect place for the All Terrain Super OR. Alternatively, soccer, football, rugby, or even drills that require quick changes of direction are pretty much out due to the wishy-washy ground control as these just don't lock my heel into place to provide proper footing when you plant & turn.
Wrap-Up
The Reebok All Terrain Super OR's are the best OCR shoe Reebok has produced yet, a simple swap of the laces and possibly another eyelet would make them even better. They are an extremely light & flexible minimalist trail runner, and what you give up to make the shoes that light and that flexible is any sense of stability. For shorter distances this may not be an issue, the longer you go, the more abuse your ankles will take over technical terrain. At $124 US, they are a bit pricey for a model that's not significantly better than previous ones that you can pick up for $69 on-sale or even less on closeout. At $99, these are a pretty good deal, and I think we can expect to see these settle into that groove over the next few months based on previous Reebok trends.
I really wanted to like these shoes, and I do – just not as much as I'd hoped. The water drainage is unbeatable, and they are a great shoe for trail run training or most outdoor activities. Comfortable and light, the Reebok All Terrain Super OR's are a great racing flat for non-technical terrain, they are the best possible kicks for a groomed trail 5k by far.